You can't help but think about how GREAT our God is when we see large animals on the Earth. These resources and free printables about the world's heaviest animals will help you share some of the most amazing creatures in the land and sea.
This post is part of the
Record-Breaking Animals
Series
Imagine for a moment how it was for Adam and Eve to walk through the garden of Eden next to the likes of enormous creatures.
Wouldn't it be amazing to walk next to creatures like an African Elephant or a Common Ostrich (which is known to be aggressive, today) and feel no fear, to live in harmony? We wouldn't even need them for food or clothing (- that theory is debatable amongst Christians, but still just imagine how nice that is.)
That wasn't the only amazing idea I think of when it comes to animals, especially the larger ones.
What about Noah's Ark?
God divinely controlled the migration of animals to the ark small and large alike. What a sight that must have been. We can only imagine.
Then once the flood was over, the Lord made way for modern recolonization around the world. Each animal adapted to the region in which they live. However that happened, it remains incredible.
That is what large animals remind me of – God's great creation. They leave me in absolute awe! Check out this list of the world's largest creatures.
From birds to mammals, insects to reptiles, your students will learn about the migration of pilchards, penguins, wildebeests, butterflies, and much more.
Explore these resources and free printables about the world's heaviest animals below:
Top 10 Heaviest Animals in the World (Video) | Wild Animals
The Top Ten Harvest Animals in the World (Video) | The Top Ten
Largest Animals Size Comparison (Video) | The Infographics Show
Kodiak Bear
These brown bears are one of the largest omnivores in the world but are isolated from other bear families. They live in the archipelago Kodiak Islands in Alaska.
Kodiak bears can be as tall as 10ft and weigh up to 1800 lbs. Wow! I am so glad I do not live in Kodiak.
Kodiak Bear Fishing for Salmon (Video) | Wild Revelation Outdoors
FREE Kodiak Brown Bear Fact Sheet | Alaska Department of Fish and Game
Kodiak Bear FREE Coloring Page | Super Coloring
Brown Bear FREE Facts & Worksheets | KidsKonnect
Crocodile
These creepy crawlers are the largest reptiles in the whole world. Crocodiles can measure up to 25ft in length and can weigh up to 2500 lbs. It is hard to believe just how big they can get.
I lived in Florida and alligators could be found walking around. I feel like crocodiles look way scarier than alligators so I do OT want to see one live – ever.
Crocodiles eat large pigs, fish, birds, and turtles. Their jaws are strong enough to crush large prey easily… Soo creepy looking!
10+ (FREE) Crocodile Printables | Simple Living Creative Learning
FREE Printable Crocodile Coloring Page | First Palette
Parts of a Crocodile FREE Download | Freepik
Super Fun Crocodile FREE Alphabet Game | Growing Kinders
The Selfish Crocodile ~ Kindergarten FREE Literature Unit Printables | 1plus1plus1equals1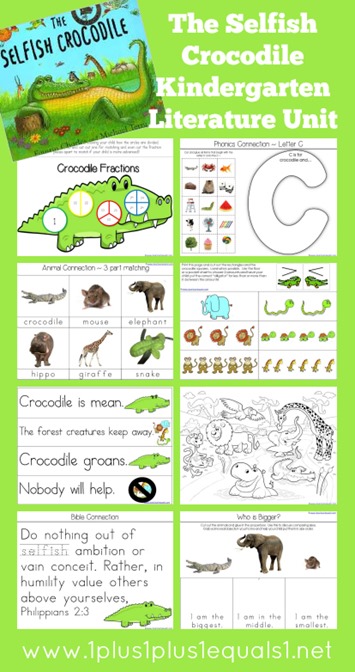 Crocodile Crafts | Danielle's Place
Easy Crocodile Crafts For Kids | Easy Peasy and Fun
Crocodile FREE Facts & Worksheets | KidsKonnect
Asian Guar
An Asian Guar is categorized as cattle and happens to also be the most abundant species of cattle in the world.
The guar has a body length of up to 11.5ft and can weigh up to 2500 lbs. They have massive heads and super sharp horns. Those horns can measure up to 3 feet in length. I would hate to be next to one of these bovines up close.
FREE PDF – Guar – A Wild Cattle in Grave Peril | Research Gate
Species of Thailand – Guar | Thai National Parks
Wild Cattle In Southeast Asia: Guar | Facts and Details
Stats Gaur | McGill CS
Giraffe
I can say that giraffes are hands down the coolest animals I have ever seen up close. Many zoos have areas where we can feed grass to giraffes which is a super cool experience.
They are the tallest mammals on earth and can measure up to 20 ft in height and can weigh up to 3500 lbs. The legs o fa giraffe are often taller than a 6 ft tall human. Which is really tall!
The giraffe has aa 21-inch long tongue to help it tuck and puck its leaves from trees quickly.
Seeing the group pf giraffes traveling together in long plains in search of food is one of the most beautiful sights we probably could ever see on land.
GIRAFFE VIDEOS FOR KIDS – Facts about Giraffes for Children | Kiddopedia
FREE Giraffe Preschool Printables | Mudpies and Makeup
50 Fascinating Facts About Giraffes | Green Global Travel
Printable FREE Giraffe Craft and Worksheet | Learn Create Love
10 Giraffe Facts | NatGeo Kids
Giraffe Animal Fact Guide | Animal Fact Guide
FREE Giraffe Coloring Pages | Education.com
Giraffe FREE Facts & Worksheets | KidsKonnect
Hippopotamus
An adult hippopotamus weighs up to 7500 lbs. Although it's the third-largest land animal, it spends most of its time in the water cooling off from the heat.
The largest recorded hippo has been measured up to 13 feet long and 5 feet tall.
Although hippos seem to be adorable chunky looking creatures, they are actually pretty aggressive. When they consider themselves threatened, they can charge, bite, and trample fairly quickly.
All About Hippos for Kids: Hippopotamus for Children | FreeSchool
H Is for Hippopotamus Craft | All About Learning Press
Hippo Crafts | Crafting in the Rain
Recycled Cd Hippopotamus Craft + FREE Printable | Artsy Craftsy Mom
Hippo Facts: Learn About The Hippopotamus – For Kids & Adults | Active Wild
FREE Hidden Word Science Kid Games to Print – Hippos Activity Sheet | Easy Science for Kids
Hippopotamus FREE Facts & Worksheets | KidsKonnect
African Elephant
There is no surprise that an elephant would be the heaviest living land animal on the planet. This magnificent creature can weigh up to 14,000 lbs and be 13 feet tall.
We associate elephants with how the African Elephant would look. They have huge tusks and huge ears. If you haven't noticed, your kids would find it cool that their ears look like they are shaped like the continent of Africa.
Their trunks are extremely strong; they contain about 40,000 muscles in their trunk alone. One thing that distinguishes their trunks from other elephants is that their trunks have two fingerlike features at the end to grab small things.
Elephants – Interesting facts about the African Elephant (Video) | Features Africa Journeys – Kenya Tanzania
African Elephant FREE Infographic | BioExpedition
Info African Elephant Loxodonta Africana | Animal Fact Guide
African Elephant | NatGeo Kids
All About African Elephant | Enchanted Learning
African Elephants – Reading Comprehension FREE Worksheet | edHelper.com
FREE African Elephant Facts & Worksheets | KidsKonnect
Whale Shark
Just the name alone "whale shark" tells us that this shark is BIG. The whale shark is the largest fish in the sea weighing up to 40,000 lbs (20.6 tons). That is about the size of a school bus!
The whale shark grows up to 40ft long and its mouth can open about 5 feet wide. OK, check this out. "Normal" sharks usually have 20 to 30 rows of teeth, but a whale shark has 300 rows of teeth. Each tooth is about the size of a match head, but there are 3,000 of them.
Whale sharks are definitely a sight to see. They are beautiful and majestic mostly due to their unique patterns of spots. Each of the patterns is unique to the whale shark much like our fingerprints are unique to each of us.
(Video) Whale Shark | Hirotsugu Sudo
50 Fun And Interesting Facts About Whale Sharks | Ocean Scuba Dive
14 Interesting Facts about Whale Sharks | Art of Scuba Diving
Ocean Video #14: Whale Sharks | Mrs Wills Kindergarten
Getting Smart about Sharks (FREE Printables) | The Natural Homeschool
Hands-on Shark STEAM Unit Study for Fun Shark Learning | Royal Baloo
FREE Printable Shark Worksheets | Simple Everyday Mom
Blue Whale
Want to know something obvious but mind-blowing? Of course, there are no scales big enough to measure these gigantic ocean creatures, so most whales have to be measured /weighed in sections or parts.
The blue whale is the largest animal that has ever existed. Its average weight can go up to 200 tons (Ton = 2,000 lbs) and its length can average 30 meters. Their speech/songs can be heard up to 1000 miles away.
Let's put the blue whale's size into our common perspective. The tongue of a blue whale weighs as much as a small elephant and its heart alone weighs as much as a car. A newborn blue whale alone weighs 3 tons.
Blue Whales in Iceland – (Video) from a Unique Whale Watching Tour in Snaefellsnes | Laki Tours
(Video) The Blue Whale, the largest living animal! | Two Minute Stories
Blue Whale Facts | ThoughCo.
40 Fascinating Blue Whale Facts (From Size & Diet To Conservation) | Green Global travel
Blue Whale Overview | Fisheries NOAA
Common Ostrich
The ostrich has always fascinated me. I know it was huge and fast, but I didn't know it is the very fastest land bird, the very tallest bird, and the very largest bird in the world.
It is actually the fast two-legged animal on land, period, and it lays the largest eggs of any animal.
Here is a cool thing we discovered about the common ostrich – adult males are black in color and female ostriches are greyish-brown in color. One more thing. The common ostriches have huge eyes and each of those eyes is bigger than its entire brain.
Being the world's heaviest bird, males can grow up to 9 ft in high and up to 320 lbs. Females can be up to 6.2 ft in height and up to 242 lbs in weight.
FREE Printable Ostrich Coloring Pages For Kids | Best Coloring Pages for Kids
O is for Ostrich Art and Craft FREEBIE | The Teaching Aunt
FREE Ostriches Quiz – Interactive & Fun Kids Science Quiz | Easy Science for Kids
13 Things You Need to Know about Ostriches | Adventure Family Journal
FREE Printable Ostrich Craft | Learn Create Love
Common Ostrich Facts For Kids & Students: Pictures, Information & Video | Active Wild
Ostrich Info and Printable | Enchanted Learning
The Habitat & Food Sources Of The Ostrich | AnimalsonMom.com
You can use these resources to help you with studying the heaviest animals on the earth:
FREE Animal Classification Fact Cards and Cheat Sheets
FREE Animal Parts Vocabulary Copywork
Take your time and enjoy your child's curiosity about God's heaviest creatures. I will leave you with this scripture as you do.
Psalm 104:24 – O Lord, how manifold are your works! In wisdom have you made them all; the earth is full of your creatures.
Jeannette is a wife, mother and homeschooling mom. She has been mightily, saved by grace and is grateful for God's sovereignty throughout her life's journey. She has a Bachelor in English Education and her MBA. Jeannette is bi-lingual and currently lives in the Tongan Islands of the South Pacific. She posts daily freebies for homeschoolers!
Series Navigation
Previous: Free Printables About the World's Smartest Animals