I hope you have been following along during this 8-week Artist Study Series. In this series I have been highlighting some of our favorite artists that we have studied in the past that I think you and your kids will enjoy learning about in your homeschool. Since we embrace a Charlotte Mason style of education, I have found that artist study is something that we like to incorporate in our weekly homeschool studies. This week we are learning about Vincent Van Gogh with free resources, printables and unit studies.
This post is part of the
Famous Artist Study
Series
Vincent Van Gogh was born on March 30, 1853. He is considered the greatest Dutch painter since Rembrandt. He was a post impressionist painter whose beautiful, emotional, art highly influenced the art of the 20th Century. His artwork is easily recognized with the lovely swirls and is so much fun to study. He also painted over 20 self portraits as he was trying to practice painting people and didn't have anyone to pose for him, so he painted himself!
Vincent Van Gogh has a very sad story as he struggled greatly with mental illness and remained poor and unknown his entire life. He became obsessed with his paintings and art and had a mental breakdown where he checked himself into a mental asylum. His most famous painting, Starry Night was painted while he was in the Asylum. Unfortunately, he did not get well and he died from a self inflicted gunshot wound. He was only 37 years old.
Biographies:
Van Gogh Biography from Biography.com

Van Gogh Biography from Van Gogh Gallery

Vincent Van Gogh for Kids Biography from Ducksters – there are many interesting fun facts about Van Gogh, including that he indeed cut off a part of his ear!
Printable Van Gogh Biography from Making Art Fun
Unit Studies and Free Printables:
Vincent Van Gogh Cookies Lesson from Making Art Fun

Vincent Van Gogh Wordsearch Worksheet from Making Art Fun

Vincent Van Gogh Power Point Presentation on Post – Impressionism and Expresssionism for High School grades from Bill Burton

30 FREE Van Gogh Coloring Pages from Kids-N-Fun

Informational Text Artist Biography on Vincent Van Gogh from Creating Art With Kids
We love the Online Unit Studies from Techie Homeschool Mom. They are a work at your own pace style and they are fun and engaging. You can do them with your children, or they can do them all on their own. Here is one that is all about Vincent Van Gogh!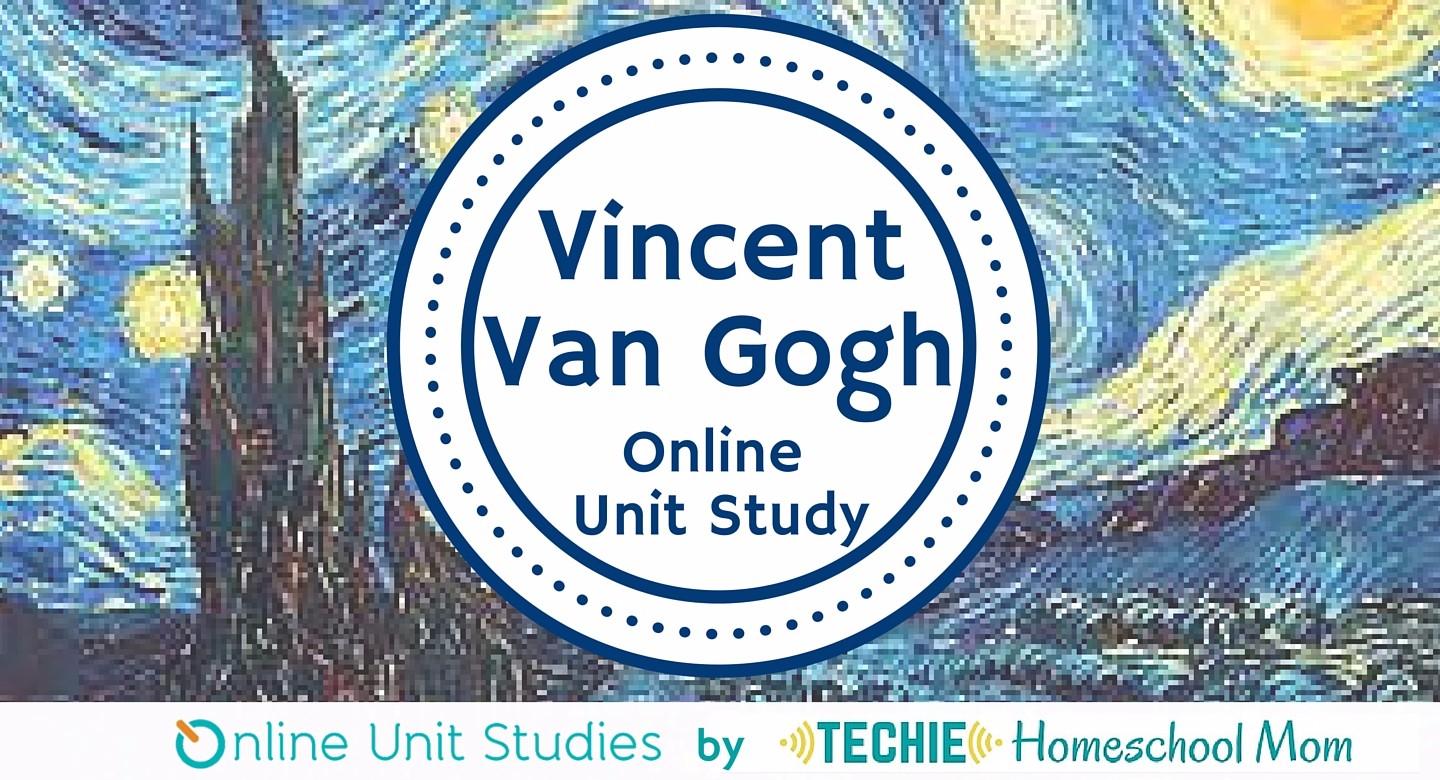 Art Study:
Star Bright Starry Night Art Lesson from Making Art Fun

Sunflower Learn to Water Color Project from Making Art Fun

The Starry Night Coloring Page from Making Art Fun

Van Gogh Assessment – Warm and Cool Colors from Dawn Stone

Art History Cut and Paste Cafe Terrace at Night from Cut and Paste Art

Sower Inspired Art Project Exploring Light and Dark Yellow and Blue from My Bright Firefly

FREE Vincent Van Gogh Art Prints from Free Art There are 259 Van Gogh art prints that you can get mailed to you for free in an 8×10 size! You only pay for shipping and can get as many as you want. These would be great to decorate your home or to use for artist study.
Van Gogh Gallery is a complete online reference of information on the life of Vincent Van Gogh and his art work.
Books that go great with a Van Gogh art study:
Vincent Can't Sleep: Van Gogh Paints the Night Sky
Vincent Van Gogh: Sunflowers and Swirly Stars (Smart About Art)
van Gogh and the Sunflowers (Anholt's Artists Books For Children)
What's So Great About Van Gogh?: A Guide to Vincent Van Gogh Just For Kids!
Vincent, Theo and the Fox: A mischievous adventure through the paintings of Vincent van Gogh
Vincent Van Gogh: Portrait of an Artist
Katie and the Starry Night
Sarah is a wife, daughter of the King and Mama to 4 children (one who is a homeschool graduate)! She is a an eclectic, Charlotte Mason style homeschooler that has been homeschooling for almost 20 years.. She is still trying to find the balance between work and keeping a home and says she can only do it by the Grace of God, and Coffee!
Series Navigation
Previous: Famous Artist Study Series: Norman Rockwell