If you are looking for inexpensive, but thoughtful gifts for Christmas time you will want to try your hand at making some DIY Picture Frames!

I love decorating my home on a budget and I love filling my home with family photos. The problem is that I have no budget for home decor and picture frames can be expensive! The solution is that there are some amazing ideas to create your own  decorative picture frames that don't cost a fortune and have a sweet, homemade touch to them. You can gather up a bunch of old frames and redesign them, or you can create your own out of scrap wood!
Where to get the frames:
Dig through your house – I couldn't believe all the old frames I found laying around in cabinets and in storage. There are so many cheapy frames and frames that don' match my decor anymore, that I could easily upgrade.
Thrift Stores – I have found some awesome, gaudy looking frames from thrift stores that are great with a coat of paint.
The Dollar Store – yes you can find lots of frames at the dollar store. These make great and easy DIY gifts.
Yard Sales – one man's trash another man's treasure right?
Here are some of my favorite DIY Picture Frame Ideas:
Cheap Picture Frame Makeover from Life Should Cost Less – I love this idea using cheap frames and a roll of beading and a fresh coat of paint to make it look expensive!

$3 DIY Bow Picture Frame from Shanty 2 Chic – what a great idea! Love the shabby chic look.

DIY Hot Wheels Frame  from Parent Society – This would look so cute in a little boys room!

DIY Scrap Wood Photo Blocks from View From the Fridge – this is a great way to use up all that extra scrapbook paper you may have lying around!

Making Simple Scrap Wood Picture Frames from Young House Love – What a sweet and simple picture frame made completely out of scrap wood!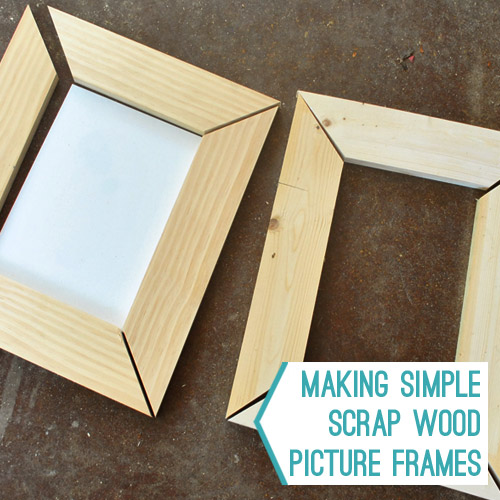 75 cent Lego Picture Frame from 2 Little Super Heroes  – this would be a great gift for any kid that loves lego, and a great way to use up those random extra pieces.

DIY Rustic Twig Frame from Ehow – we love items from nature! This would be fun to do with the kids after taking a nature walk.

Making Colored Pencil Picture Frames from Leigh Laurel Studios – this would look so cute in a school room!

$7 Antique Door Frame from my sweet hubby! I love antique doors. My husband brought this home from the Habitat for Humanity thrift store. He paid $7 for it. We sanded it and I painted it with a can of old paint! I have since changed the photos out. We love this door and it really brings a nice pop of color to this large wall in my living room. 


As you can see, there are many fun ideas and ways for you create your own DIY frames to bring color and personality to your home!

Sarah is a wife, daughter of the King and Mama to 4 children (one who is a homeschool graduate)! She is a an eclectic, Charlotte Mason style homeschooler that has been homeschooling for almost 20 years.. She is still trying to find the balance between work and keeping a home and says she can only do it by the Grace of God, and Coffee!