Most of you have probably heard about the Paleo diet. It's been popular for quite a few years now. But recently I heard about a new type of Paleo diet for those with Autoimmune disorders, of which I have several. I am still researching this new diet, but these delicious recipes almost have me convinced!
Carrie has been on an AIP diet for about 6 weeks now and is very convinced regarding the benefits, based on her positive experience. She is healing her gut AND enjoying good food!
If you would like to read more about AIP, this site has some great information. Also, the book titled "The Paleo Approach: Reverse Autoimmune Disease and Heal Your Body" is a great place to start!
Shrimp, Avocado, Mango & Fennel Salad
Pulled Pork Wrapts with Lime Basil Pesto & Pickled Shallots
Lettuce Soup
Shaved Brussels Slaw with Hazelnuts Apple and Mint
Paleo Flour Tortillas
Cauliflower Gravy
Scalloped No-tatoes
Har Gow Inspired Shrimp BallsBarbecue Sauce
Simple Roasted Green Beans
Chunky No-Tato Leek Soup
Bacon & Asparagus Soup
Saffron Carrot Soup with Spinach Bacon Pesto
Creamy Lemon Chicken Kale Soup
Strawberry Mint Salad
Grilled Romain with Preserved Lemon, Salt Capers & Bacon
Chopped Cabbage Salad 
Moraccan Inspired Broccoli Salad
Honey Lime Chicken Strawberry Salad
Tuna Salad Endive Boats
Cream of Avocado Soup with Crab Meat
Zuppa Toscana
AIP Asian Lettuce Wraps
No-Mato "Pasta" Sauce (Carrie uses zucchini noodles & loves this. She said to add a bit more salt to taste and an extra squeeze of lemon at the end!)
Plantain Tortillas (a FAVORITE of Carrie's!)
Rosemary & Shallot Roasted Butternut Squash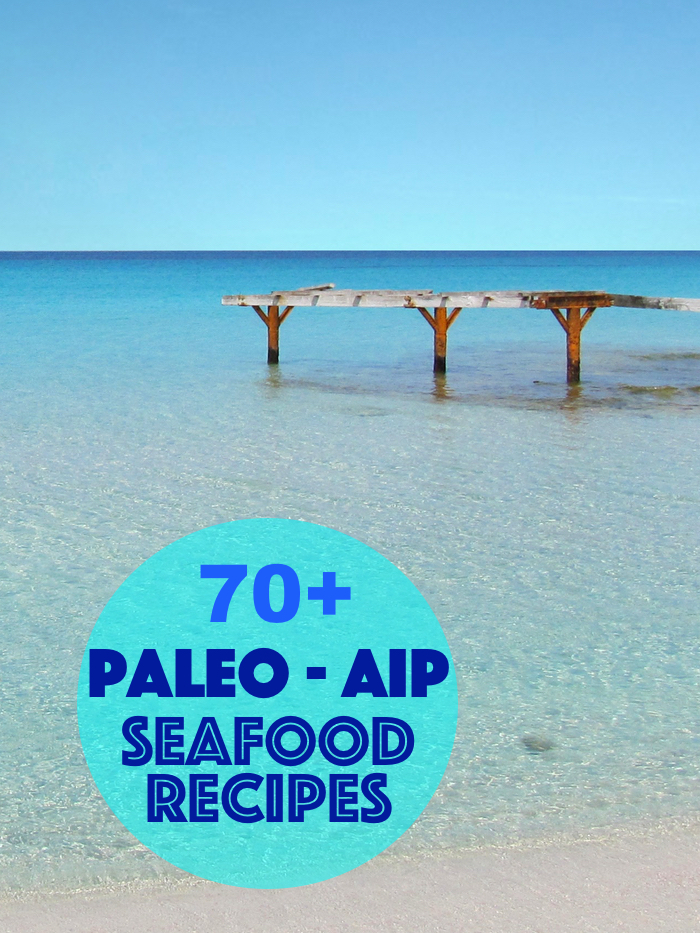 Thai Green Curry
Greek Seasoned Spatchcock Chicken
Shrimp Pad Thai
Spanish Picadillo
Har Gow Inspired Shrimp Balls
Steak & Kidney Pot Pie with Kufu
Garlic Roasted Pork Shoulder
Four Layer Beef & Bacon Casserole
Chicken Pot Pie
Olive Pesto Meatza
AIP Coconut Crusted Cod with Mango Salsa
Mackerel or Salmon in Magic Sauce
Pork Roast with Onion Apple Gravy
Easy Crispy Duck Breast
Spiced Baked Chicken with Black Olives, Orange & Thyme
Pork Pesto Skillet
Hard Cider Maple Brined Pork Belly
Crisp Veggie Topped Tapenade-Stuffed Burgers
Shrimp Ceviche Salad
Hawaiian Salmon
Lox & Everything Sweet Potatoes
Middle Eastern Glazed Chicken
Rosemary Garlic Flatbread


Plantain Apple Fritters
Herbed Chicken Savory Crepes with Wild Mushroom Cream Sauce
American Style Breakfast Sausage
AIP Granola
AIP Breakfast Porridge
Homemade Chicken Soup for Breakfast
Oven Baked AIP Pumpkin Spiced Pancakes
Yummy Plantain Waffles


Carob Ganache Mini Tortes
Mint Chip Ice Cream
Dairy Free, Honey-Caramel Apples
Pumpkin Parfaits
Strawberry Orange Sorbet
Stuffed Pineapple

Tigernut Raisin Cookies
Cherry Pie Bars (easy AND good!)
Follow In All You Do's board FOOD: AIP Friendly on Pinterest.
Follow Homeschool Giveaways and Freebies's board Paleo – AIP Recipes on Pinterest.
Don't miss this month's Meal Plan!! Click here to grab the August Monthly Meal Plan with clickable links?
Annette has been married to her husband and best friend since 2003. Together they are raising their six children to follow the Lord's will, no matter what. Annette longs for the day when she will meet her angel babies who have entered heaven before her. She enjoys creating UNIT STUDIES and FREE PRINTABLES for homeschool families. You can follow her crazy life at In All You Do where she blogs about homeschooling, homemaking and marriage while trying to maintain her sanity. She is also the owner of Thrifty Homeschoolers where she shares her tips on homeschooling without breaking the bank.