Grab these free printables and worksheets for learning about Europe, the second smallest continent on Earth.
Europe only has a land area of 4 million square miles yet many of the most prominent empires came from there, including Great Britain, Rome, Russia, and the Spanish Empire.
The name Europe came from the Greek word "eurus" which means wide. When you see the continent of Europe on a map, you understand why it was described as wide.
Some say it can also be named after an Ancient Syrian word "ereb" which means sunset. I wonder if it is because the sun seemed to set there from Asia. Anyway, I have no idea.
The continent of Europe is part of the landmass containing both Europe and some parts of Asia – Eurasia. So although they are separate continents, they still share a landmass.
There are over 250 different languages that are spoken all throughout the continent of Europe.
I remember living in Spain for three years as a young mom. I was blessed to have a job that sent me to many areas over Europe, providing training to military and military dependents.
It was one of the most amazing times in my life. Little 'ol me from the Bronx, New York, traveling through Europe.
Not too shabby a career choice. I was very grateful then and am even more grateful now to have had that experience.
My Spanish friends explained it was an absolute mandatory graduation requirement that students learn a second language in school.
Knowing now that there are 250 languages in Europe alone explains why Spain made it a requirement that students learn a second language before heading out to the world.
Europe holds a special place in my heart. It was an amazing experience visiting places like Germany, Italy, Portugal, and more.
Fun fact – Europe is home to the very smallest country in the world, Vatican City, and the largest, Russia.
Find out more random and cool facts here about Europe and its many countries.
Get some help with your lessons on Europe:
Montessori-Inspired Study of Europe | Every Star is Different
Europe in a Nutshell | The Pinay Homeschooler
Learning About Europe in Montessori | Montessori Nature
Europe Unit Part 2 | Every Star is Different
Teaching Europe in the Montessori Classroom | Montessori Nature
The Study of Northern Europe | The Pinay Homeschooler
All About Europe Lesson Plan | Clarendon Learning
Geography for Kids: European Countries, Flags, and Maps | Ducksters
Europe Continent – Europe Facts For Kids | DK Find Out
Europe: Facts for Kids | Oddizzi
Explore these free printables and worksheets for learning about Europe:
Learning About the Continents FREE Printables and Resources: Europe
FREE Printable Europe Poster Set | Instant Display
Road Trip Through Europe (FREE Printable) | Teach Junkie
FREE Europe Lesson Plans, Games, Presentations | MrDonn.org
Countries of Europe FREE Word Search | Monster Word Search
Montessori-Inspired Study Of Europe w/ FREE Printables | Every Star is Different
Medieval Europe Interactive Notebook for FREE | Teach Student Savvy
FREE European Explorer Printables | Laura Love to Teach
European Capitals Crossword Puzzle FREE Printable | Real Life at Home
FREE European Countries Fact Cards | The Pinay Homeschooler
European Explorer's FREE Lapbook | The Teaching Oasis
Countries of Europe (Territory Outlines) FREE | The Pinay Homeschooler
European Country Search V FREE Worksheet | Education.com
FREEBIE What is a Landmark? – Famous Landmarks in Europe | Maria Angala NBCT
Students will explore every independent country in the world plus discover the most significant mountains, deserts, rivers, and lakes with this huge Geography Activity Pack.
Add these map activities about Europe to your homeschool lessons:
Europe in 1914 – FREE Map Resource | Mrgrayhistory
Countries and Flag Maps FREE Printable – Europe | Homeschool Den
FREE Sample (including Europe) World Regional Maps Coloring Book | Free US and World Maps
Animals of Europe for the Montessori Wall Map & Quietbook with FREE Printables | Imagine Our Life
Check out these books about Europe to read from your local library:
European History Books for Students | Learn in Color
Global Passport: Best Children's Picture Books Set in Europe (FREE Resource Guide) | Rebekah Gienap
These activities will be a great addition to your lessons on Europe:
FREE Countries of Europe Geography Notebooking Journal
Montessori Activities For Europe (And Other Continents) – Trillium Montessori 7 Continents Bundle | Living Montessori Now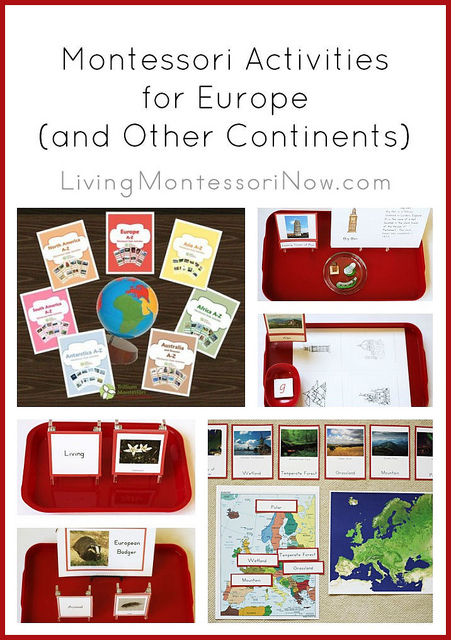 FREE Geography Scramble Volume 4-Europe | Write Bonnie Rose
Europe Activities for Kids – Germany, Spain and Italy Printable 3-Part Cards | The Natural Homeschool
FREE Europe Interactive Quizzes | Seterra.com
Europe Activities for Kids | Kid World Citizen
World Geography Scavenger Hunt: Europe ~ FREE Printable | Starts at Eight
Hands-on Learning on the European Regions | The Pinay Homeschooler
Your visual learners will enjoy these videos all about Europe:
Europe | National Geographic Kids
Come Explore . . . Europe | Lonely Planet Kids
Short Video Over Europe's Physical Features | Bear Branch
European Geography Made Easy | Miacademy learning
Add these continent resources to your European-focused lessons in homeschool:
Fun Ways to Study the Countries of the World | Peanut Butter Fish Lessons
Label the Continents FREE Worksheet | Education.com
Continents Fact Files Printable – Geography FREE Printables |Homeschool Creations
Blank Map of the World FREE | Let's Go Geography
World Map Activity and Assessment FREE Distance Learning | Literacy in Focus
FREE Printable Passport for Kids | Living Life and Learning
Printable Passport For Kids- FREE Fun Educational Craft | Family Focus
Resources to complete a geography unit on any country, continent, city, or country:
World Geography Unit Study 7 Continents-Longitude/Latitude/Hemisphere
Over 1000 FREE Maps of Countries and Continents
FREE Worksheets on the Seven Continents
Worksheets to Teach Your Kids about the Continents
How to Teach the Continent sin 3 Easy Steps (FREE Continents Pack)
Don't miss out on Daily Skill Building's Geography Terms Notebook. Get the very most out of your geography units.
Jeannette is a wife, mother and homeschooling mom. She has been mightily, saved by grace and is grateful for God's sovereignty throughout her life's journey. She has a Bachelor in English Education and her MBA. Jeannette is bi-lingual and currently lives in the Tongan Islands of the South Pacific. She posts daily freebies for homeschoolers!