When I went to college, I fell in love with a type of literature that I never imagined I would. I took a class on Irish Literature and loved it. Ever since then, I enjoy anything Irish for some reason, especially the accent. I recommend learning about the Irish to anyone. Should you want to explore Ireland with your homeschool this year, then these resources and unit studies about Ireland will be a great help.
This post is part of the
Ways to Help Kids Learn About the Nations
Series
Let me tell you what I found cool about this type of literature. Most Irish people actually believe fairies exist today or existed at some point. Note: I didn't know the Lord when I was going through the classes, so I never thought anything of it.
What I remember are the stories that revolved around fairies and their magic. I think that is why fairies are so popular today. They have always been viewed as these little powerful, sprinkle warriors that fly around gracefully. Who doesn't love that?
The fairies are female creatures that either bring good and happiness or not so good creatures that create havoc. Can't we all relate being like both of these, at one point or another in our lives?
I found the Irish folklore very intriguing. The class made me interested in all-things-Irish within my college years. Even today, hearing the Irish accent brings me joy and I associate the Irish as intriguing people.
Why study Ireland?
Since March 17th is St. Patrick's Day, it makes a perfect time of year to complete a unit study about Ireland in your homeschool. With so much talk about the luck of the Irish, the times also bring about good conversations with your kids about luck and God's will.
To just add a cherry on top, who doesn't want to make a day out of wearing funky green clothes! We are all about the green in our home on St. Patrick's Day – just because. We also tell lots of stories throughout the month since the Irish are a nation of storytellers. Note: Check out some tips here to help your kids develop great storytelling skills.
Here are a few things that may capture your child's interest in this beautiful Irish nation:
The shamrock (of course) is the unofficial flower of Ireland, and the harp is its national symbol. Ireland is the only country in the world to have a musical instrument as it's a national symbol.
St. Patrick was actually not Irish at all! St. Patrick was captured and spent six years in captivity, but he came back to Ireland as a missionary.
The first submarine was invented in Ireland.
The longest place name in Ireland is Muckanaghederdauhaulia. I can even begin to pronounce that.
Only 9% of the Irish population are natural redheads. That makes me sad, I think redheads are awesome!
Northern Ireland is governed by the United Kingdom, but the rest of Ireland is independent.
Irish people mostly speak English, but Irish kids are still taught the Gaelic language.
In Irish folklore, Leprechauns are tiny men who are said to fit on top of your shoulder. The Irish believe they are harmless and are said to have buried pots of gold throughout Ireland.
An Irishman, James Hoban, won a competition in 1792, which lead him to create the White House.
Ireland is one of the best countries in the world for gender equality. They have had two female presidents.
The Irish famine in the 1840s resulted in a decline in Ireland's population to two million people because of emigration and starvation.
For the last 50 years, Ireland has had a high birth rate and so they have one of the youngest populations in the world.
(This may not be for kids, but for your FYI.) Abortion was completely illegal in Ireland until 2019 when it was made legal. Sad times.
Grab these printable unit studies about Ireland:
Around the World: PreK-K Unit: Ireland | Around the World Learning
Ireland Booklet (A Country Study!)| Emily Bynum
FREE Ireland Unit Study Resources | As We Walk Along the Road
Ireland Mini Book for Early Readers – A Country Study | Starlight Treasures
FREE Ireland Unit Study Resources| As We Walk Along the Road
Ireland Unit Study | In All You Do
Ireland Internet-Linked Unit Study | Only Passionate
Adventures Around the World – Ireland | 123 Learn Curriculum
FREE History of St. Patrick's Day Unit Study| Free Homeschool Deals
Printables to go alongside your Irish unit studies:
Ireland Country FREE Lapbook | Homeschool Share
Ireland Concentration Game for Kids and FREE Ireland Country Board printable | Our Crafty World
FREE Ireland Maze | Muse Printables
Ireland Board printable for FREE | St. Patrick's Day Activities
FREE Irish Blessings Copywork | Captivating Compass
Ireland Lapbook | MrsLeFave
Quiz on Ireland FREE | iSLCOLLECTIVE
FREE Ireland Facts Literacy Worksheets | Miniature Masterminds
Ireland and St. Patrick's Day: FREE Resources, Crafts, Books, and Free Activities | Arlene Sandberg
FREE Ireland Snapshot SMART board Interactive File | The Wise Owl Factory
Ireland Word Wall Words and Activities | Chez Chris
Irish Poets Copywork for Middle & High School FREE | In All You Do
FREE St. Patrick's Day printables
St. Patrick's Day Homeschool FREEBIES and FREE Educational St. Patrick's Day Unit Study & FREE Printable | The Frugal Homeschool Mom
St. Patrick's Day Ireland Coding project learning about Ogham stones | Creative Resources
FREE Mini Unit of the History of St. Patrick's Day! | Blessed Beyond a Doubt
10 Facts about St Patrick with Notebooking Pages | Think Kids Blog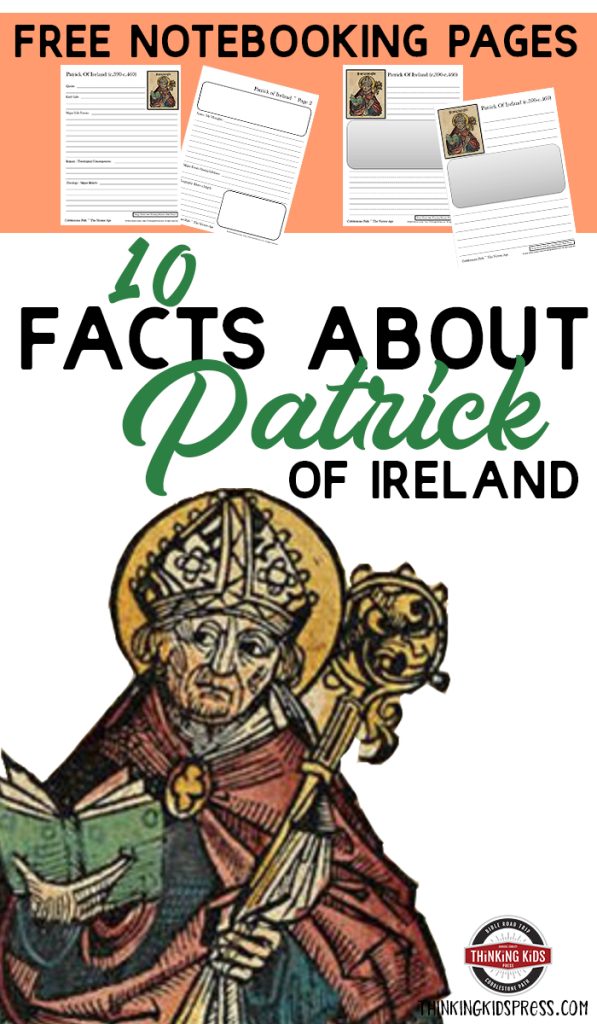 Clover Word Families: St. Patrick's Day Learning Idea | Teach Beside Me
Ireland ~ FREE Research Write Draw Edit Publish ~ St. Patricks Day | Ruth S.
Your kids will love these books all about Ireland to add to your unit study:
This Is Ireland (This Is…travel)Let's See Ireland!Tales from Old Ireland PB w CDThe Story of IrelandIrish Tales of Mystery & MagicTales for the Telling: Irish Folk & Fairytales
When I think of Ireland, I think of a mystical and wonderful place that I would love to visit one day. People flock to visit the culture because of their magical culture and history.
Whether you choose to study only about St. Patrick's Day, fairies, Leprechauns folklore, or Irish history, your kids will enjoy the richness of the experience. Explore all about the Irish with your kids through unit studies about Ireland for the month of March.
Jeannette is a wife, mother and homeschooling mom. She has been mightily, saved by grace and is grateful for God's sovereignty throughout her life's journey. She has a Bachelor in English Education and her MBA. Jeannette is bi-lingual and currently lives in the Tongan Islands of the South Pacific. She posts daily freebies for homeschoolers!