This is Hope's experience teaching her children how to write in cursive. This is a review, however it is a non-paid review and materials were not provided in exchange for honest feedback.
Cursive is one of those topics that seems to be debatable these days. Some say it's no longer relevant with the technological advances that have come with touch screens and a more digitized environment.
Others vehemently argue that it's an essential skill and that without it, people will no longer be able to read historical documents.
Thankfully, families that homeschool can easily incorporate cursive into their day, and, unlike when many of us were growing up, it can be done earlier than you might think! Even if- perhaps especially if- a child struggles with manuscript writing, they can learn cursive with this program.
One advantage of cursive is that there is really only one way the letters can "flow," and one way that they can start.
You don't have the issue of letter reversals that sometimes occur with "b" and "d," and usually they do not try to capitalize letters in the middle of words. Learning cursive can also give your child confidence in their writing since the ability to do so is often associated with "big kids."
Many families find that cursive is much easier for their children to learn than print and some even teach cursive before they learn to print. Regardless of when you choose to introduce cursive, there is a fun, easy, affordable cursive curriculum that can be introduced at any age- even kindergarten!
Like other programs, it teaches letters based on their beginning strokes; however, the difference with Roller Coaster Writer is that it gives those strokes fun names that kids can relate to such as "short ramp," "tall loop" etc. Any child who has seen or ridden on a rollercoaster can remember the feeling of going up, up, up, swooping down and all of the other motions that are referenced, and that helps cement the letter strokes in their memory to have that association.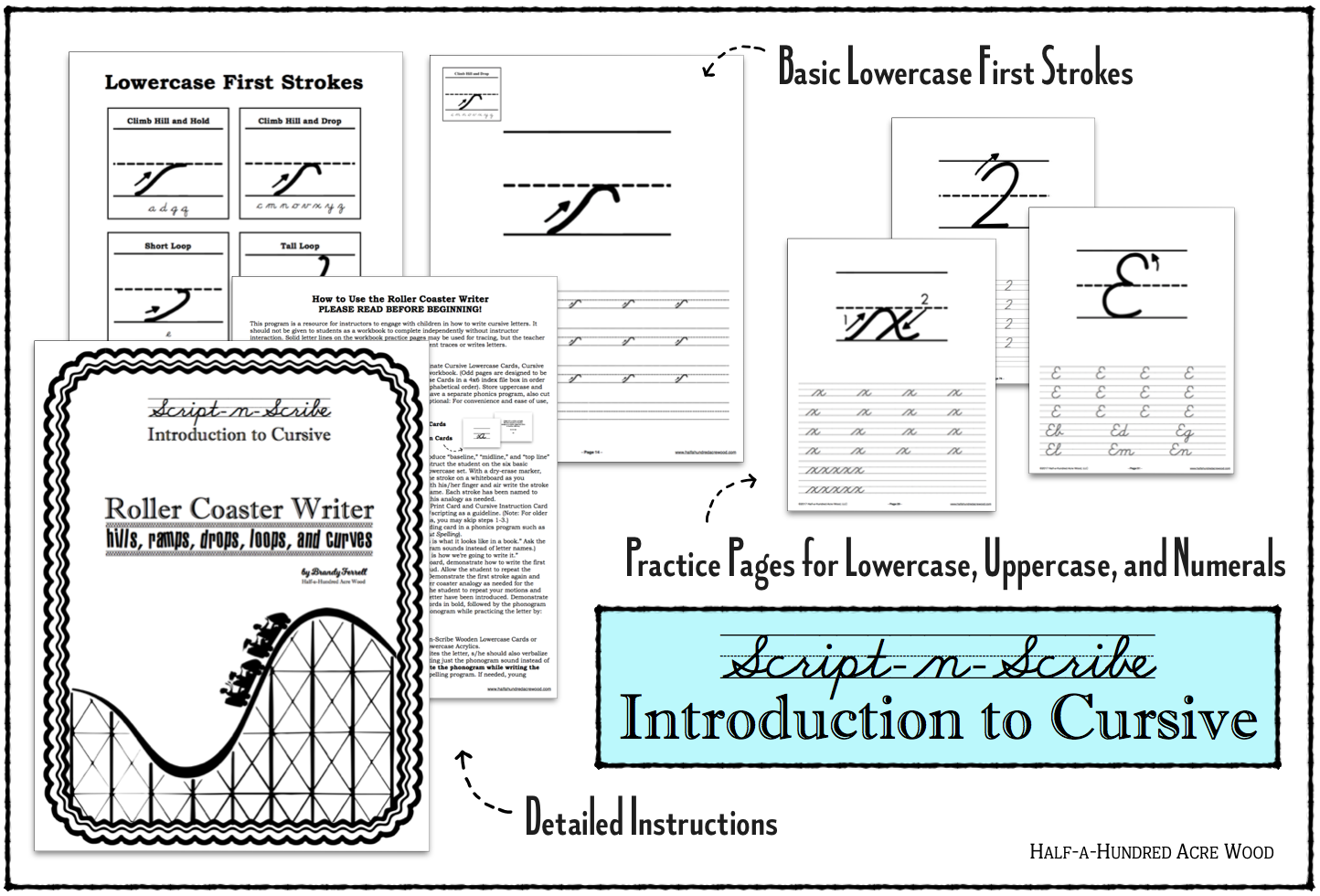 How I Organize Roller Coaster Writer
In our house, we downloaded the digital content, printed and put into page protectors in a three-ring binder. Then, we used dry erase markers to practice the letters. As one letter was mastered, we moved on to the next, and it was not very long before they had mastered the entire alphabet and were ready to begin combining letters into words.
If you don't particularly like using page protectors, laminating the pages would also be a great option, especially if you want to use it with multiple children in years to come. When you purchase the PDF version, it's for individual family use only. Alternatively, it is also available for purchase as a spiral-bound workbook.
There are other optional resources that you can include with Roller Coaster Writer, such as the laser-engraved wooden or acrylic clipboard. These are perfect for tracing practice on-the-go and provides a fun alternative to just using paper. There are also tactile cursive cards made of birch wood that you can purchase for even more practice. However, even without these add-ons, Roller Coaster Writer can easily work as a stand-alone cursive program.
Take a look at some FREE cursive handwriting resources.
Carrie is the owner & operator of Homeschool Giveaways. She has been homeschooling for over a decade and has successfully graduated her first homeschooler. She has two girls and works side by side at home with her awesome husband. She has been saved by grace, fails daily, but continues to strive toward the prize of the high calling of being a daughter of the Most High God.