Are you studying about Ancient Rome this year in your homeschool?
My kids and I really like to dig into our history studies. I am always finding extra printables and unit studies for them to do. We like to do extra projects on Friday afternoons. The extra projects really help to make History come alive for them. If you are studying Ancient Rome this year then you will want to check out this big list of FREE Resources I have found!
FREE Unit Studies on Ancient Rome:
Ancient Rome Unit Study and Lapbook from Homeschool Share

Ancient Rome Unit Study from Homeschool Helper for grades 3-8.
Ancient Rome Teaching Resources from Mr. Dowling – these resources are for highschool level and include Powerpoint Presentations, You Tube Videos and MP3s.
Ancient Rome Lesson Plans from Mr. Donn – there are video clips, presentations, games, clip art, homework quizzes, bingo, and much more!
Tina's Dynamic Homeschool Plus has an amazing Rome Unit Study FULL of lapbook printables, diagrams, notebooking pages and more. Scroll down the page until you get to the section on Ancient Rome.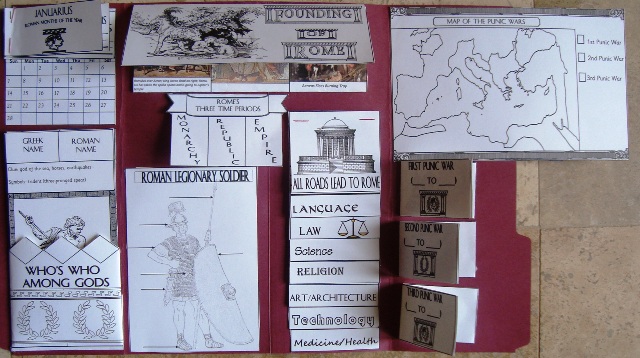 The Legend of Horatius at the Bridge from Layers of Learning – this is a unit study with coloring pages, printables, art activities, crafts and much more!
The Illustrated History of Roman Empire – this website is huge! There are online books and tons of links to resources all on the Roman Empire!
FREE Printables on Ancient Rome:
The Rise and Fall of the Roman Empire FREE Outline Handout for grades 7-12
Ancient Rome Timeline
Roman Ampitheater Coloring Pages
Ancient Roman Numeral Bingo
Ancient Rome Bingo
Ancient Rome Writing Prompts Printable
Roman Coliseum Worksheet
Ancient Greek Temple Building Game
The Fall of Rome Notebooking Page
The Rise of Rome Notebooking Page
Roman Builders Notebooking Page

Coloring Pages on Ancient Rome:
Roman Senator
Roman Coliseum
Roman Helmet
Roman Soldier
Roman Aquedect
Roman Soldier with Horse

Crafts on Ancient Rome:
Ancient Rome Paper Dolls – scroll down to the section on Roman Paper Dolls
Paper Men of Ancient Rome – scroll down to the section on Ancient Rome
Roman Imperial Paper Helmet
Time Traveller Kids has lots of Roman Crafts: Make a Roman Wax Writing Template, Make a Roman Shield, & How to Make a Roman Serpent Bracelet
Sarah is a wife, daughter of the King and Mama to 4 children (one who is a homeschool graduate)! She is a an eclectic, Charlotte Mason style homeschooler that has been homeschooling for over 16 years now. She is still trying to find the balance between work and keeping a home and says she can only do it by the Grace of God, and Coffee!