Review by Carrie Fernandez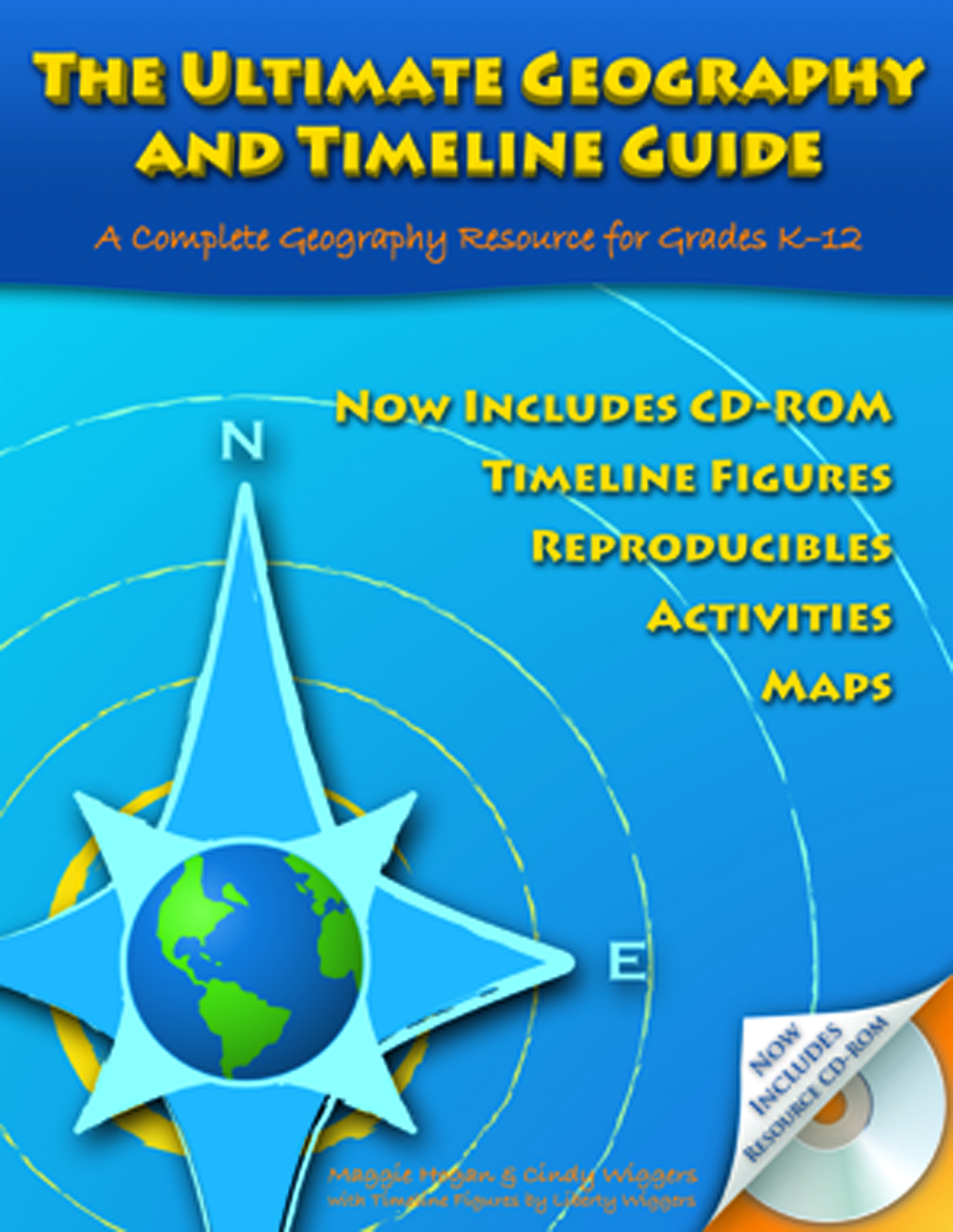 For many years geography was something that got left out of our homeschool due to an inability to find something easy to teach and easy to learn. We tried different curricula and nothing really "worked" for us. That is, until now. You can imagine my delight when I found something that worked for us that we will be able use all the way through grade 12! Just think, a complete, thorough geography program that you only have to buy once! 
The Ultimate Geography and Timeline Guide was chosen by homeschool expert and author Cathy Duffy as on of her "100 Top Picks for Homeschool Curriculum" in the History/Social Studies category. 
The Ultimate Geography and Timeline Guide has really impressed me with their geography curricula. We are not so much of a make it up as you go, crafty type family. I don't necessarily need my hand held, but I want something that is easy to teach and fun to learn. I find that this curriculum fits that bill perfectly. The Ultimate Geography and Timeline Guide contains everything you will need to teach geography from Kindergarten through grade 12. 
The book comes with a cd that includes reproducibles for charts, maps, games, timeline figures, and flash cards. This is a complete curriculum, and although there are recommended book lists to use to further your study, it is not necessary to purchase any additional components, other than a world map, atlas, and a US map. There is a scope and sequence that breaks down sections by grade and ability so you can make your own lesson plans and gear it toward your areas of study. The introduction is very thorough and contains tips and commonly asked questions followed by a "yearly guide for the less than confident". It is very helpful in breaking down what the expectations are for each grade level. 
Chapter one is primarily written for the "teacher" and includes some information about how to go about notebooking and unit studies, learning styles, and the supplies needed (mainly maps, globes, and atlases) to accompany this wonderful curriculum. If you are not familiar with the notebooking style, take heart, because it goes over the importance of a student-created notebook and how it can impact your child's learning process and help them retain what they learn, along with ideas on how to get started. 
There are six units in this book. Unit one is all about familiarizing yourself with geography and why it is so important. Included in this unit is a breakdown of terms and concepts of physical geography and human geography. My daughter liked best the part in human geography where she learned about culture and religion. Five themes of geography are covered in this unit and include location, place, relationships, movement, and regions. You will also learn about different types of maps, map terms, and various facts even I didn't know pertaining to maps. 
Unit two it the "creative" unit in this book. You will find many suggestions for incorporating fun into your geography lessons. Many of the games and activities can be done with things you already have in your home. 
Unit three helps open your mind to the unlimited possibilities of how you can incorporate geography into every subject you teach! The suggestions are great and I find myself going for the map when we are reading about another country in a book. 
Unit four will take your student through the seven continents through mapping exercises and activities using reproducible sheets that are included on the cd. 
Unit Five contains a huge plethora of reproducibles such as maps, activity sheets, Flash cards with geography terms and facts that they suggest you memorize like most populous countries and longest river, etc. 
Unit six is all about timelines and includes over 300 timeline figures, broken down by continent. Many different activities and methods for making timelines are suggested. 
The appendix contains an answer key, glossary, a chronological listing of timeline figures, an index of the timeline figures and "Who Am I?" cards, and an index for the book. 
This curriculum really lives up to it's name! While it does not provide daily lesson plans for the teacher, it is layed out in an easy to use format that it hasn't hindered me any in taking my 5th grader through it.