There is so much to learn about Native Americans and the history of this indigenous people group. These resources to teach kids about Native Americans can help your homeschool explore this rich culture and vibrate history.
I feel as if the only people who can tell the story of the Native Americans are the natives themselves. Just the mere fact that as a kid growing up, they were called Indians is now wrong to me.
Native Americans didn't coin the label "Indian" themselves. When Christopher Columbus was traveling westward, he was in search of India. So he called the Native Americans, Indian.
That alone is cringey to think about it, yet I am also unsure if it's even offensive to some Natives since their lands are referred to as Indian Reservations. My sincere hope is not to be offensive but to encourage the studies of Native American history in our homes.
Therefore, I won't pretend I am an expert in this area – at all. What we can do is teach our children about how Europeans got here. We can tell our kids the truth, and we teach them about the Native Americans who still hold some of their traditions and culture even to this day.
Who are the Native Americans?
That is such a stacked question. It holds a range of answers since the Native Americans had hundreds of cultures stretching from the Yukon Peninsula to the Gulf of Mexico.
The Inuits were from the subarctic region.
Washo, Ute, and Shoshone tribes were in the Great Basin.
The Plains were run by the nomadic groups living in teepees – Blackfoot, Arapahoe, Cheyenne, Sioux, Comanche, and Crow tribes.
The Iroquois, Wappani, and Shawnee tribes occupied the Northeast Woodlands.
Northwest plateau had cedar planks and totems for tribes called Nez Perce, Salish, and the Tlingit.
The Seminole and Chickasaw were in Florida and the Cherokee in the southeast. These tribes were farmers.
The Apache and Navajo owned homes made of adobe bricks in the Southwest.
Traditions and cultural practices differed based on the region in which the Natives were located.
The indigenous people of the Americas were primarily hunters and gatherers, eventually practicing agriculture and aquaculture. They were very advanced, building monuments and forming communities.
Here is the sad truth. Europeans arrived, and Native Americans were able to coexist with them. Unfortunately, a majority faced trouble and diseases carried by the Europeans like cholera, measles, smallpox, and pneumonia.
Whether it be by force or to flee from these deadly diseases, natives moved to areas unwanted by the Europeans.
The natives didn't use written records of their happenings. They carried on their history from stories that have been passed down from generation to generation.
Native American people today:
There are over five hundred distinguished tribes in North and South America. The people are very spiritual, believing in many gods, performing rituals and customs, and put great emphasis on the relationship between man and nature.
You may have heard about percentage rates when it comes to the lineage of Native Americans. To be considered Native American, one would need to show 25 Percent / One-Fourth Blood Quantum (One Grandparent).
The person would either need a CDIB card or be enrolled in a tribe. A Certificate of Degree of Indian Blood (CDIB) is issued by the Bureau of Indian Affairs (BIA), an agency under the United States Department of Interior. This certificate (CDIB) is the basis most tribes use to enroll tribe members.
Why teach Native American history?
In public school, I remember thinking that maybe Native American tribes no longer exist. The teachings were so brief that one would think Native Americans, were a part of history only. I associated them with their garb, Thanksgiving, and teepees.
It is important for us to teach our children that native Americans do not fit into the box that the textbooks of old put them in. Native American cultures are alive, thriving, and beautiful.
It is important to note that 87 percent of state history standards don't even mention Native Americans the way they should. As homeschooling families, we don't have to adhere to these misrepresentations.
We can remember, and teach our children, that Native Americans were at the very beginning of our America and continue to be a part of what our country is today.
Native Americans play a crucial part in American history – in fact, teaching Native American history is teaching American history. Let's do it well.
Grab these resources to teach kids about Native Americans:
FREE Native American Tribes of the US by Region Cheat Sheets
Native Americans FREE Unit Study | Homeschool Helper Online
FREE Notebooking Pages – Native American Unit Study | Sewing, Homeschooling and Craziness
NATIVE AMERICAN Comprehension Facts Research | Teach123-Michelle
FREE Native Americans Digital Unit + Printable Lapbook – Distance Learning | Gay Miller
Native Americans for Kids| 123Homeschool4Me
100 BEST Hands-on Free Native American Resources | Tina's Dynamic Homeschool Plus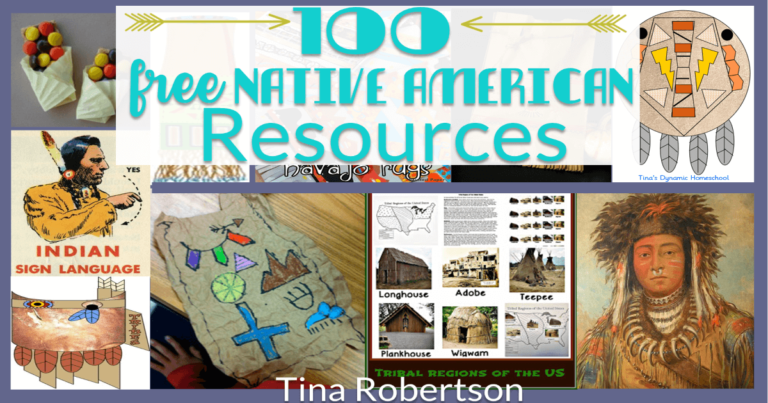 FREE Native American Heritage | K12 Reader
Native American Fact Booklet | TheBeezyTeacher
Downloadable Native American Tribes FREE Unit Study | Peanut Butter Fish Lessons
Native Americans Printables (Perfect for Interactive Notebooks) | Cutesy Clickables by Collaboration Cuties
All About Native Americans Unit | Brigid Ann
Montessori-Inspired Native American History Printable Pack | Every Star is Different
FREE Printable Worksheets for Learning About Native Americans | ThoughtCo.
Native American Tribes Notebooking Pages (FREE Report Pages) For Kids | Real Life at Home
Native American Culture Unit FREEBIE | Compassionate Teaching with Silly Sam
Notebooking Pages Native American FREE Printable Pack | Homeschool Helper Online
A LOT Native Americans FREE PDF Worksheets | edHelper.com
Montessori-Inspired Native American Unit | Living Montessori Now
Printable FREE Native American Worksheets | Easy Teacher Worksheets
The Native American Facts & FREE Worksheets | kidskonnect
Native Americans FREE Crossword Puzzle/Word Search/Quiz | Ducksters.com
FREE Native American Printables and Crafts
Grab these FREE resources for specific groups of Native American tribes:
Pacific Northwest Native Americans Lesson | 123Homeschool4Me
Native American Woodland Tribes Lesson | 123Homeschool4Me
Seminole Native Americans Lesson | 123Homeschool4Me
Native Americans of the Northeast | Homeschool Den
Southwest Native American Tribes Lesson | 123Homeschool4Me
Native Americans Plains Tribes Lesson | 123Homeschool4Me
These activities will help you make your Native American lessons, fun, and interactive:
Native American Heritage Month Lessons, Activities, and Totem Pole Craft | Homeschool Super Freak
Native American Projects | Teaching Dunn Simply
Build a Native American Shelter -Native American STEM Challenge | The Joy of Teaching
5 Activities for Native American History | Hip Hop Homeschool Moms
Celebrating Native American Heritage Month with Free Resources and FREE Activities | LMN Tree
Native American Crafts and Activities for Kids | Simply Today Life
Social Studies – Native American Projects | Learning Lessons with Amy Labrasciano
Native American Indian Activities with FREE Printables | Every Star is Different
If you have crafty kids at home, these crafts for studying Native Americans will be a hit:
13 Easy Native American Crafts for Kids | Social Field Trips
8 Amazing Totem Pole Crafts for Kids | Lesson Plans
9 Native American Crafts for Kids | Artsy Craftsy Mom
Arrow Craft for Kids | The Classroom Creative
Videos for kids on Native Americans are great tools to use alongside your lessons. Check some videos out here:
Native American societies before contact (video) | Khan Academy
Real Life As A Young and Native American | i-D
History of Native Americans for Kids – Timelines – Animation | Past to Future
Native Americans for Kids: Cherokee, Apache, Navajo | Kids Academy
Powwows.com is a great site to visit and explore Native American Culture and Pow Wow information. It would be amazing to visit a pow wow during your lessons on Native Americans. This site can guide you to Pow Wow events near you.
Jeannette is a wife, mother and homeschooling mom. She has been mightily, saved by grace and is grateful for God's sovereignty throughout her life's journey. She has a Bachelor in English Education and her MBA. Jeannette is bi-lingual and currently lives in the Tongan Islands of the South Pacific. She posts daily freebies for homeschoolers!