Do your kids enjoy going to the grocery store with you?
My girls love going grocery shopping. It used to stress me out, but we have found some fun ways to make it enjoyable for all of us. Did you know that a lot of learning can take place while grocery shopping? Your kids can practice their colors and shapes while walking through the produce aisle, they can practice reading by trying to read cereal boxes and the sale ads. They can learn math by weighing items on the fun produce scales and helping you count coupons and watch the sales!
Here are some fun FREE Printables and games to help you make the most of your grocery store learning:
FREE Grocery Store Lapbook from Homeschool Share – learn about shapes, colors, healthy eating, coupons and much more. There are so many fun mini books and activities about the grocery store.

Making Grocery Shopping Fun for Kids by Mother's Niche– I love this cute book you can laminate and take with you to the store. What a great idea!

Grocery Store Bingo from Nest of Posies – Love this fun idea! Laminate it and keep it in your car with the reusable grocery bags and you will always have something to keep them busy while you are shopping.

Preschool Math at the Grocery Store from One Beautiful Home


I Spy at the Grocery Store Game
Let's Go Shopping Money Game
Homeschooling at the Grocery Store Printable Learning Pack from Intoxicated on Life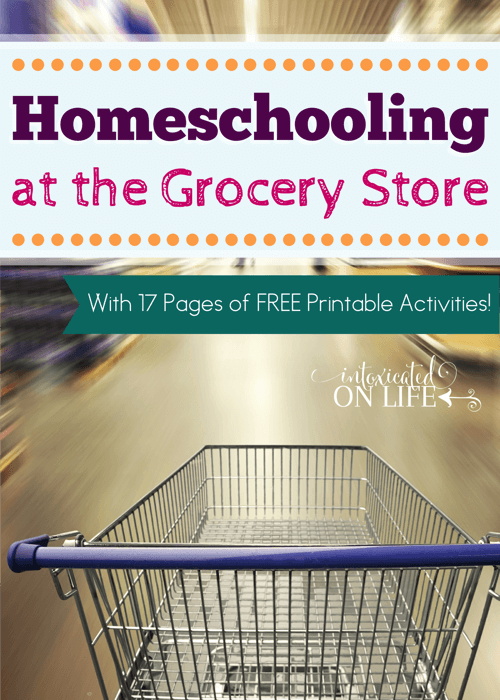 You may want to expand your grocery store learning even further with this post:
Fun with Fruits and Veggies!
Sarah is a wife, daughter of the King and Mama to 4 children (one who is a homeschool graduate)! She is a an eclectic, Charlotte Mason style homeschooler that has been homeschooling for almost 20 years.. She is still trying to find the balance between work and keeping a home and says she can only do it by the Grace of God, and Coffee!