My kids are always going on "explorations" around the house. And during the winter, is the perfect time to channel that built-up energy into some fun learning activities. So I have gathered some fun Explorer related printables, books and activities. Use these as part of a larger Explorer unit or study the Explorers individually. Either way – your kids are sure to have a blast exploring!
Printables: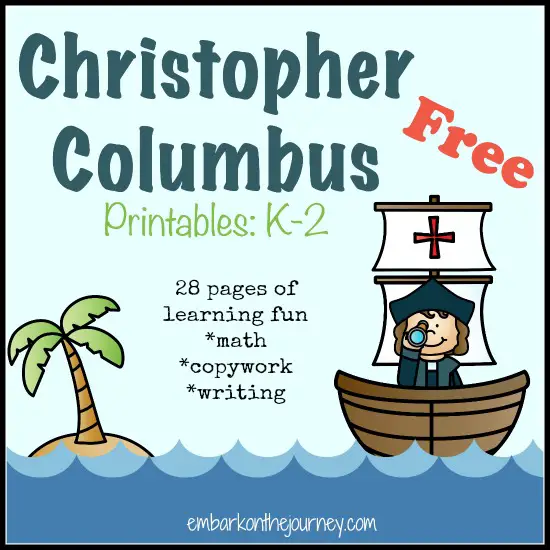 Christopher Columbus Printables
Explorers A to Z – Volume 1
Age of Exploration Printable Timeline Squares
Explorer Trading Cards
Explorers Unit and Notebook Pages
Christopher Columbus Lapbook
Lewis & Clark Coloring Page



Printables from In All You Do
Explorers Coloring Pages
Explorers Writing Activities
Explorers Mini Puzzle Unit
Books & Products:

A Picture Book of Lewis & Clark
The World Atlas
How to be an Explorer of the World
You wouldn't want to be a Viking Explorer
History for Kids: The Lewis & Clark Expedition
Jacques Cartier: Brave Explorers Every Child Should Know
Christopher Columbus
Polar Explorers for Kids
Henry the Explorer
Francisco Pizarro
Crafts & Activities
Columbus Day Activities
Lewis & Clark Explore the Park
Pretending to be Lewis & Clark
DIY Animal Tracks with Plaster of Paris
Sacagewea Activities
DIY Animal Tracks Memory Game
Want more inspiration, follow my Homeschool: History board on Pinterest!!

Annette has been married to her husband and best friend since 2003. Together they are raising their six children to follow the Lord's will, no matter what. Annette longs for the day when she will meet her angel babies who have entered heaven before her. She enjoys creating UNIT STUDIES and FREE PRINTABLES for homeschool families. You can follow her crazy life at In All You Do where she blogs about homeschooling, homemaking and marriage while trying to maintain her sanity. She is also the owner of Thrifty Homeschoolers where she shares her tips on homeschooling without breaking the bank.