My tenth grade daughter is just finishing up Experience Astronomy. I asked her to write me a review with her thoughts. Sometimes we read reviews from parents who LOVE the curriculum, but have no idea what their children think. Experience Astronomy is geared to 6th-9th graders, but with all of the extra reading and project suggestions, she was able to use it in tenth grade for a full science credit.
UPDATE: They have an ELEMENTARY COURSE now available!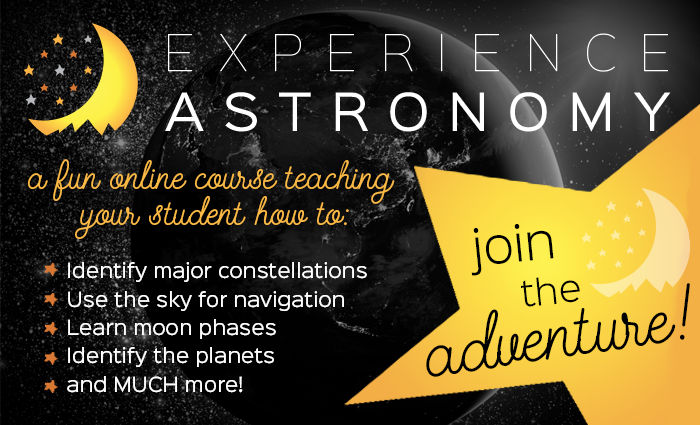 Before this year I didn't know much about astronomy. I am just completing Experience Astronomy and I really enjoyed it. The videos were easy to understand and comprehensible!
I feel like I've learned so much and I'm now fascinated by the moon phases and stars at night; things I overlooked and didn't give much thought to before.
Being busy with all my other schoolwork (I am finishing 10th grade,) it was nice to have a doable work load with one 20 minute video a week, followed by a quiz and an assignment. Sometimes there was extra reading, but it was never a burden, which made it more enjoyable.
I found it interesting how much the Bible talks about constellations. Scripture is very much included in almost all – if not all – the videos. Mr. Gilkerson never takes away that God is the Creator, but at the same time he includes fascinating fables detailing what ancient cultures said about the constellations. By far one of my favorite subjects this year! Experience Astronomy is very interesting and I would recommend this curriculum to my friends.
~ Isa Fernandez 10th grade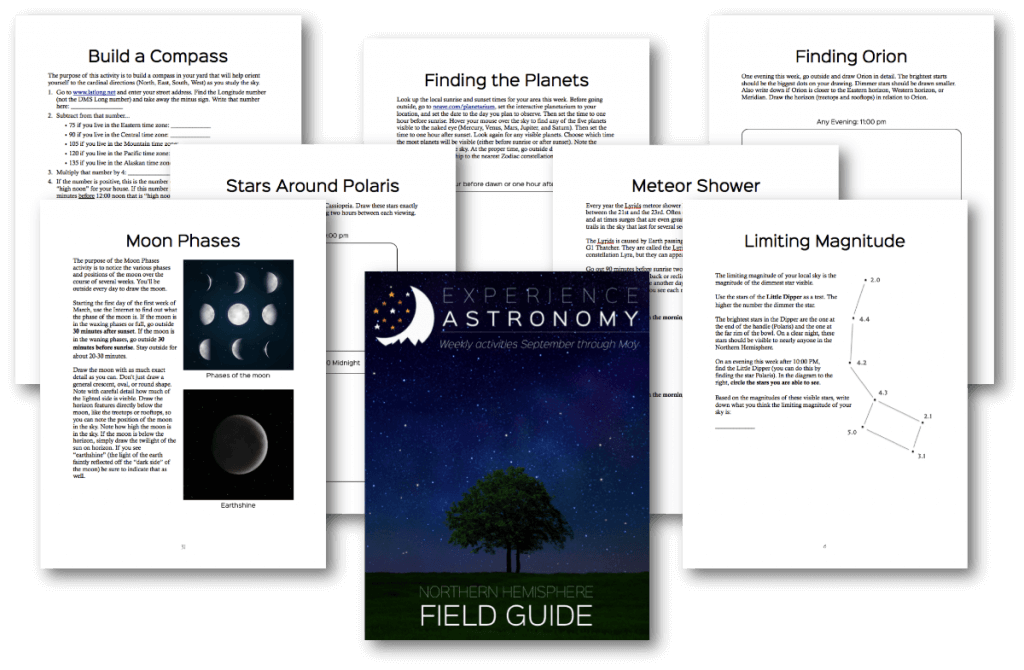 ---
Experience Astronomy runs from September through May. The content is an independent study program, geared towards students 12 years and older. It is a  fun, interactive course that integrates with history and literature and has weekly hands-on learning activities. There is NO expensive equipment needed and is an independent study program.
Where we live, for some reason, the sky is rarely clear and full of stars, but this didn't stop her from viewing the sky. They share a special website with you that you can type in any time and date and where YOU are and you can see what the sky looks like. This was perfect for us, because I didn't want her waking me up in the middle of the night to taker her out to look at the sky!
I am very pleased with this course and think you will be to!
Your child will learn how to:
Identify major constellations
Use the sky for navigation
Learn moon phases
Identify the planets
Discover how astronomy relates to ancient history and literature
and more!
Science will come alive with Experience Astronomy!
Click here to view two FREE LESSONS! Find the button at the top that says "Preview the Course" and click it.
Carrie Fernandez is the founder of Homeschool Giveaways and owner of  Daily Skill Building. She has been homeschooling for over 18 years, has two girls and works side by side at home with her awesome husband. She has been saved by grace, fails daily, but continues to strive toward the prize of the high calling of being a daughter of the Most High God.