It's that time of year again! Election Day is right around the corner, do your children know what it is all about?

If your family follows politics, and watches the news, I  am sure your children know that the Presidential Election is only one year away! It is going to go by fast! With all the excitement over a new president, and all the debates that are in full swing, what better time then to teach your children about the election process and election day? 
There are so many resources to involve your children in learning about the elections. I actually like to take the entire election day to use some of these resources with my kids. I always bring them to the polls with me too. They love to watch the voting and get their sticker on the way out. You can also have them do their own mock elections within your family or with friends from a homeschool group.
FREE Election Day Printables:
Election Day Printable Pack
Election Day Vocabulary Worksheet
Election Day Wordsearch
Make Your Own Election Booklet
My Vote Counts FREE Printable Book for Kindergarten and First Grade
Election Day Worksheets Packet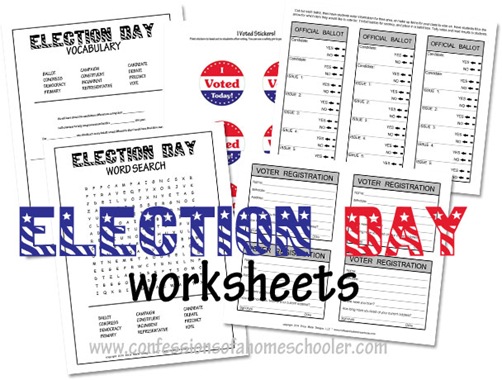 I love all of these printables from In All You Do:
Election Day Coloring Activities
Election Day Puzzle Activities
Election Day Writing Activities
Election Day Notebooking Pages
Does Every Vote Count is a 4 Week Unit Study by Bonnie Rose. It is available as an instant download here at Homeschool Giveaways!
This FREE instant download unit study is designed specifically for High School Students. These studies cover:
Part 1 –  Local Government
Part 2 – State Government
Part 3 – Federal Government
Part 4 – The Supreme Court
You might also enjoy Race to the Oval Offiice, a printable board game from Write Bonnie Rose, about history, government, and the electoral process. It's a limited time freebie, so download a copy today!

Mock Election Printables and Ideas:
Make a Campaign Poster – create your own election poster and why you think that person would be a good leader.
Cookie Election Ballots – vote for your favorite cookie.
Printable Ballots – these are blank so you can vote for anything you want to!
How to Make a Voting Booth Project
I Voted Printable Ballots
Election Day Craft Voter Registration Card for Preschool and Elementary Students

Here are some great books to share with your kids about elections:
Sarah is a wife, daughter of the King and Mama to 4 children (one who is a homeschool graduate)! She is a an eclectic, Charlotte Mason style homeschooler that has been homeschooling for almost 20 years.. She is still trying to find the balance between work and keeping a home and says she can only do it by the Grace of God, and Coffee!