Free & cheap ways to have special family nights is exactly what your home needs to build on connections, bonding, and making memories that last a lifetime.
We got lazy with our family nights, but my husband and I are bringing them back full force. We once were making time for each other every Saturday night just to watch movies and play games.
It slowly faded away, but we were just talking about how much fun we had. Our kids are getting older and time seems to be flying.
If you are spending more time doing "stuff" in life and filling your days with routine and family members all over the place, then maybe its time to slow down.
Slowing down has to be intentional and can begin with scheduling in Special Family Fun Nights.
There are a few things to consider when planning special family nights.
1. Frequency creates the mundane.
I personally don't think special family nights should happen every week. Why? In my experience, having to schedule something every week becomes more of a burden than something to look forward to.
Try once a month or every two weeks, so there is no burden on anyone, and your family actually has something to look forward to.
2. Create specific special nights.
If you start a night with a specific plan, it is always better than having no plan. For instance, having a themed night is fun. If your people aren't feeling it, you can always play a game or watch a movie together.
However, if there are no plan, family members may be more likely to want to get out of it or want to do something else. It's just what I recall happening. Plan and be prepared just like you would with your homeschool, and be flexible enough should things not go as planned.
3. Think about timing.
If you have specific teaching you want to do, like a lesson or something you want to talk to your family about, make sure the length is doable. Remember the point is to make the night special and memorable.
Explore some free & cheap ways to have special family nights below:
Not Your Ordinary Family Movie Night
Think outside of the box. Choose a movie your whole family will enjoy. Make a list of movies everyone wants to watch, then have someone pull a movie name out of a hat.
That takes the "pick-a-movie-saga" out of the equation – that's dreadful for us all.
How About a Comedy Night?! | Not Consumed
5 Mom Hacks that will Make Family Movie Night More Fun | Making Mom Life Easy
Family Movie Night Ideas for More Fun | Mom on the Side
Not Your Boring Family Game Night
Monopoly and card games can get pretty old, quickly. Search the links below for some game ideas that will be fun and engaging for all of you.
Family Game Night Prizes (and some FREE printables) | Little House on the Circle
Prize Booth for Family Game Night | The Dating Divas
25 Super Epic Family Games for Family Night | Pint Sized Treasures
10 Best Games To Play For Family Game Night | Homeschool and Humor
No-Rules Family Night
Ask your kids questions like, "What is the first thing you would do if there were no rules?" or "What's the one thing you want to do that you think I would say 'no' to?"
You think they will answer with something out of this world, but you will be surprised what your kids will come up with. Some of their ideas will be actual doable things. Bring smiles to your kids with something they come up with.
Our No Rules Night | All Pro Dad
Family Night Scavenger Hunts
Your family can either create their own scavenger hunt with clues and a hidden treasure at the end or they can find a ready-made one online.
In The Night Scavenger Hunt FREE Printable Game For Kids | Sunshine Whispers
FREE Printable Indoor Family Night Scavenger Hunt Cards | Look We're learning
Family Night Escape Room Fun
There is nothing like having the family work together to find your way through an escape room task. Kids will think just as hard as parents. You won't want to miss doing this exciting trend with your kids.
Help the zookeeper round up the escaped animals and return them to their home at the zoo. This digital escape room is perfect for lower and middle elementary grades.
An asteroid that is set to hit the space station and you've lost the codes to the secret lab. You get 45 minutes to crack the code to your lab before the space station is hit by the asteroid.
Solve brain teasers with this digital escape room perfect for beginners. It is geared towards students in grades 4-8 or parents can help their kids.
You're get left behind in the lion's den on a field trip… You have to escape before the lions come back from their vet visit. 2nd graders and up can complete this escape room.
The Hunger Games will throw you a few curveballs and you will have to see if you are up for the challenge. This digital escape room has literary elements and figurative language in the clues, so families have to put their brains together to get the clues and escape.
Marvel's Avengers Superheroes: Escape From The Hydra Base!
Your family must decode the location of a world-ending doomsday device or the undercover Hydra agents will use it for evil. All ages can get in on the escape, as long as an adult or older siblings join them in solving the clues.
Pikachu has suddenly disappeared and your family needs to solve the mystery. This challenge is great families and best for ages 6 and older.
Sherlock Holmes Digital Escape Room
From Sherlock the Musical, a detective of any age can solve these mysteries. Grab a pen and paper to help you with the clues.
As you, a Spy Apprentice, travel the world solving clues and mysteries, this escape room is super fun. Although it is best for teens or adults looking for tricky problems to work on.
This science escape room focuses on all things states of matter for grades 3-5 and ties in perfectly with your science unit studies for the whole family.
Minute to Win it Family Game Night
It will be a guaranteed hilarious time playing Minute to Win It Games. All you really need are some ideas, a timer, food, snack, and one or two props for the game you can get from a dollar store.
Family Fun Night – Minute to Win It | The Chaos and the Clutter
Minute to Win It Games For Kids And Family | Teach Mama
Top 50 Minute to Win It Games | Sign-up Genius
10 Awesome Minute to Win It Games | Happiness is Homemade
Family Night-Time Capsule Project
Years go by and you will love to open the family capsule to reminisce on what happened the year you make it. The experience of opening capsules is unmatched. Here are some ideas for making a time capsule on your special family night.
15 Time Capsule Ideas To Do With Your Family | Proud Happy Mama
Why You Need A Family Time Capsule and Ideas | How Does She
How to Create a Family Time Capsule | LifeSavvy
Time Capsule Ideas and FREE Printables | Homegrown Hearts Academy
FREE Covid-19 time Capsule Worksheets | Kiddy Charts
Learning Night, Fun Family Night
Learning can be fun. Whether it be through art, STEM, math, or literature, incorporating some learning fun in your family nights will make it special. It will also help make learning a thing kids want to do.
Pirate Family Literacy Night | Buzzing with Ms B
Roll Out the Red Carpet for Literacy Night, Movie Style! | Buzzing with Ms B
Family STEAM Night- Where Art Meets Science! | Share It! Science
STEM Bins: Hands-on Solutions for Early Finishers | Teach Outside the Box
Art Festival and Family Art Night | Create Art with Me
Craft Night Family Bonding Time | Coffee and Carpool
Family STEM Night | Playtivities
Stargazing and Outdoor Family Night
Stargazing doesn't require a telescope – although that might make it more amazing. You can print out various free star charts to look for constellations, and some free apps t project names and images on the night sky using your phones.
Family Night Under The Stars | My Joy-Filled Life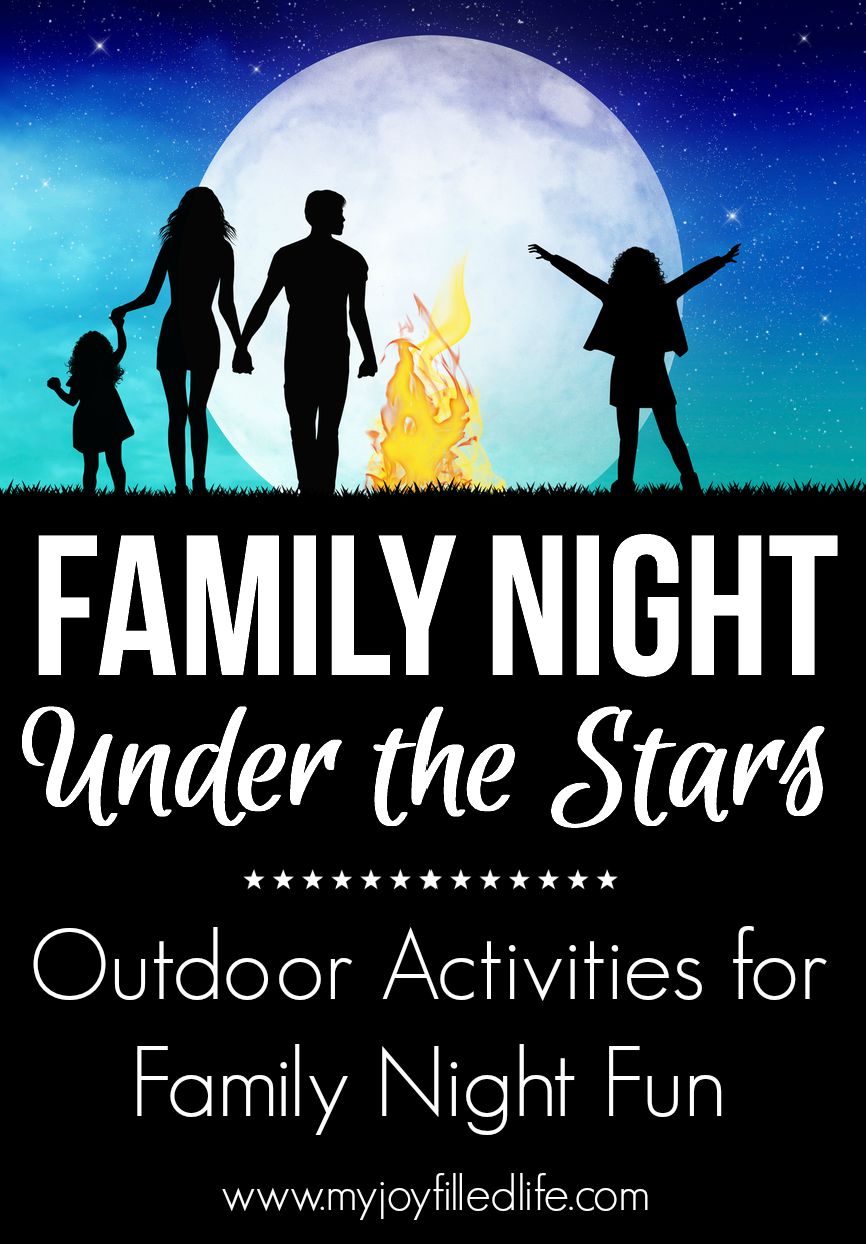 Try a karaoke night!
All you need is YouTube and some costumes.
Create a Theme Night
Pirates, princesses, rockstar, everything red/white/blue or another color, and more. Themes just will make your game night more fun. You will be amazed at what your kids can come up with trying to find the color to wear head to toe.
Add a Campfire
Campfires are always great memories for our family. Add some s'mores, hot dogs, or marshmallows to make campfires epic.
Talent Show Night
Everyone must know that a talent night is coming. Provide at least a week ahead and keep reminding everyone in the family to have their talent displayed. Try to keep them secret until Family night. Then unveil the talent!
Pizza Night
Make pizza together or any meal for that matter. Everyone can make their very own individual pizzas. Cooking together has so many benefits for the family.
And guess what? You can teach just about anything with pizza as you make it:
How to Teach Almost Anything with Pizza
Fort or Sleepover Night
Grab sleeping bags and lots of blankets. Everyone can camp out and sleep in the living room together. Make forts for an even cooler atmosphere. Add a pillow fight here and there— why not!
Special family nights do not require a ton of money spent at the movie theatre, or the same amount going out to a restaurant. Although those times are also fun, the memories made for bonding time require little to no money at all.
It's in those times when you are intentional about making family night s a priority that memories become better than you can imagine. Enjoy your special family fun nights while your kids are still young.
Jeannette is a wife, mother and homeschooling mom. She has been mightily, saved by grace and is grateful for God's sovereignty throughout her life's journey. She has a Bachelor in English Education and her MBA. Jeannette is bi-lingual and currently lives in the Tongan Islands of the South Pacific. She posts daily freebies for homeschoolers!