Do you have children that are interested in farm animals, learning about where their food comes from, and homesteading? If so, you will enjoy this huge round-up of FREE Resources to Help Kids Explore Life on the Farm!
Farm Life is a great unit to cover in your homeschool. Preschoolers love learning about farm animals, and older students may enjoy doing further research on farming as a topic. We have lots of friends who own "hobby farms" and my older girls really enjoy learning about all the steps that go into taking care of a small farm.
We live in a suburban area and have always longed to move to the country. So we do what we can in our own backyard. Our family owns a few backyard chickens, and maintain herb gardens, vegetable gardens, and even a garden that attracts bees and butterflies. We do all of this with the hope and dream that one day we can purchase land and live a simpler life.
I know that farm life isn't really that "simple". There is a lot of hard work and dedication that goes into the farming lifestyle, but it can be so rewarding. I think that simple refers to maybe stepping away from the hustle and bustle of city life and going back to the roots. Which can include creating items from resources that you cultivated, raised and grew in your own backyard. When you are busy doing that, there won't be as much time spent in front of a television or computer screen. That seems so much more simpler to me!
You might also want to check out the Farm Notebook, a companion to Julia Rothman's Farm Anatomy.
Here are some main topics you will encounter when you are wanting to learn about farming and farm life:
Farm Tools and Farming Equipment:
Printable List of Gardening and Farming Tools – English Study Online
Tractor Drawing and Coloring Pages for Kids – Get Drawings
Farm Vehicle Coloring Pages – Honking Donkey
Tractor Coloring Pages – Super Coloring Pages
John Deere Farm Equipment Coloring Pages – Mom Junction
Farm Animals:
Horses: Unit Study Ideas and Freebies
Freebies for Studying Farm Animals ~ Chickens
How You Can Turn Raising Farm Animals into Science Lessons with a freebie!
Unit Study Ideas & Freebies for Studying Farm Animals: Cows
Farm Animals Unit Study and Printables for Middle School – Year Round Homeschooling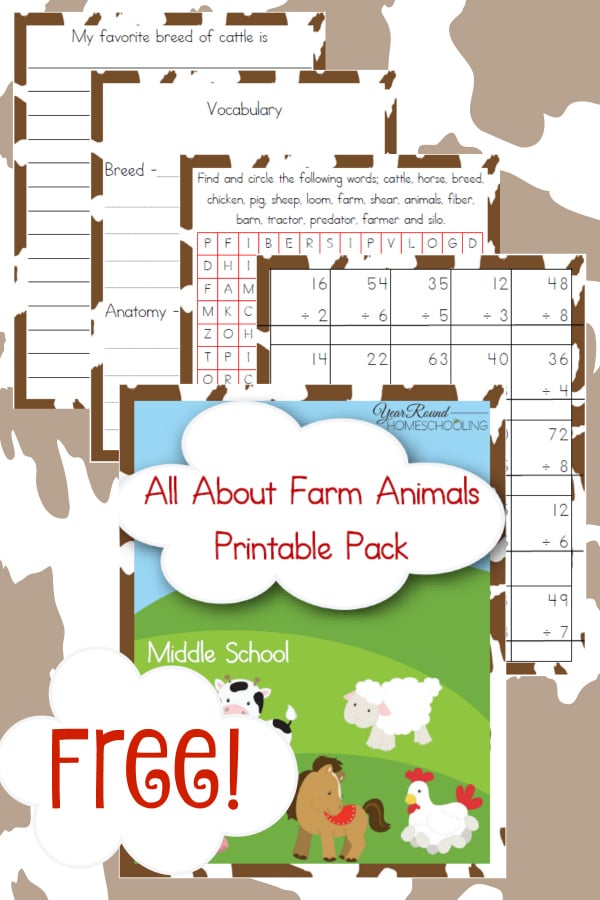 Learning About Farming All Around the World
20 Farm Small World Play Ideas for Kids – Fantastic Fun and Learning
Farm Themed Creativity Prompts with Handwriting Practice for Early Learners
Farm Themed Creative Writing Illustration Prompts for Elementary
Vegetable and Herb Gardening:
Homeschool Gardening Easy Seed Germinating Activity
Free Harvest Days Journal and Family Harvest Activities
Plantain Unit Study: Not Just a Weed
Composting with Kids Free Printable Pack
Gardening Journal Pack and Garden Chore List
Free Printable Gardening Logs and Charts
Dandelions: Summer Homeschooling Activities for Kids
Investigating Seeds in Preschool Farm Theme – Stay at Home Educator
Free Resources to Help Kids Learn About Soil and Composting
Canning and Farm Cooking:
If you are raising meat pigs you will enjoy these 30 Freezer Meals for Pork and Ham.
Do you keep chickens for fresh eggs? I am always looking for recipes that use eggs. Check out these 35 Delicious Egg Salad Recipes .
If you raise meat birds you may be looking for some chicken recipes: 89 Chicken Freezer Meal Recipes
Hands On Homesteading: Learning Pickling with Kids
5 Tips for Canning with Kids and FREE Canning Labels
Fall Family Foraging for Rosehips + Free PDF Recipe Book
Check with your local extension office if you are interested in canning. Most of them have a Cannery that you can use to can with a group. They also may have free or inexpensive classes that can teach you how to can! Some of them even offer field trips!
Country Crafts and Homesteading Crafts:
Kids Friendly Wildcrafting Projects with free printable
6 Pioneer Crafts for Teens to Make – Education Possible
Easily Learn how to Teach Your Kids how to Crochet – Hess Un-Academy
7 Pioneer Crafts to Try at Home
Sarita from An Off Grid Life is our resident homesteading contributor here at Homeschool Giveaways. She lives on a real homestead off grid in Canada! She blogs about her experiences and shares some of her best resources with us here.
Here are some of her amazing homesteading posts that go great with a Farm Unit Study:
How to Homestead Where You Are with free family homesteading activity calendar.
Fun Family Summer Homesteading Activities
How to Make Homesteading a Subject in Your Homeschool
We really enjoy these books on farming and farm animals:
Farm Anatomy: The Curious Parts and Pieces of Country LifeWe Are the GardenersAnatomy and Physiology of Farm Animals with 231 IllustrationsA Year on the Farm (Casey and Friends)Charlie the Ranch DogSleep Tight Farm: A Farm Prepares for WinterBefore We Eat: From Farm to Table A Visit to a Farm
Sarah is a wife, daughter of the King and Mama to 4 children (one who is a homeschool graduate)! She is a an eclectic, Charlotte Mason style homeschooler that has been homeschooling for almost 20 years.. She is still trying to find the balance between work and keeping a home and says she can only do it by the Grace of God, and Coffee!