My oldest has always been fascinated with all things space. Our first year of homeschooling, he wanted to study Astronomy, so we did. Now, he still likes learning about God's creation and imagining what Outer Space is like. So I decided we should do a small unit study on Outer Space and our Solar System. I have gathered some free printables, activities, sensory bin ideas, recipes and MORE for you to study all things Outer Space with your own kiddos.
Printables:

The Happy Housewife has some fun Solar System printable worksheets for 1st – 3rd grades.
Life Over C's created some fun Solar System printables to use in your Sensory bins or for fun play.
Write Bonnie Rose has a fun Race to Space printable board game.
Grab this fun Solar System Preschool Pack from 1+1+1=1.
Homeschool Creations has a cute Astronaut Preschool Pack.
This Sweet Life of Mine has some great Solar System resources on her blog!
Check out this fun A is for Astronaut printable set from Totally Tots.
DLTK has some cute Space Shapes Scenes kids can create! (Scroll to the bottom for this one)
Download this fun Space Unit from A Teaching Mommy for your little ones.

Don't miss these great Outer Space themed printables over at In All You Do.
   *Outer Space Activity Placemats
   *Outer Space Coloring Pages
   *Outer Space Copywork
   *Outer Space Writing Activities
   *Outer Space Mini Puzzle Unit
Books:
Here are some of our favorite books that we will be using as we study Outer Space and the Solar System.
An Astronaut Cookbook: Simple Recipes for Kids (First Cookbooks)

Roaring Rockets (Amazing Machines)

There's No Place Like Space: All About Our Solar System (Cat in the Hat's Learning Library)

If You Decide To Go To The Moon
Mousetronaut (Paula Wiseman Books)

Curious George and the Rocket
The Magic School Bus Lost In The Solar System

Me and My Place in Space (Dragonfly Books)

A Child's Introduction to the Night Sky: The Story of the Stars, Planets, and Constellations
The Planets in Our Solar System (Let's-Read-and-Find-Out Science, Stage 2)
Space Exploration (DK Eyewitness Books)

The Moon Book
The Berenstain Bears on the Moon (Bright and Early Books)

Space Explorers (The Magic School Bus Chapter Book, No. 4)

Space and the Planets (The Magic School Bus, Fact Finder)
Crafts:
I love this Plastic Lid Solar System craft from Still Playing School. Fun for all ages.
Your kids will love making these Space Jet Packs from used cereal boxes by Along the Way.
Try this fun A is for Astronaut Letter Craft by Homeschool Creations with your kids.
More than a Coupon Queen has a fun Solar System craft for little ones!
Sensory bins and Activities: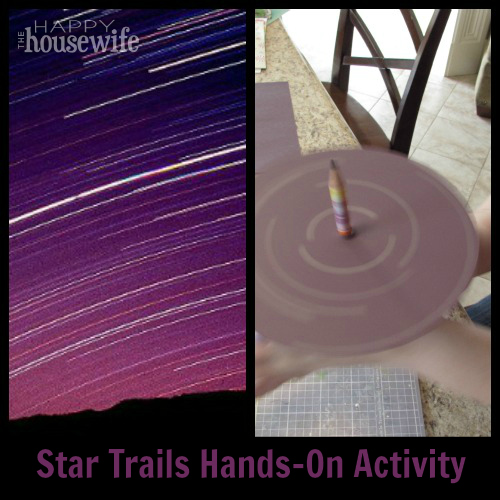 The Happy Housewife has a fun Hands-On activity to study Star Trails.
Your kids will have fun searching for Micrometeorites! Follow these instructions from The Happy Housewife.
Try making these fun DIY Space Rocks, by Life Over C's, for your sensory bin.
Your kids will love Walking the Solar System or this Astronomy Workbox for fun hands-on activities from Chestnut Grove Academy.
Your little and big kids will love these Erupting Moon Rocks from Learn, Play, Imagine.
E is for Explore has simple and fun recipes for Moon Sand, Space Putty and Galaxy Dough!
I love this Moon Phases Felt Board activity from Still Playing School. What a great hands-on activitiy!
Check out these fun Space Activities for Ages 2-6 from Chesnut Grove Academy or these fun Virtual Space Field Trips you can take from home!
Your kids will love this Space Sensory Tub from Totally Tots!
I Can Teach My Child has a fun Outer Space Playdough recipe.
Bath Activities for Kids has some great Space Science Activities your kids will love.
Check out this amazing Lunar Landscape play area idea from Imagination Tree!
Recipes:
Write Bonnie Rose has a fun Appetizing Astronomy Recipes ebook.
Make this yummy Rock Candy for some Science and Space learning fun from Happiness is Homemade.
Try your hand at the Astronaut Pudding recipe from Feels Like Home.
Frozen Yogurt dots, like these from Cheerios and Lattes, could be like Astronaut food!
These Moon Rocks look delicious and easy to make from Kidspot.
Annette has been married to her husband and best friend since 2003. Together they are raising their six children to follow the Lord's will, no matter what. Annette longs for the day when she will meet her angel babies who have entered heaven before her. She enjoys creating UNIT STUDIES and FREE PRINTABLES for homeschool families. You can follow her crazy life at In All You Do where she blogs about homeschooling, homemaking and marriage while trying to maintain her sanity. She is also the owner of Thrifty Homeschoolers where she shares her tips on homeschooling without breaking the bank.