A homework station is a dedicated spot in your home for children to do their homework. What if you child doesn't go to school? Do you have a space set aside for them to do their "homework" in? When you are home all the time with your children, and your house is very lived in, it can be hard to have a designated work space for your children. Sometimes you need to get creative, especially if you have multiple kids that need a spot to work!
We have a huge playroom school room that my husband built for me when we bought our home 13 years ago. We had a 7 year old and a baby, but we knew we would always homeschool and have more kids. That room is now the playroom/storage room/teen bedroom and we school everyday at the dining room table!
I don't how it happened like that, but it was just easier for me, since we have a big great room which is a living room and dining room that is open to the kitchen. Since I was already in our main living area most of the time, it just made sense to school there. I even set up a corner of our dining room as a little station for the kids to do school in. It seemed like such a waste to not do school in the designated "school room", but that room sure has been a great help for storage of bookshelves, and all our things.
Now that our children are older, I have teens that can take hours to get their work done. Sometimes Math and Science can take an hour by itself. This is where that room has come in quite handy, and it's nice to have a designated station for them to do their "homework" in. So now I have one that will be working at the kitchen table, while another works at a table in the corner of school room, next to our bookshelves. Our youngest usually works on the couch or kitchen table with me!
Here is some encouragement to get you started on setting up a space in your home for your kids to work:
4 Things Every Homeschool Mom Needs to Know About Her Homeschool Space
How to Homeschool in a Tiny Space Without a Dedicated Homeschool Room
4 Reasons to NOT Have a Homeschool Room – My Joy Filled Life
Check out some of these awesome posts and ideas for creative places for your homeschool kids to do their "homework":
Our Homeschool Room Makeover and Why We Ditched the Kitchen Table by Kitchen Table Classroom – I love how she turned a laundry/office/sewing room into a homeschool work station, very creative!
If you are a Charlotte Mason style homeschooler you will be inspired by this CM Style Homeschool Room by Everyday Graces. She even has a reading nook!
Everyday Graces has created a Distraction Free Homeschool Room for children with ADHD. I can see how this could be very helpful for some.
Here is a tour of a Large Family Homeschool Room from My Joy Filled Life. She has lots of little work spaces and areas for her children!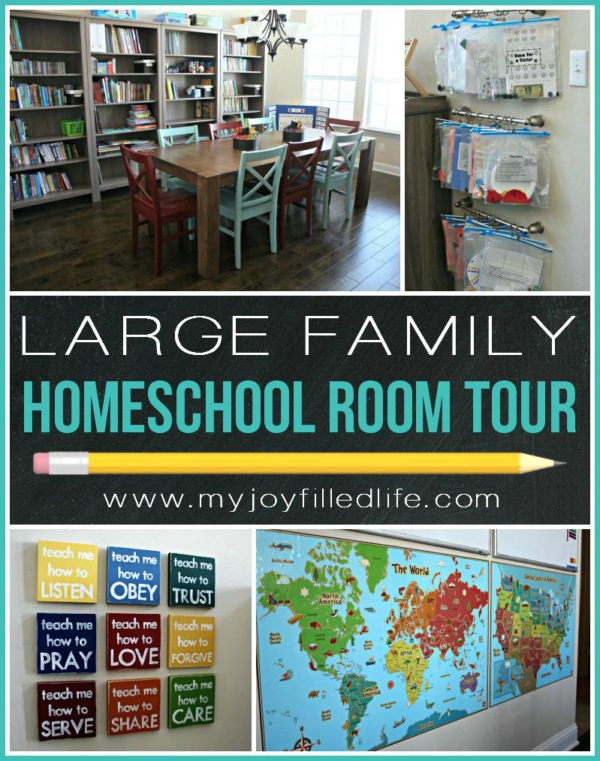 7 Tricks to Organize Your Homeschool Room in Your Dining Room/Living Room – They Call Me Blessed – she has so many creative ideas to make a space that doesn't look cluttered and ugly!
If you are a Montessori/Waldorf homeschooler you will enjoy this post from Natural Beach Living on How to Set Up a Montessori/Waldorf Inspired Homeschool Room.
Create a Homeschool Writing Center in your Home – this is such a "creative" idea to help inspire creative writing from Write Shop!
FREE Printables to help you set up homeschool stations in your space:
Make Your Own Homeschool Organizational Wall on a budget with these printables from Life Abundantly. These are so creative, and adorable, and can be used in any spot in your house.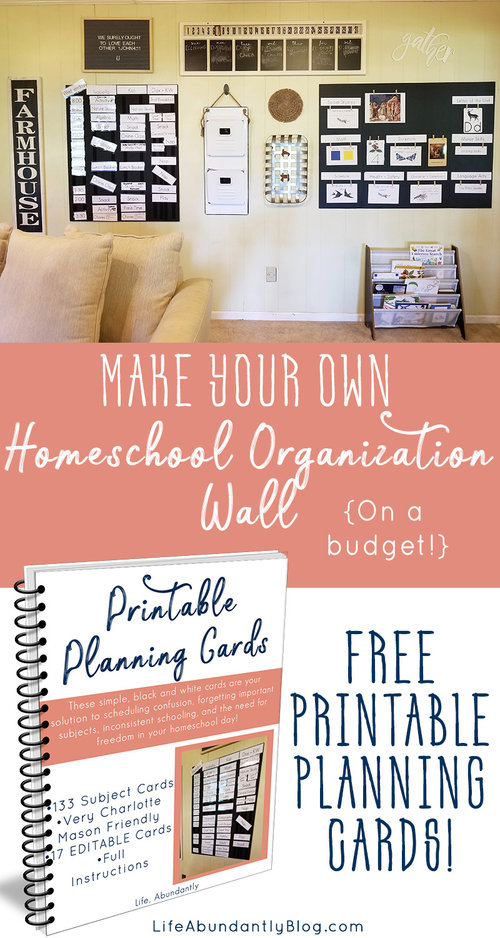 Homeschool Stations for Large Family Organization
These free printables will help you and your children get organized with your school time. It is so hard to find a balance when there are lots of children to teach. These printables are a great aid in creating homeschool stations and areas of time to use with your entire family. There are printable clip cards, and brainstorming ideas to get you thinking outside of the box!
Many times when we are reorganizing our homes, and creating spaces our children want to get involved and help. Here is a cute, printable activity pack we have created just for your children. They can sit in their new space and work on building their very own room with this printable pack: Build a Room Cut and Paste Activity Pack for Kids
We hope these ideas have encouraged you that there is no "one size fits all" when it comes to creating spaces in your home. We wanted to give you some creative ideas for you to create your own homeschool spaces and work stations for your children to get their school work done at home!
Sarah is a wife, daughter of the King and Mama to 4 children (one who is a homeschool graduate)! She is a an eclectic, Charlotte Mason style homeschooler that has been homeschooling for almost 20 years.. She is still trying to find the balance between work and keeping a home and says she can only do it by the Grace of God, and Coffee!