Do your children need some encouragement to read more this summer? They are going to love these free summer reading printables to get them excited about reading.
Summer is a great time to remind your children that reading can be fun and relaxing. What better time to get lost in a book than on summer break?
We have fond memories of lounging around reading without a care in the world. My kids love to read by the pool, or outside in the grass, in a tree, or in a hammock.
Since there are no homeschool classes to rush off to, life moves at a slower pace. In return, this gives us more time to read.
Free Summer Reading Printables:
If you have a reluctant reader, they may enjoy being challenged to read by joining a summer reading program. Keeping track of the books they have read is great way to improve your child's reading.
There are many types of reading printables to help your kids get excited to read this summer. My kids enjoy reading logs and new, fun bookmarks because it gives them an easy way to keep track of their summer book choices.
I am hoping to trick my girls into writing some book reports using free book report templates. There are so many cute printable worksheets that make book reports fun that they may not even realize they are doing school!
How do you track summer reading?
If you have a lot of children, it can be hard to keep track of all the books they are reading. This is why I have have my kids keep track of them on their own. It gives them some ownership in what they are reading.
When they track the books they are reading, they can visually see their progress. They see that chart or log start to fill up and they get excited to read more.
As a result, you will see them challenging themselves.
My favorite way to track summer reading is with simple printables. I like to find reading logs, printable reading challenges and bookmarks that we can put stickers on, or that my children can write on themselves.
Summer Reading Logs and Bookmarks:
100 Book Challenge Reading Log and Bookmarks – These printables will help your children to be challenged to read 100 books over the summer. Not only are there bookmarks, there are spaces on the log to put stickers for each book that has been read.
A Reading Log Kids Can Color – If your kids enjoy coloring, they are going to love this log. After each book is read, they get to color a book on the book shelf of their log to keep track of them.
Summer Reading Logs – I like the simplicity of these reading logs and that they have images that can be colored after your child finishes reading their book.
Reading Calendar for Summer – This summer reading calendar has three months of reading prompts, book recommendations, reading logs and more.
Middle and High School Reading Charts – Your older children may greatly benefit for keeping track of what they read. In addition to tracking for summer, they can even count some of the books towards an English or Literature credit for high school.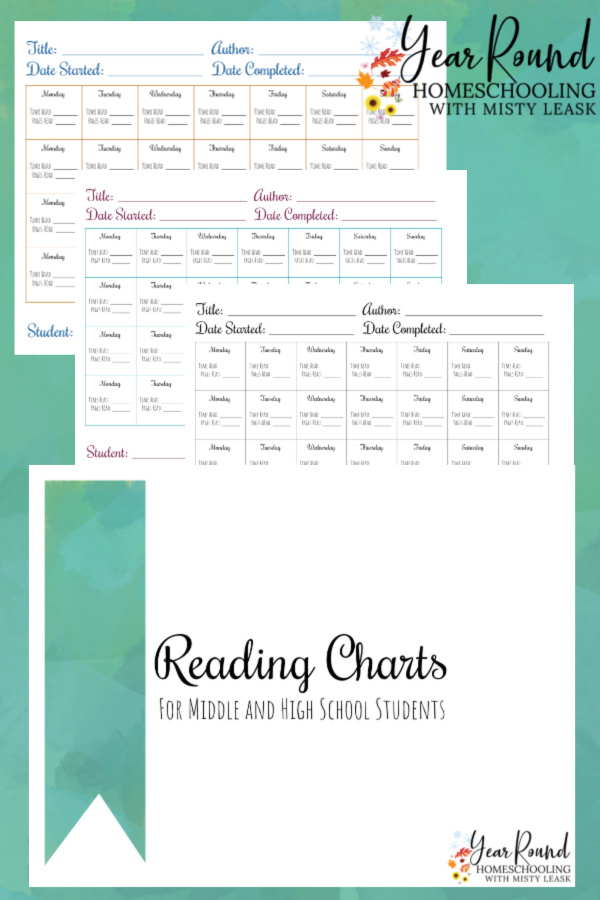 Bucket List Summer Reading Sheet – This is a fun summer sand pail bucket reading log. When they color in the buckets they will be keeping track of the amount of books they have read.
Quick and Easy Reading Goals and Reading Log – These reading goals sheets will help your children not only keep track of books, but other reading materials as well. They can track magazines, poems and other items they have read over the summer.
Ice Cream Summer Reading Kit – Summer time is made more fun with this ice cream themed reading pack. The adorable ice cream bookmarks and reading logs will put a smile on their faces.
Coloring Bookmarks and Reading Logs – When you run out of bookmarks, these summer themed bookmarks with a reading log will help your children to never lose their place.
Summer Reading & Writing Fun Pack – This pack is chock full of awesome summer reading resources. We like the book lists broken down by age, reading logs, writing prompts and more.
Reading Reward Charts and Logs:
Reading Reward Kit – This printable kit includes many different reading certificates, as well as book logs and book report pages.
Printable Summer Reading Challenge -Choose from two different challenges. Included is a reading log, punch cards, and completion certificates for rewards.
Reading Chart and Summer Reward System – Rewards for reading will help motivate reluctant readers to continue reading. This packet comes with bookmarks, reading charts and coupons to fill in for prizes for your kids.
Summer Reading Rewards Printable Pack – This 8 page reading log will help your children get into the habit of reading daily. They can track the book and how many pages they have read, or for how long they have read each day.
Sometimes you may notice that your children need help with their reading comprehension skills. They may rush through their books to complete the challenges and forgot what they have read about.
This is where some reading comprehension help comes in handy.
We recommend this nonfiction reading comprehension packet:
The Nonfiction Reading Comprehension, Written Narration and Research Pack includes 275 pages of reading comprehension helps for grades 4 – 8.
It includes topics in history, geography and science to cover a full year of reading comprehension practice. This resources is open and go, so you won't even need a teacher guide.
Annette has been married to her husband and best friend since 2003. Together they are raising their six children to follow the Lord's will, no matter what. Annette longs for the day when she will meet her angel babies who have entered heaven before her. She enjoys creating UNIT STUDIES and FREE PRINTABLES for homeschool families. You can follow her crazy life at In All You Do where she blogs about homeschooling, homemaking and marriage while trying to maintain her sanity. She is also the owner of Thrifty Homeschoolers where she shares her tips on homeschooling without breaking the bank.