If you know what F.R.O.G. means for Christians, then these free printables and unit studies about frogs will be a great way to introduce it to your kids.
Ever go to a Christian home and see a frog theme somewhere in their home?
I will not lie that when I first came to know the Lord, I would notice some ladies who would have a shelf full of different frogs or frog magnets.
I never thought much of it. I figured it was like someone who had an affinity for dolphins or elephants.
Until I asked a lady why she liked frogs so much, and she explained to me what it signified.
Those frogs opened up a window for her to share her testimony with me. Because she went through so much in her past, she had to learn how to Fully Rely On God (F.R.O.G).
Ever since then, I keep an eye out for a frog or two in the homes of friends. It helps me to remember what these frogs signify.
They signify trials that forced the believer to seek God and to look to Him for strength during a struggle or temptation.
Remember that when teaching your kids about frogs. Take the moment to teach your kids about what exactly this acronym means as it pertains to the Gospel.
Here are some F.R.O.G printables that will help:
F.R.O.G Cut and Paste FREE Activity | Twisty Noodle
Remember to F.R.O.G. and some *FREEBIES* | Heathers Heart
There are so many cool things to learn about frogs themselves, too. Kids can learn about their life cycle, their habitats, and so much more.
Did you know there are over 4,700 different species of frogs?
How about that frogs go into hibernation and form a new layer of bones during that period?
They croak to attract female mates and they "drink" water through their skin.
Explore these free printables and unit studies about frogs for an amazing homeschool unit:
Frog unit studies:
Frog Life Cycle Unit Study | In All Your Do
Homeschool Frog Unit | Sunray-Farms
Frogs and Their Life Cycle Unit Study (Subscriber FREEBIE) | Mom for All Seasons
FREE Frogs Unit Study | The Crafty Classroom
Frog Unit Study Ideas for Kids | Craft Gossip Lesson Plans
Unit Study and Lapbook – Frog | 1+1+1=1
Frog FREE Unit Study | Simple at Home
Find the Letter F is for Frogs (Unit Study) | 3 Boys and a Dog
Frog Unit Study and Lapbook Printables | Homeschool Share
All About Frogs Unit Study, Day 1 In Action | The Usual Mayhem
FREE Frog Resource Unit & Notebooking Pages | The Notebooking Nook
Unit Study: Frogs | Refined Metals Academy
Amphibians~ Frog & Toad Fun Unit | First Grade Roars
Frogs and Toads – A Lesson in Differences | Deceptively Educational
Frog Lesson Plans! | Mrs Wills Kindergarten
Frogs Nature Study | The Silvan Riverie
Preschool: Frogs | Mrs Plemons Kindergarten
Frog Unit Study: Hopping to Learn | HubPages
The Ultimate Guide for Learning About Frogs | Homeschooling My Kinetic Kids
Frogs & Toads Nature Study | Walking By the Way
Resources about a frog's habitat in a pond:
FREE Who Lives in The Pond Printable Activity | Teaching 2 and 3-year-olds
Ponds Unit Study | Wildflowers by Sarah
FREE Pond Life Resources | Something2Offer
Frog & Pond Habitat Sensory Bin | Life Over C's
Spring Pond + Frog Life Cycle Study | Raising Up Wild Things
Frog Life Cycle Printables | Kindergarten Mom
FREE Printable Frog Life Cycle Worksheets | The Keeper of the Memories
Reading resources and movies about frogs:
Frog Books for Kids | Homeschool Preschool
Frog and Toad Together Unit Study | Proverbial Homemaker
Literature Unit Ideas for Frog and Toad All Year by Arnold Lobel (31 Days of Literature Unit Ideas) | As We Walk Along the Road
Princess and the Frog Movie Study | Mom for All Seasons
5 Green Speckled Frogs Printable Puppets | Homeschool Preschool
There Was An Old Lady Who Swallowed A Frog: Sequencing In Preschool | The Preschool Toolbox
Literacy Snack Idea Frogs + FREE Printable | Primary Playground
Tadpole to Frog Mini Book, 5 Green & Speckled Frogs, Frog Book List | Lessons 4 Little Ones
Frog-themed hands-on activities:
5 Montessori-Inspired Frog Activities | Mamas Happy Have
25 Easy Frog and Toad Ideas And Activities | Teach Junkie
Frog Activities for Preschool | Homeschool Preschool
All about frog life cycle resources:
Lifecycle of a Frog with Definitions (3-part cards) | Montessori123
Frog Life Cycle Activities for Kindergarten with FREE Printables | Natural Beach Living
Create an Awesome Frog Life Cycle Theme | Life Over Cs
24 Life Cycle of a Frog for Kids Resources | Kindergarten Worksheets and Games
Frog Life Cycle Activity Pack FREE | Simple Living, Creative Learning
Leapin' Life Cycles! | Around the Kampfire
FREE "How a Frog Grows" Printable Frog Life Cycle e-Book | Surviving on a Teachers Salary
Crafts all about frogs:
Frog Life Cycle Craft for Kids | Still Playing School
Cool Frog Craft For Kids | Simple Everyday Mom
Frog Life Cycle Mini-Book Craft | Mrs Ts First Grade Class
Themed Frog Ideas, Lessons, Printables, and Crafts | Teaching Hearts
Frog on a Lily Pad Papercraft | The Crafts Train
Paper Plate Frog | Easy Kids Crafts
Recycled Toilet Paper Tube Frog Game for Kids | Creatively Beth
Printables to go alongside your lessons on frogs:
Printables to Help your Kids Learn About Amphibians
Amphibians & Reptiles Guided Drawing
FREE Frogs Lapbook Printable | Homeschool Helper Online
Frog FREE Printable (Middle School) | Year Round Homeschooling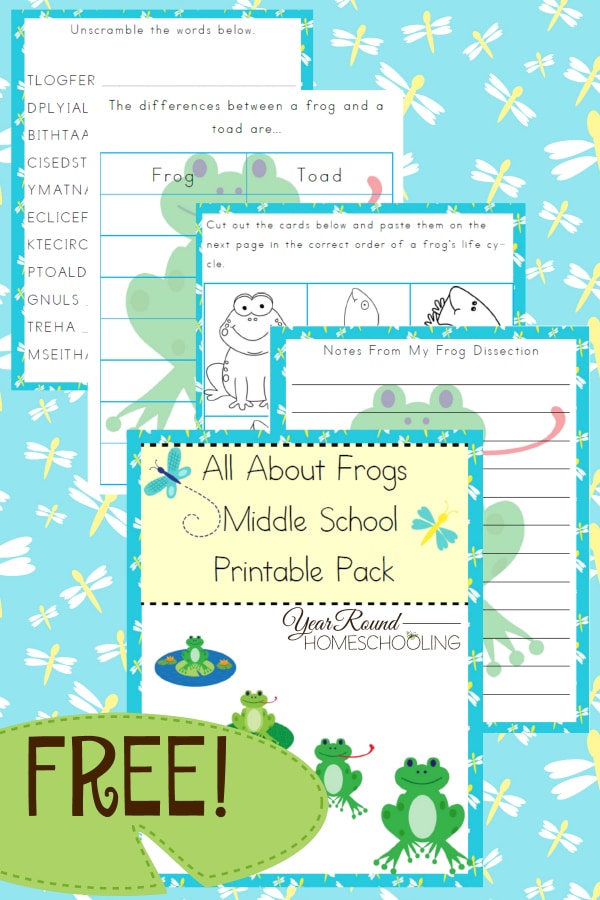 Fun Frog Facts for Kids (FREE Printable) | Itsy Bitsy Fun
Frog Study FREE Printable PDFs and Resources | Communication 4 All
FREE Frog Memory Cards | Preschool POWOL Packets
Frog-themed printables:
FREE Frog Printables and Montessori-Inspired Frog Math Activities | Living Montessori Now
Frog Counting Activity | Early Learning Ideas
FREE Frog Do-A-Dot Printable (Montessori-Inspired Instant Download) | Living Montessori Now
5 Green Frogs Counting Printable | Pre-K Pages
Frogs & Flies: Counting to 5 | The Reading Mama
Spring Frogs Tracing Pages | Fluffy Tots
My Book of Numbers Frogs FREE Download | Fuel the Brain
Frog Theme Color Words Book FREE Printable | Books and Giggles
FREE Printables Frog in the Pond Busy Bag (Colors) | Mama that Makes
If it wasn't enough that these amazing creatures begin their entire first process underwater and then eventually move onto land, their name is also used as an extremely essential God lesson.
Never forget F.R.O.G!
Jeannette is a wife, mother and homeschooling mom. She has been mightily, saved by grace and is grateful for God's sovereignty throughout her life's journey. She has a Bachelor in English Education and her MBA. Jeannette is bi-lingual and currently lives in the Tongan Islands of the South Pacific. She posts daily freebies for homeschoolers!