My family loves birds. We have been "birders" and bird watching since my children were babies. We love taking walks and looking for birds. There are so many learning opportunities when it comes to studying birds. One of the first things you will want to teach your kids when learning about birds is bird anatomy.
The way God designed birds is quite amazing. Their bones are very lightweight, and their feathers are designed for long flights and to withstand all types of weather. Their bills and beaks are created specifically for the type of bird and the habitat that it lives in.
I enjoy teaching about the anatomy of birds because it is so fascinating to see how they are created. If your kids love hands-on learning, there are some really fun crafts and activities that can help you teach about bird anatomy. These would go great with a bird nature study or any type of bird unit study.
FREE Crafts and Activities for Learning About Bird Anatomy:
Bird Anatomy Middle School Science Lesson with activities – Hub Pages
Bird Beaks:
God created bird beaks specifically for the type of bird and where it lives. They all have different shapes and sizes. Bird beaks are used to eat, they are used as tools, to build nests and so much more. They are essential to their survival. Learning about bird beaks is a great way to aid in identifying birds.
Bird Beaks and What They Eat Fine Motor Skills Activity – Relentlessy Fun Deceptively Educational
Beak Speaks- make a talking bird beak craft – Crayola
Adaptations: Bird Beak Activity – Science Net Links
Bird Beak Craft Mask – Mouths of Mums
Bird Beak Adaptation Activity – Eva Varga
Beak Exploration Activity – The Barefoot Mom
Build Your Own Bird Beaks to Learn About Adaptation – Stay at Home Science Discovery Place
Attract more birds to your yard with these DIY Birdfeeder Nature Crafts for Kids.
Bird Feathers:
Did you know that birds are the only animals on earth that have feathers on them? Many different types of animals have fur, but birds are the only ones with feathers! They are so important and protect them from all of the elements, as well as enabling them to travel long distances safely.
Bird feathers are also so beautiful! We love collecting them and putting them in jars, or laying them out on a nature table. Feathers have been used for writing utensils, decorations, and fashion design! Each feather is so unique, and intricately designed by our Creator.
Explore Color and Label Bird Feather Printables – A Little Pinch of Perfect
Feather Craft Scissor Practice for Kids – A Little Pinch of Perfect
All About Feathers Interactive Tutorial – Cornell Lab
Learning About Feathers and looking under a microscope – Year Round Homeschooling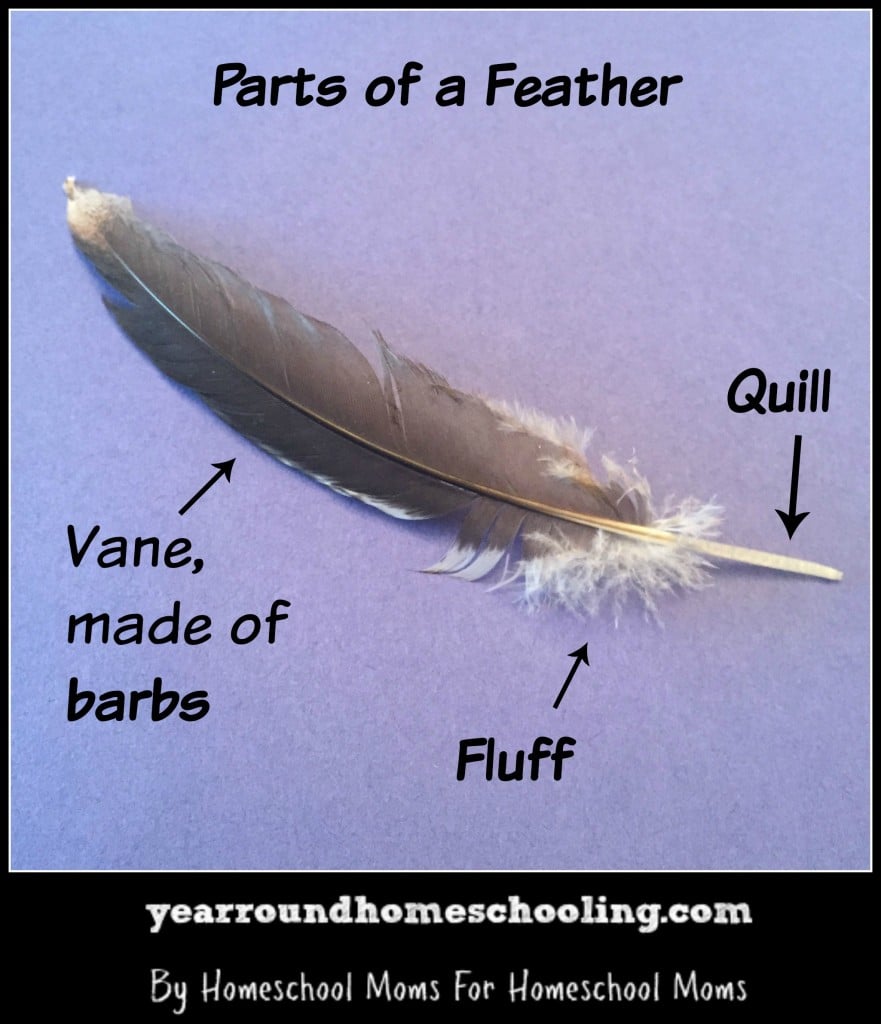 Feather Science Experiment – A to Z Teacher Stuff
Looking at Feathers on a Light Table – Pre-K Pages
Preschool Science Duck Feather Experiment – Raising Life Long Learners
Feather Fine Motor Fun – Early Learning Ideas
Homeschool Feather Investigation Study – A Barefoot Mom
Learn About Feathers Hands-On Exploration and FREE Printable – A Little Pinch of Perfect
If you want to dig deeper and learn even more about birds you will enjoy these nature studies:
FREE Bird Nature Study Fact Cards
Bird Terms Vocabulary Copywork
FREE Audubon Birds Notebooking Journal
Birds Around the World Guided Drawing Activity
Birding Notebook – A Companion to Audubon Birding Adventures For Kids – Using the Birding Notebook alongside Audubon Birding Adventures For Kids (sold separately) you will learn about 25 birds as well as their habitats, beaks, feathers, and much more. Document your birding activities for your notebook and portfolio and use the journal pages for a bird walk.
Sarah is a wife, daughter of the King and Mama to 4 children (one who is a homeschool graduate)! She is a an eclectic, Charlotte Mason style homeschooler that has been homeschooling for over 16 years now. She is still trying to find the balance between work and keeping a home and says she can only do it by the Grace of God, and Coffee!