Learning how to practice patience while homeschooling can be downright difficult. Why? Because life is crazy! Life can get overwhelming and trying to homeschool during the chaos can drive us over the edge.
Many of us are Christians, so I know we have heard this before. We have heard people saying, "Don't ask the Lord to help you with your patience because he will only give you trials."
Something of that effect.
In essence, these people are telling others that asking the Lord for help, is asking for trials and for Him to bring you troubles. How warped is that? I understand the thought behind it. We go through trials and looking to the Lord, we grow. Yes, even in patience.
The truth is, when everything is going our way it is pretty easy to be patient. When any stressor is added to our day we feel that patience subside, we see it slip through our fingers like sand.
I remember having no patience with my oldest child. I was a single mother, had no idea what I was doing, and I just made my daughter act perfect in order for me to curb my lack of patience. We can't do that. I forced my daughter into a corner, while I was falsifying who I really was – angry, sad, and impatient.
When I came to know the Lord years later, I had great sorrow for the person I was. I had great pain for what I did to my kid. I knew I had to change. My lack of patience was something that I had to give to the Lord, that I am still trying to give to the Lord now and again.
This is what the Lord tells us about patience:
"Therefore, since we are surrounded by so great a cloud of witnesses, let us also lay aside every weight, and sin which clings so closely, and let us run with endurance the race that is set before us…" – Hebrew 12:1
Did you ever think about that verse? Think for a moment what that means. It means that patience is persevering towards an end goal. It means endurance through trials and expecting the Lord to guide you in His sovereignty.
Patience isn't staying still or staying where you are hoping for a miracle. Patience is an action.
So, as you pray for patience while you homeschool, there are certain actions you can put into practice. Here are a few:
8. Take a pause.
You and your children can learn to take a pause.
In this generation of instant gratification, it has become more important than ever to teach our children patience. Get into the habit of pausing. Instead of reacting, pause.
In your moment of pause, it will delay your reaction and help you to remember scripture. Help your children remember scripture and practice the pause.
When they are getting impatient, place your hand on theirs and remind them to pause until it becomes a habit for you both. Memorize scripture and let that follow the pause in your mind.
7. Let go of the idea of perfection.
Many seasoned homeschool moms have long ago let go of the idea of perfection. they know their homeschool may never look perfect or look like other families. Letting that go will help with your frustration.
6. Create a flexible routine.
This is a routine your children can get used to, one that can relieve your stress because your kids will know what they need to do. However, be flexible enough to switch things around if you have to.
A routine can create comfort for you all, both to follow and to know where to begin again should you need a break for a time.
5. You are not alone, reach out.
Encourage other homeschooling parents and let them encourage you. You are not alone in your struggles. They do not look the same but they are shared hand in hand with other homeschooling parents that struggle with patience.
If it weren't so thousands wouldn't have read this today. There would be no Bible studies or resources that talk about practicing patience. Yet, there are. You are not alone. Reach out to another parent and be intentional about working out your patience. These resources can help.
10 Prayers for the Homeschool Mom | In All You Do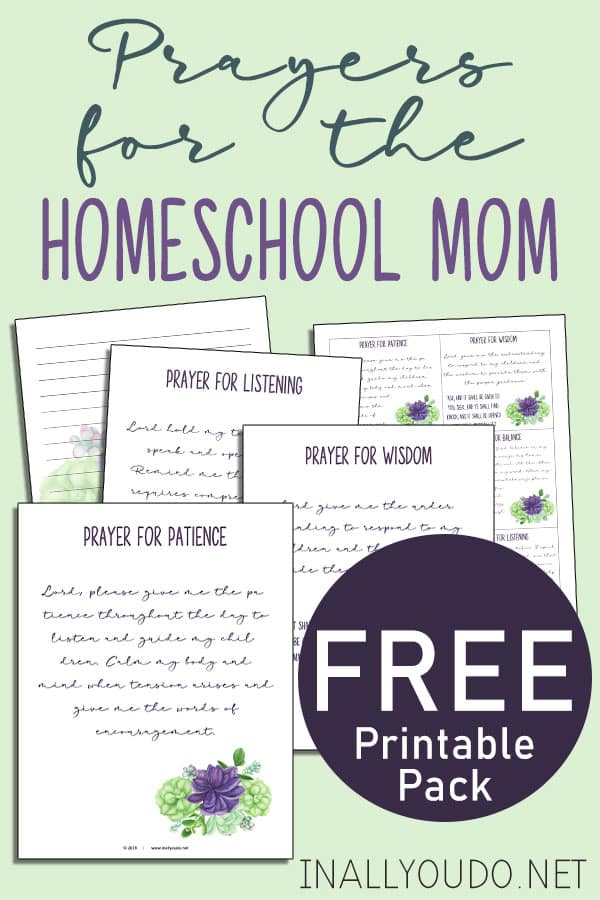 FREE Quick-Start Guide 10 Habits of a Patient Homeschool Mom | Rock Your Homeschool
Prayers for Patience FREE Printable | Living Free Indeed
The Fruit of The Holy Spirit: Patience – 9 Week Study | Unshakeable Joy
4. Help your children with their patience.
Odds are, if you have displayed impatience with your children or they have witnessed it, then they may have picked up some bad habits themselves.
Be intentional about teaching your child about part of the fruit of the spirit – patience. Here are some resources to help them (and you) throughout your homeschooling journey.
Patience – What Your Mother Forgot To Tell You
PATIENCE – Fruit of the Spirit Series | Nikki's Happy Nook
A Study In Patience No Prep Worksheet And Activity Pack | Miniature MasterMinds
Patience Worksheets for Kids and Games that Teach Patience | 3 Boys and a Dog
But most of all…
3. Give thanks to the Lord.
Our first reactions can be anger, anxiety, yelling, self-pity. Let's turn that right back around at the beginning of the day. Let's fight those reactions starting right from the beginning of our homeschool day.
He commands us to rejoice. So, make it a point to pray with your children every day before beginning your homeschool day. Practice praying and being thankful out loud with your children when you feel your patience wearing thin.
"Rejoice in the Lord always; again I will say, rejoice." – Philippians 4:4
"In this you rejoice, though now for a little while, if necessary, you have been grieved by various trials." 1 Peter 1:6
2. Look for the purpose in your struggle with patience in your homeschool.
Remind yourself that our goal in our homeschool should be our witness in Christ to our children. It puts things in perspective.
Our purpose is not for our children to "get" the multiplication table easily or quickly. They do not HAVE to be doctors or scholars. Our goal is to train our children in the way they should go.
So, remind yourself of where we should be in HIM, and in where our children should be in their journey towards him. Lay your burden at his feet and remember that we should grow in Christianity and His glory in our challenges. Remembering His purpose will help us with our patience.
1. Grab a hold of his promises and don't let go.
Teach your children to do the same. Romans 8:28 tells us that for those who love God all things work together for good, for those who are called according to his purpose.
5 Promises For Moms | The Powerful Mama
Remember, if you are struggling with patience in your homeschool it doesn't happen overnight. God is good, he is powerful and faithful to complete the work he has started in you.
The Bible says in Colossians 1:11 that we are being strengthened with all power, according to his glorious might, for all endurance and patience with joy.
It doesn't stop there.
"…for you know that the testing of your faith produces steadfastness. And let steadfastness have its full effect, that you may be perfect and complete, lacking in nothing." – James 1:3–4
So, know the Lord is there for you in your ever-present time of need. Your battle with patience includes those "all things" in this verse. He won't leave you or forsake you – he will hold your hand as a homeschooling parent, as you hold your child's hand through the homeschooling journey.
Jeannette is a wife, mother and homeschooling mom. She has been mightily, saved by grace and is grateful for God's sovereignty throughout her life's journey. She has a Bachelor in English Education and her MBA. Jeannette is bi-lingual and currently lives in the Tongan Islands of the South Pacific. She posts daily freebies for homeschoolers!