There are many types of ecosystems for your students to explore. These free printables and unit studies about ecosystems can help you learn about the different ecosystems in your homeschool.
What is an ecosystem anyway?
An ecosystem is a community of organisms that interact together and their environment. Living things like humans interact with each other and they interact with other things like soil, air, and water.
Whether it be your backyard or an ocean, ecosystems contain a cycle of life and a community of interacting things. Yes, "things."
Although we often think about animals when we talk about ecosystems they, in fact, are made up of many living things and non-living things – like air and water.
The major types of ecosystems are grasslands, forests, deserts, tundra, freshwater, and marine. It is good to note that the word "biome" also describes the terrestrial/land-based ecosystems.
Below you will find free printables and unit studies about ecosystems to help you with exploring them at home:
Unit Studies and resources about ecosystems
FREE and Frugal Unit Resources for Types of Biomes | The Frugal Homeschoool Mom
7 Ideas to Teach Ecosystems and Food Webs | The Science Penguin
Ecosystems for Kids Made Easy! | GenerationGenius
Ecosystems Project Based Learning: Museum Project | TarheelState Teacher
10 Activities to Teach Ecosystems | Ashleigh's Education Journey
Homeschool Unit Studies: Animal Homes Unit Study | Look We're Learning
What is an ecosystem? | Khan Academy
Ecosystem Information | National Geographic
What is an Ecosystem? | Conserve Energy Future
10 Interesting Things About Ecosystems | Climate Kids
Ecosystem Dioramas | The Inspired Classroom
Biology Unit on the Biosphere: biomes, ecosystems, habitats, feeding relationships, biological interactions | Homeschool Den
Studying the Earth's Biomes | Peanut Butter Fish Lessons
Ecosystems FREEBIE | Frogs and Cupcakes
Biomes Foldable | Biology Education Ideas
Ecosystems Introduction | Mensa for Kids
Going Wild for Ecosystems | The Owl Teacher
Ecosystem for kids – Science Activities For Kids | Ecosystem for Kids
Picture Books About Habitats and Ecosystems | Imagination Soup
Ecosystems for Kids VIDEO | Homeschool Pop
World Biomes and Ecosystems | Ducksters
ECOSYSTEM – The Dr. Binocs Show VIDEO| Peekaboo Kidz
Facts & Characteristics Ecosystem | Cool Kid Facts
Forests ecosystems
The forest ecosystem consists of terrestrial environment full of trees growing in a closed canopy which includes a community of plants, animals, microbes and other living things.
Cool fact: Half of the world's species live in tropical rainforests.
FREE Animals of the Forest Notebooking Unit
Animals of the Forest Printables
Information About a Forest Ecosystem | Sciencing
Temperate Forest FREE Download Worksheet | Education.com
Biome Presentation, Coniferous Forest – Taiga | SlideShare
Rainforest Unit Study | SusanEvans
Grasslands ecosystems
The grasslands ecosystem or biome of course is made up of large open spaces of grasses. They are maintained by the animals that graze on them and from fires.
Cool fact: Grasslands are a cross between forests and deserts. This is an interesting one but fire is essential for grassland existence. After fires, grasslands burst back to life even stronger than before.
Animals of the Grasslands Printables
Grassland Biome | National Geographic
FREE Download Grasslands Ecosystem | Education.com
Grasslands Worksheets, Lessons, and Ideas | Worksheet Place
Science Grassland Worksheets | abcteach
Grasslands Worksheet – FREE Science Kids Printable Hidden Words Game | Easy Science for Kids
Deserts ecosystems
The desert ecosystem creates some of the most intense conditions with solar radiation, lashing winds, and very little moisture. Days are hugely hot and nights are very cold.
Fact: Many of the animals who live in deserts only get water from the foods that they eat.
FREE Desert Animals Facts Coloring and Copywork
Desert Ecosystem: Plant And Animal Adaptations In Hot Deserts | Geography and You
Cactus Desert Animals Unit Study and Lapbook | Homeschool Share
Desert Unit Study Resources | Blessed Learners
FREE Desert Pack | 3Dinosaurs
Tundra ecosystems
The tundra ecosystems are treeless regions of land in the Arctic and the ops of mountains. The climate is cold and windy and rainfall is scarce.
Cool fact: The tundra ground is often permanently frozen so trees cannot grow there.
Animals of the Tundra Printables
FREE Animals of the Taiga & Tundra Notebooking Unit
Arctic and Antarctic Unit Study Ideas | Mama of Many Blessings
All About the Arctic Tundra! | MercedesArcticTundra
The Tundra Biome Facts Video | MooMooMath and Science
Freshwater ecosystems
The freshwater ecosystems share resources between different habitats. Freshwater ecosystems begin with the precipitation in the air then eventual rainfall to create lakes, ponds, rivers, and streams.
Cool fact: Freshwater ecosystems are all over the world and have some very rare species of animals like river dolphins, beavers, and platypuses.
FREE Animals of the Everglades Printables
Freshwater Ecosystems: FREE Printables and Science Projects
Freshwater Ecosystem | National Geographic
FREE Pond Ecosystem Activity and Game | Mystery Science
Florida Swamp Unit Study Resources | The Grace-Filled Life
Pond Life Unit Study Ideas | Ellen McHenry's Basement Workshop
Marine ecosystems
The marine ecosystems are aquatic ecosystems where the water contains high salt content. They provide nearly half of the Earth's oxygen.
Cool fact: The bottom of the ocean has thriving life-form communities. They contain methane and ammonia from something called hydrothermal vents where creatures like giant tube worms grow over 6 feet long.
FREE Animals of the Deep Ocean Printables
Marine Ecosystem Classification | Sciencing
Coral Reef Unit Study and Lapbook | Tina's Dynamic Homeschool Plus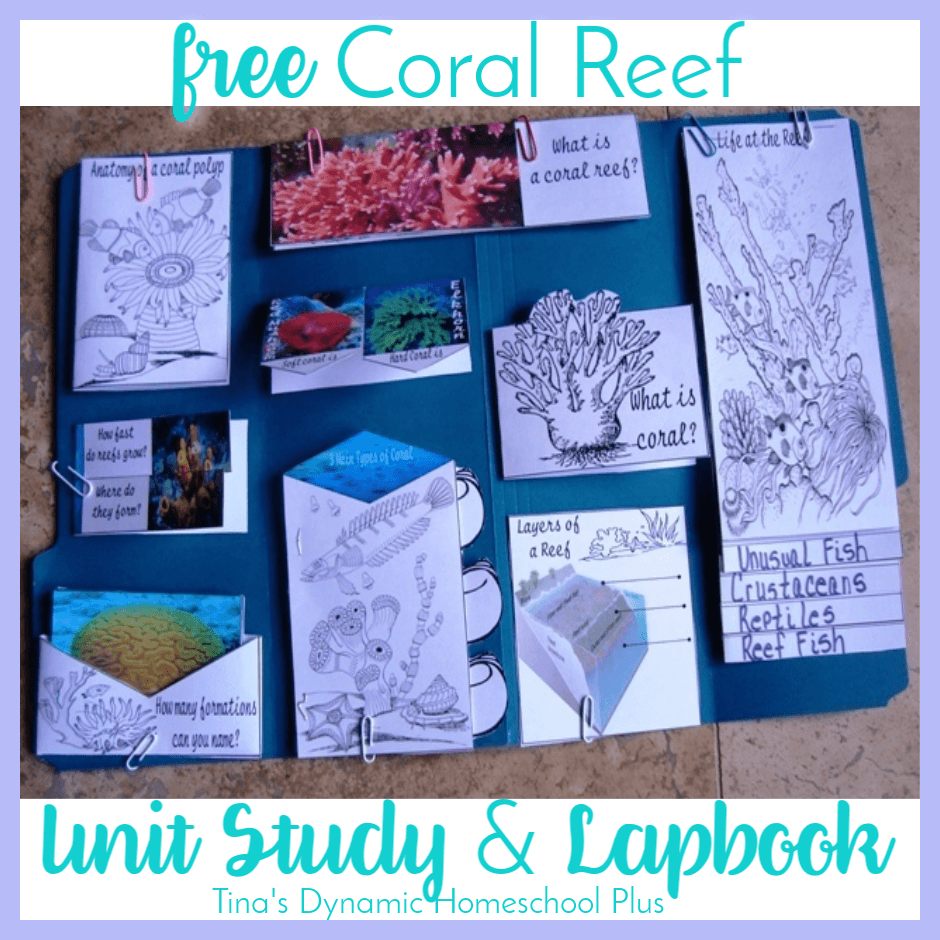 Marine Biology Unit Study Resources | Premeditated Leftovers
Temperate Oceans Ecosystem FREE Worksheet | Education.com
Coral Reef Animal Study & Lapbook | Homeschool Share
Each of these ecosystems can be broken down into even smaller ecosystems. You literally can create a whole science unit to fill up your year on ecosystems alone.
When the balance of ecosystems is disrupted the living things do not thrive and can even die. Some things like human pollution, deforestation, the development of land, and the removal of excess resources all can damage the ecosystems.
Some disruptions are also done by natural causes like new species in an area or natural disasters. Either way, it is important that we share the importance of ecosystems to our children in hopes they do their part in trying to conserve the systems as well.
Jeannette is a wife, mother and homeschooling mom. She has been mightily, saved by grace and is grateful for God's sovereignty throughout her life's journey. She has a Bachelor in English Education and her MBA. Jeannette is bi-lingual and currently lives in the Tongan Islands of the South Pacific. She posts daily freebies for homeschoolers!