Once we begin homeschooling a young learner, we see that learning numbers is so much more than memorization. These free number practice worksheets (Instant Download) can help kids learn numbers.
Scroll to the bottom of the free number practice worksheets list to grab our instant download.
Can't we just teach our little ones a numbers song and be done with it? Well, no. It is super important for children to develop that solid foundation of learning their numbers and to have a good experience in doing so.
When I was an early learning teacher, it was one of the most fulfilling times in my life aside from raising my own children.
Hugging a child who clearly wasn't hugged much, cheering a child on who was used to being yelled at – now that was a sight to see.
Our early learning center was a mix of privileged kids and inner-city kids. I can tell you that BOTH types of children needed this type of encouragement.
Nothing like learning!
Above being a part of a young learner's life, it is a privilege to see them learn. To be a part of their journey is and was an honor. Even at the foundations of learning, you quickly realize that it is crucial how and what you teach them.
Without learning about letters, kids cannot proceed in reading, or build on vocabulary. Without numbers how can a child proceed to addition, multiplication, algebra, and beyond?
It may seem simple, yet it is more important than we can imagine.
Teaching numbers was right up there with my favorite topics to teach. There are just so many activities and resources that we can use to help.
As a teacher, I didn't have the luxury of just teaching kids to memorize numbers through song or repetition/recitation. I had to teach them to understand what numbers meant and that is the charge parents of young learners in homeschools have as well.
Early math is just as important as early reading, in my opinion. That is why reciting numbers just doesn't cut it and practice for kids to see what numbers are and what they do is exactly where we can start in our homeschool.
I was reading an article in the scholastic online resource and it expounds on the importance of understanding numbers. Here is what Scholastic said:
Two preschoolers are watching a parade. "Look! There's clowns!" yells Paul. "And three horses!" exclaims his friend, Nathan.

Both friends are having a great experience. But only Nathan is having a mathematical experience at the same time. Other children see, perhaps, a brown, a black, and a dappled horse. Nathan sees the same colors, but also sees a quantity-three horses. The difference is probably this: At school and at home, Nathan's teachers and family notice and talk about numbers."
Let's do this for our children when it comes to learning numbers.
Below grab some free resources to help you provide plenty of practice for learning about numbers.
Don't miss our 20+ page FREE Number Practice Worksheets at the bottom of the page.
FREE Printable Number Find Worksheets
Cool Dinosaur Colors / Numbers Worksheets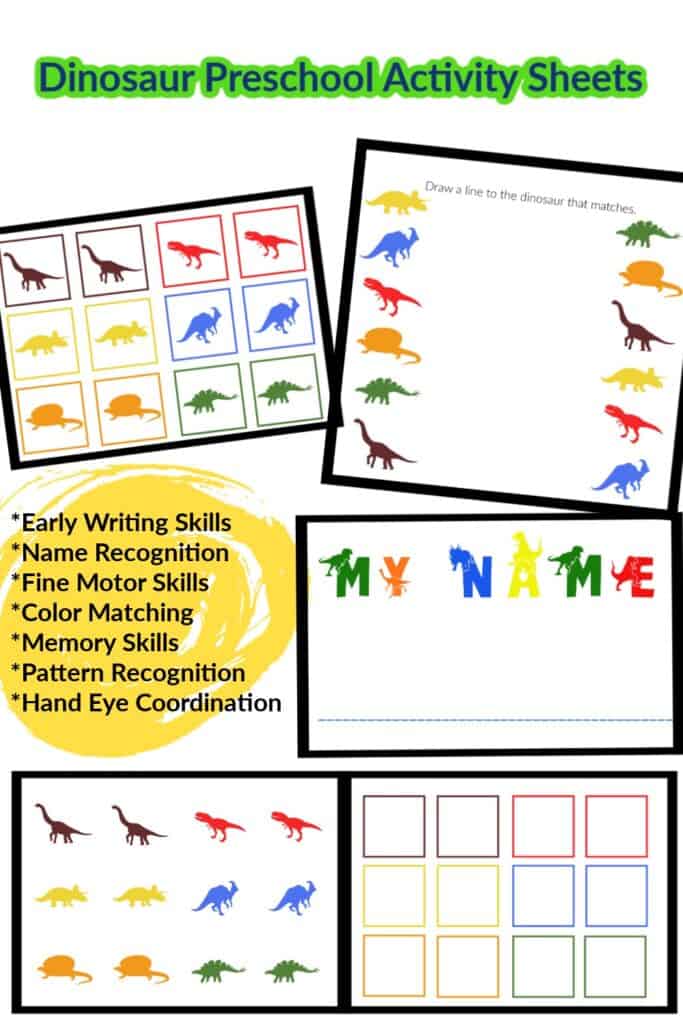 FREE Printables, Resources & Activities to Teach Numbers
FREE Number Practice Printables | The Kiddie Class
Number Practice 1-10 (FREE) | Cahill's Creations
FREE Number Order Practice Worksheets for Kindergarten | Planes and Balloons
Downloadable FREE Number Worksheets | 123Homeschool4Me
FREE Number Line Activities Your Students Will Love | School is a Happy Place
Number of the Day for First 20 Days of School FREE Sample | 1st Grade Pandamania
FREE Number Work Mats (1 to 10) | Fairy Poppins
Digital Counting FREE Activities for Numbers 11-20 | Teaching Mama
Number Sense Activities for Kindergarten | Tickled Pink in Primary
FREE Numbers to 20 Board Game | 123Homeschool4Me
Counting and Cardinality FREEBIES | Keeping My Kiddo Busy
When you are teaching kids how to understand numbers, remember to make everything a math learning experience. Count everything. Count cars, stop signs, people, and just about anything.
Plan and assign tasks to count certain things while your little ones are going grocery shopping with you. Make numbers an engaging experience and build the foundation where math can be fun to learn through the ages.