These resources about milestones in American history are just a handful of events and experiences that have shaped the country in significant ways.
Every single milestone that the United States has progressed through has formed the country today. Some of the milestones were indeed growing pains, but have made the U.S.A one of the best countries in the world.
NOTE: This is list is in no way the ultimate list of milestones in American History. There are plenty left out, many that others may find way more important. I have selected these personally and in no reflection or influence from outside sources. These topics jumped out at me as being important in our country.
I have heard that American history is one of the most frequently overlooked subjects when it comes to extracurricular educational material (Arcadia Publishing). This absolutely shouldn't be so.
Traveling around the world, I know that others take their country's history very seriously. They even take the world's history seriously. I highly recommend we do the same.
Studying American history gives students the power to come up with informed decisions and equips them with a profound knowledge base about the country in which they grew up in.
Learning about the land of opportunity is essential for better understanding of our great country. At the very least we can teach them the milestones which helped shape it.
Definition of a milestone as it pertains to a country:
A significant event or stage in the progress and development of a nation.
Discover below some resources about milestones in American History:
Westward Expansion, 1774
In what is known as the Western Expansion, there was a movement of settlers towards the American West. It began with the Louisiana Purchase and was influenced by the Gold Rush, the Oregon Trail, and a belief in "manifest destiny."
This expansion caused major changes to the normal American way of life at the time. Many white settlers moved for the opportunity, but it was met by much resistance for Native Americans which also significantly changed their way of life as well.
FREE Westward Expansion Unit Study | Our Journey Westward
10 Ways to Teach Westward Expansion During Your Literacy Block | Around the Kampfire
FREE Westward Expansion Printables | 123Homeschool4Me
The American Revolution, 1770-1779
The American Revolution began in 1775. The British government tried to impose laws to the American colonies which enforced several taxes and wanted more control over them.
Great Britain's thirteen American colonies eventually won their independence from it and formed the United States.
FREE American Revolution Print Cursive Practice
Revolutionary War Activities for Kids: Patriotic Copywork | Write Bonnie Rose
Causes of the American Revolution (FREE Foldable, Interactive Notebook) | Teaching to the Middle
The American Revolution Unit Study | Homeschool Helper Online
American Revolution Timeline (Inspiration Template and Sample) FREE | ezk12lessons
Are you looking for an easy way to teach your student about the United States Presidents?
American History Through the Eyes of the Presidents – This study takes a brief look at American history focusing on the actions of the presidents through reading comprehension, narration, notebooking, timelines, research projects, and more.
The Declaration of Independence, 1776
The United States Declaration of Independence of 1776 is an important document of American history that says Americans were no longer under British rule and have become a new country.
The document includes essential information including a citizen's inalienable Rights including Life, Liberty, and Pursuit of Happiness. It says all men are created equal and that individuals have a civic duty to defend these rights for themselves and others.
FREE Resources About our Founding Documents
FREE Declaration of Independence Copywork
Declaration of Independence Paper Craft (FREE Digital Download) | Danielle's Place
Write Your Own Declaration! FREE Worksheet | Education.com
5 Declaration of Independence Videos for Kids | The Clever Teacher
Constitution came into force, 1789
The Constitution is the very highest law in the United States which states how the government works. It creates the Presidency, Congress, and the Supreme Court.
Written in 1787, the Constitution is what all other laws derive from. It can be amended. The first ten amendments are called the Bill of Rights.
FREE US Constitution Vocabulary Copywork
FREE U.S. Constitution Unit Study with Printables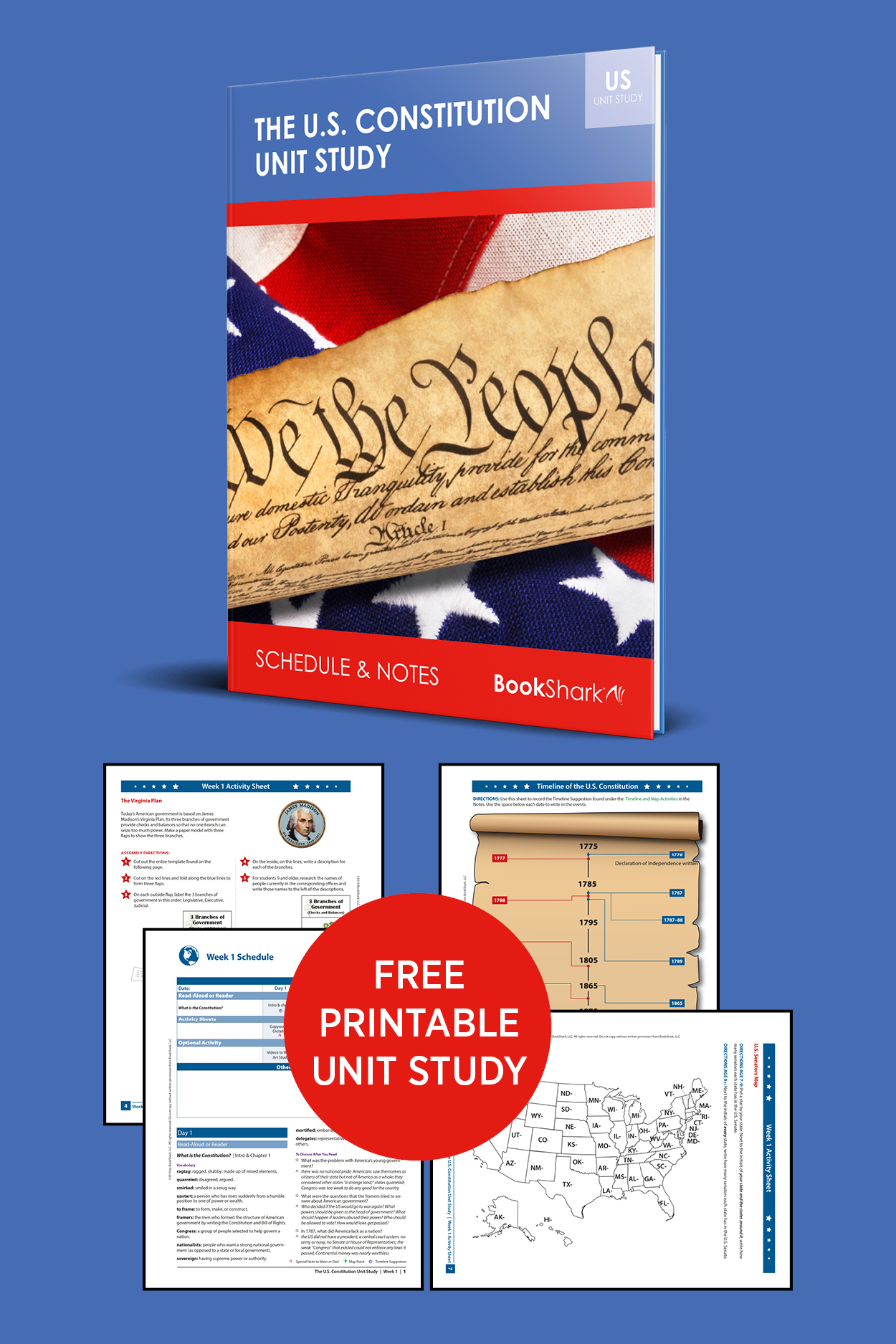 US Constitution Lapbook FREE | Homeschool Helper Online
United States Constitution FREE Unit Study | Peanut Butter Fish Lessons
Industrial Revolution, 1800s-1900s
The Industrial Revolution was a significant milestone in America's history as it brought new manufacturing processes to the period. It was also a time where modern inventions flourished.
FREE People of the Industrial Revolution Notebooking
Industrial Revolution Facts & FREE Worksheets | kidskonnect
War of 1812-1815
The War of 1812 began when the United Kingdom was in a war against France (and the armies of Napoleon) then placed trade restrictions on the United States -not wanting us to trade with France.
The U.K. also supported the Native American tribes as settlers wanted to expand westward. Eventually, the U.S. was victorious and forced the British out of Louisiana where they signed a peace treaty.
War of 1812 (3 Minute History) | Jabzy
FREE War of 1812 Facts & Worksheets | kidskonnect
War of 1812: Visual Summary Picture Sort Activity (baggies) | Amped-Up Learning
The Great Migration, 1915
The Great Migration refers to a time when there was a massive internal migration of Blacks from the South to urban centers in other parts around the country. An estimated 6 million Blacks left the South between 1910 and 1970.
The Roaring Twenties: Great Migration & Harlem Renaissance WebQuest (FREE) | Michelle McDonald
One Way Ticket: Using Poetry to Analyze the Great Migration | Ms Lu's Store of Historical Thinking
The Great Migration: PowerPoint and Student Infographic Notes | History Girl
Great Migration Online Activity | Fletcher US History
The Great Migration, 1910 – 1970 | Census.gov
Civil Rights War, 1860-1869
The Civil war was the deadliest war in American History. The main cause of this war was the South's wanting to keep slavery and the north wanting to abolish it. It was between the Confederacy and Union.
The war began on April 1861 when Confederate forces attacked Fort Sumter, a fort in South Carolina held by Union soldiers. The war lasted four years and caused extreme damage in the South. After the war, slavery was made illegal in the whole of the United States.
FREE Battles of the Civil War Copywork
Hands-On Activities for Studying the Civil War
FREE Leaders of the American Civil War Notebooking
Civil War FREE Unit Study | Mom.Wife.Homeschool Life
FREEBIE! Civil War Battles Activities | Bring Lit On
The Spanish-American War, 1898
In April 1898, the United States declared war against Spain. Some reasons were America's support of the ongoing struggle between Cubans and Filipinos against Spanish rule. We were also concerned of a "mysterious" explosion of the battleship U.S.S. Maine in Havana Harbor.
Timeline Worksheet: August 13, 1898, American Forces Capture Manila | Write Bonnie Rose
FREE Spanish-American War Notebooking & Research Unit
Spanish-American War Causes and Effects FREE Worksheet | Student Handouts
(Video) Spanish-American War – 3 Minute History | Jabzy
World War I, 1910-1919
Also known as the First World War, World War I included 135 countries. It was a military conflict triggered on 28 June 1914 by the assassination of the Archduke Franz Ferdinand of Austria and his pregnant wife Sophie. There were also major differences in foreign policies.
The Americans joined World War 1 after 128 Americans were killed by a German submarine. Chemical warfare, mustard gas, was used during the war and there were millions of casualties because of that and other combat-related reasons.
FREE Battles of World War I Copywork
World War 1 Review Game FREE | Love Learning
How Did World War 1 Start Facts & FREE Worksheets | kidskonnect
World War I FREE Games & Activities for Kids | Wart Games
FREE Print World War I Worksheets | Easy Teacher Worksheets
Nineteenth Amendment, 1920
The 19th Amendment became part of the U.S. Constitution on August 18, 1920. It stated that, "The right of citizens of the United States to vote shall not be denied or abridged by the United States or by any State on account of sex."
Women's Suffrage – Susan B. Anthony Voted – Distance Learning FREE Printables | Fourth and Fritcher
Timeline Worksheet: June 18, 1873, Susan B. Anthony Fined for Voting | Write Bonnie Rose
Women's Suffrage and the 19th Amendment FREE Worksheet | Education.com
The Great Depression, 1930-1939
In the 1930s the world experienced a severe economic depression, now known as The Great Depression. It began in the United States and gradually impacted the global economic decline.
It began after a major fall in stock prices which inevitably affected both the rich and poor. International trade fell by more than 50%. The unemployment rate in the U.S. rose to 23% and in some countries rose as high as 33%.
The depression period still is a reminder to our country today of how important it is to govern spending.
FREE Great Depression Unit Study
The Great Depression Unit Studies and FREE Printables
Great Depression Books for Kids | Learn in Color
Frugal Living Tips From The Great Depression | Simple Life of a Frugal Wife
World War II, 1940-1949
The second World War was fought by allies Britain, the U.S., the Soviet Union, and the Axis Powers Germany, Italy, Japan. It was the deadliest war in human history with about 70 million people killed.
The war began after Hitler invaded Poland in 1939 waging war against the UK and France. The United States only joined the war after Japan attacked the Naval Base Pearl Harbor in Hawaii.
FREE World War 2 Unit Study | Mom.Wife.Homeschool Life
World War II Curriculum Facts & FREE Worksheets | kidskonnect
*World War II Films For Children (FREE Documentary Journal) | Kathys Cluttered Mind
Hands-On History World War II – Make Ration Cakes | Tina's Dynamic Homeschool Plus
7 Best World War 2 Activities for Secondary | Students of History
Abolishment of segregation, 1954
Racial segregation in schools became unconstitutional. This was the start of civil rebellion to fight for and to secure civil rights for Americans of African descent.
Literature Unit: 'Separate Is Never Equal' by Duncan Tonatiuh | Teacher Resource Room
ABC's of American History: S is for Segregation and Civil Rights | Something2Offer
Civil Rights Act, 1964
Finally, the act was passed, "All employing entities and labor unions have a duty to treat employees equally, without discrimination based on "race, color, religion, sex, or national origin."
Inside the Civil Rights Act of 1964 | Everywhere Family Adventure
Civil Rights Movement Timeline From 1960 to 1964 | ThoughtCo.
Moon Landing, 1969
On July 20, 1969, American astronauts Neil Armstrong and Edwin "Buzz" Aldrin became the first humans ever to land on the moon. Armstrong a few hours later became the first to walk on the moon!
Read About the 1969 Moon Landing | History.com
The First Moon Landing FREE Lesson Plan & Activities For Kids | Woo Jr!
Apollo 11 Moon Landing FREE Unit Study | A Quiet Simple Life
Attacks on America, September 11, 2001
The attacks on the Pentagon, Twin Towers, and other attempt was a shock to the whole world. It brought citizens of America together like nothing else has ever done before then and since (in my opinion).
Ideas and Activities to Talk to Your Kids About 9/11
9/11 For Kids: Understanding September 11 with 13 Teaching Resources | Homeschool Super Freak
September 11th: Great FREE Resources, Tips and Lessons | LMN Tree
2001 September 11th FREEBIES | I'm Lovin Lit
Election, 2008
In November 2008, a Democratic Senator Barack Obama became the first black president of the United States of America.
FREE Barack Obama Unit Study | Mom.Wife. Homeschool Life
Presidents' Day FREE President Obama Reading Comprehension | Smarter Students
Barack Obama FREE Worksheets and Coloring Pages | ThoughtCo.
Jerusalem recognized as Capital of Israel, 2017
In December 2017, the United States recognized Jerusalem as capital of Israel and announced the plans to move the embassy there. This prompted unrest and anger in Arab countries.
Additionally, in March 2019, the US recognized Israeli's sovereignty over the Golan Heights. Of course, this is a significant part of our history, especially as a Christian. God promised Abraham, known as the father of the Jews, He would give him and his descendants the land that currently is modern-day Israel (Genesis 15:18–21).
Montessori-Inspired Little Passports Activities – Israel | Living Montessori Now
Date Dash Israel – Israeli History Card Game
Read Color and Learn about ISRAEL (FREE) | Kindergarten Worksheets and Games
Growing up and in public school, I definitely didn't learn much about our history. This chance in our homeschooling journey we get to teach our students what we didn't know. We get to teach them what is important to us in a historical context.
That information will help them develop their sense of identity in the country that God placed them in and appreciate the diversity in it. Find more resources below to help teach your kids more about American History.
FREE Early American History Curriculum
American History Go Fish Cards Template
5 Most Important Parts of American history to Teach Kids | kidskonnect
Jeannette is a wife, mother and homeschooling mom. She has been mightily, saved by grace and is grateful for God's sovereignty throughout her life's journey. She has a Bachelor in English Education and her MBA. Jeannette is bi-lingual and currently lives in the Tongan Islands of the South Pacific. She posts daily freebies for homeschoolers!