Some homeschoolers will homeschool from the very beginning. They will start when their babies are toddlers, to preschool and so on. Other families may send their children to preschool a few days a week. One thing that I noticed with homeschooling, is how important skills that are learned in preschool, can sometimes be missed at home. One of these skills is teaching your children all about patterns and the skill of being able to sort and make patterns out of items.
Sorting and patterning are skills that are normally taught pretty early in child development. Most children can sort toys and books naturally. You will be surprised how some children have a general knack for patterning items around the house. This may seem strange or creepy, but it can be pretty cool.
It's neat to see your kids and their brains in action when they sort things by shape, size or color. Sometimes you my find these in random locations throughout your home. Some children find patterning a calming activity while others may find sorting and patterning frustrating or confusing.
Why is teaching patterns important?
Learning sorting and patterning is actually one of the steps to math instructions. It is just the one of the steps to effective mathematics instruction. Believe it or not, it is a form of algebra!
It helps children to understand the nature of math with sorting and classification. Most children find it very fascinating, and it can keep them busy for hours.
Patterns teach children about math relationships and like items. It helps them understand what is related in math and also in everyday life.
When children learn about patterns it helps them to build a foundation for higher level math work.
Patterning brings a sense of harmony and calm to a busy child. You will find it very calming for some children with special needs.
I like to make patterning and sorting a part of our preschool curriculum. Some curricula will include this skill, but I enjoy having physical items available for my kids to explore this skill on their own. If your curriculum does not include patterning it is fun and simple to incorporate in your home. There are lots of fun printables and worksheets that you can use to teach your kids how to recognize and practice patterns.
FREE Printables All About Patterns:
Printable Pattern Worksheets – My Teaching Station
Preschool Pattern Printables – K5
Pattern Recognition Worksheets – Kid Zone
How to teach patterns and free printables – Navigating Homeschool
Apples Pattern Printables – Fluffy Tots
Fruit Themed Pattern Activity – Life Over Cs
Flower Pattern Strips – Teaching Mama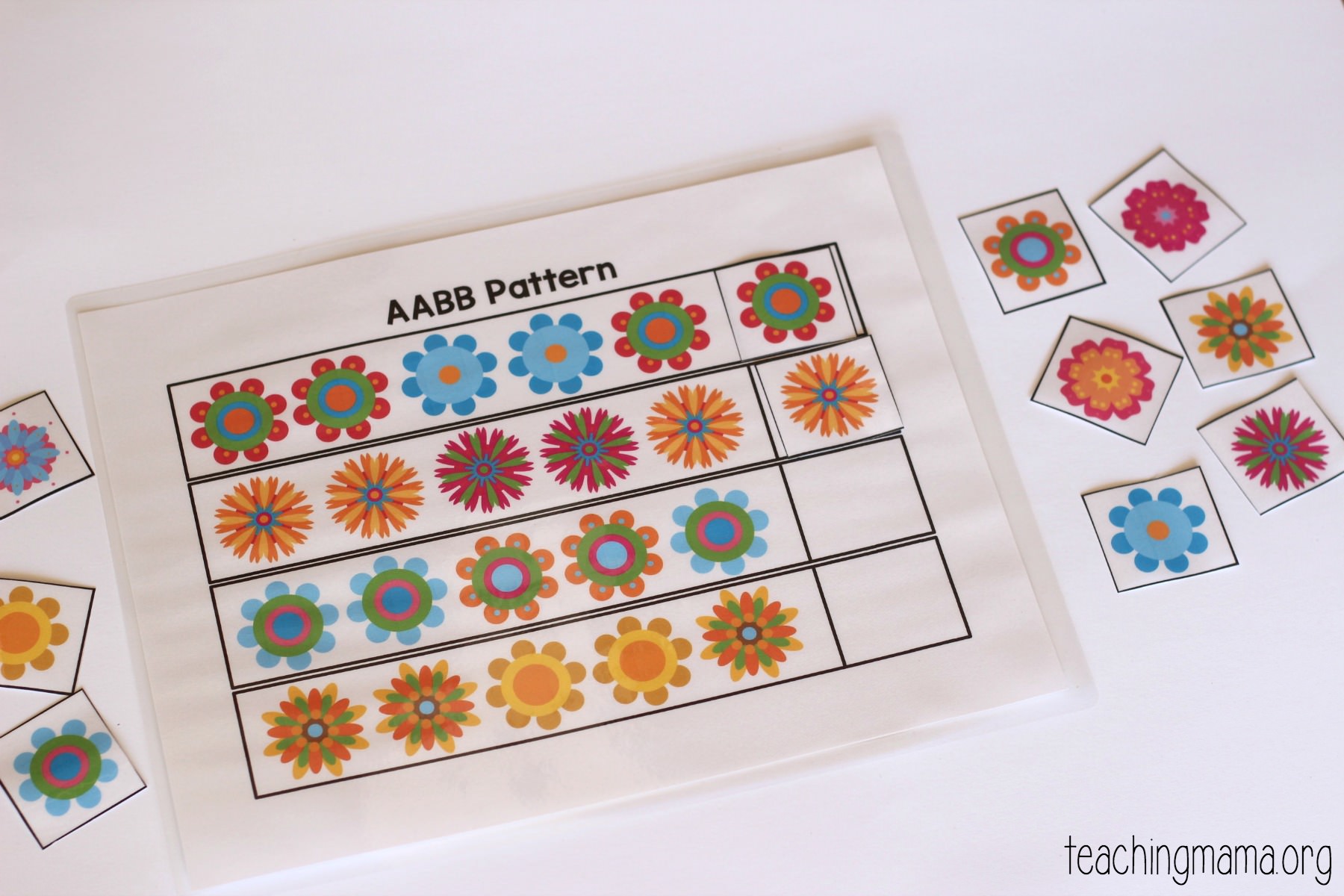 Patterning Activities and Pattern Cards – Fairy Poppins
Garden Theme Pattern Printables – Toddler at Play
The Very Hungry Caterpillar Themed Pattern Strips – Little Dots Education
Pattern Activities that Kids Love – Proud to be Primary
Ocean Animal Pattern Block Activity for Preschool – Life Over Cs
Pattern Snakes: An Easy Patterning Activity – Busy Toddler
Pattern Block Templates – Preschool Mom
The Importance of Patterns Lesson Plan with printable activities and hand outs with full directions from PBS Learning Media.
Colors and Patterns Busy Bag for Preschoolers – Raising Little Super Heroes
Finger Print Patterns – Happy Toddler Play Time
Matching Paths: Math Pattern Activity – Busy Toddler
Train Color Sorting Activity – Fun Learning Kids
These pattern blocks and cards are a perfect way to let your children naturally explore patterns and creating geometric shapes:
You may also like these preschool math freebies:
FREE 30+ Hands-On Montessori Activities
FREE Printables and Games That Use Counting Bears
Sarah is a wife, daughter of the King and Mama to 4 children (one who is a homeschool graduate)! She is a an eclectic, Charlotte Mason style homeschooler that has been homeschooling for almost 20 years.. She is still trying to find the balance between work and keeping a home and says she can only do it by the Grace of God, and Coffee!