Life science is my favorite type of science. We can teach our kids about the science of life in a fun, engaging, and educational way with some help from these free life science STEM projects.
This post is part of the
Themed STEM Resources
Series
Why is life science so great?
Life science is my very favorite science because of Creation. The intricate, detailed systems in life itself are fantastic proof of God's unquestionable existence. Life itself is absolutely incredible.
If life is incredible, what do we make then of the Creator of life?
Here is a little story of life science truth:
I had to take a life science course, and it turns out I took a class called Sensory Perception. Sensory perception is understanding the world from our senses like sight, touch, taste, or hearing. An individual/organism must perform this neurophysiological process to have this sensory perception in their environment.
Anyway, we were studying the eyes and vision. JUST the eye, as it pertains to sensory perception. It has components that help us see that are absolutely incredible.
Here are a video and resource to teach your kids about the eye, so you have an idea of how precise and complex the design is.
As we were all talking about the eye in class, the professor stops for a moment and says, "The only explanation for such a complicated and perfect process for how we see is Intelligent Design.
The class was silent. She, in front of 50 (probably super liberal and most likely agnostic) college students, said that the design of living things had no other reasoning except that it was CREATED.
This is why I LOVE life science.
It shows God's magnificent Creation and design for life. The origins of life could only be created by a Creator, not by natural processes. I highly recommend the Institute of Creation Research (ICR) for more information about Creation Science.
What is life science?
Life science is the scientific study of living things. It explores how body systems work and how living things respond to the world around us.
Life science is vast, but for the sake of time, I want to focus on what life science is actually set to study. Life science is the study of living organisms, including the cellular, plant, animal, or human life.
I understand not everyone, and definitely not every child will share my enthusiasm for life science. There are several things you can try to make life science fun for your kiddos.
Here are a few ideas for making life science more engaging and fun in your homeschool:
Use living books for life science.
Reading stories about life cycles, life, and adaptations in the form of stories is a less threatening way for kids to learn about life systems than textbooks.
Life Science Books for Preschool | Pre-K Pages
Simply Charlotte Mason's has a list of recommended living science books by grade level you might want to check out.
Visual learning.
Kids who are visual learners or those who have had enough of text or worksheets can benefit from watching educational videos. Use these videos to help you teach life science at home.
Life Science for Kids (Cells, Food Chains, and more) | Rock 'N Learn
A year of Life Science in 3 Minutes (Middle School) | MooMooMath and Science
Science Text Cards.
When your kids are tired of reading, making simple cards for them to study with can be useful. They can take the cards with them anywhere and practice what they learned in an organized manner.
Living or Non-Living? Task Cards & Student Record Sheet | Smith Science and Lit
Life Cycle Sequencing Cards FREE-Butterfly and Frog | Curriculum Castle
Plants Task Cards FREE | Tied 2 Teaching
Microscopes.
If you don't have a microscope at home, have no fear. Check out this virtual microscope simulator.
Use interactive and 3D models.
Not sure where to start or need ideas for 3D models? Start here.
Free Label the Parts of the Microscope printable
Parts of a Microscope – Free Printables | Homeschool Creations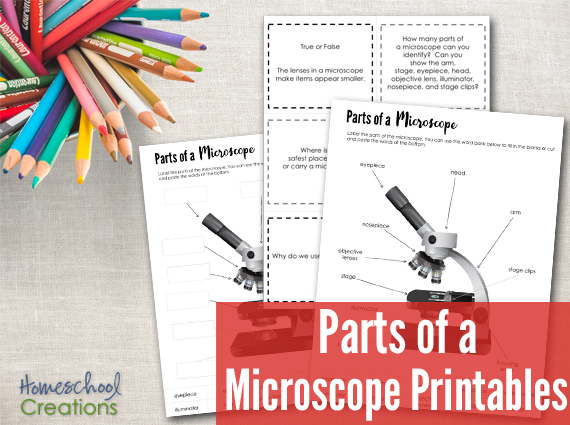 Lapbooks.
Check out all about Why and How to Use Life Science Lapbooks (FREE Horse, Platypus, LadyBug Lapbooks).
STEM Projects. I left the best for last!
Alongside your life science lessons, kids will respond to real-life STEM/STEAM projects to help them understand the different life systems.
Adding technology, engineering, math, and even art to your life, science lessons can bring about understanding and interest.
Grab these free life science STEM projects and resources to help your kids make this unit exciting and useful:
Life Science Activities & Experiments | Education.com
Life Cycle Teaching Videos/Charts/Book Ideas | Elementary Nest
5 Life Science STEM Activities for Elementary | Vivify STEM
Life Science experiences with Marshall Cavendish Education | Lup Wai Parent Whisperer
Learn the Montessori Life Science Lesson Sequence | Carrots are Orange
Integrating Technology in the Life Sciences (STEM Focus) | Share it Science
FREE Life Science Projects Distance Learning | The Science Penguin
I have separated these FREE Life Science STEM projects in different sections- cellular, plant, animal, and human life systems.
Human Life Science STEM Projects
Easy Heart Pump Model: Cardiovascular Stem for Kids | Team Cartwright
Measuring Lung Capacity STEM Investigations | Blog She Wrote
Working Heart STEM Model | STEAM Powered Family
Edible Skin Layers Cake | My Mundane and Miraculous Life
STEM Respiratory System Investigation Asthma versus Healthy | Life Over Cs
Outdoor STEM: How Long are Your Small Intestines? | KC Edventures
Plant Life Science STEM Projects
Planetopia Plants STEM Challenge | Feel Good Teaching
Sunflower Life Cycle Art Craft and Activities | Mrs. Jones' Creation Station
Plant Stem Activities for Kids: Making Models of Adaptations | Around the Kampfire
Seed Dispersal Plant STEM Inquiry Activity FREE Resource | Samson's Shoppe
9 Plant Activities & Garden STEM Projects | KC Edventures
Cellular Life Science STEM Projects
Science Experiment: Growing Bacteria | Happiness is Here Blog
Growing Mold Science Experiment for Kids | Teach Beside Me
Penny + Balloon = DIY Atom Smasher! | Gift of Curiosity
Jello Animal Cell Project | 123 Homeschool 4 Me
Learn All About Cells with Slime | Royal Baloo
Osmosis for Kids: Blood Cell Membrane Experiment | STEAMsational
Animal Life Science STEM Projects
How Strong are a Bird's Bones | Education.com
Virtual Dissections and Labs | STEAM Powered Family
STEM For Kids: Build A Bird's Nest | A Dab of Glue Will Do
Create-ure STEM Challenge | Feel Good Teaching
STEM Club: Bird Anatomy FREE Activity | Eva Varga
Communicate Like a Firefly: Light-up STEM Project | Share It Science
NOTE: Need some more STEM in your life? I have you covered. Check out these resources for more STEM in your homeschool.
Using 3D STEM Games in Your Homeschool – FREE Lesson Plan
Remember to use your life science lessons to bring about the truth of Creation in your homeschool. So much of science tries to explain away the miraculous with the impossible (ex. evolution vs. Creation).
To me, it is for the sake of not being accountable for our sins here on Earth. Time and time again, science just reinforces the truth.
The truth is that God, not anything natural or of evolution or any crazy bang, could create such a thing as life and its intricacies.
Revelation 4:11 says, "Thou art worthy, O Lord, to receive glory and honor and power: for thou hast created all things, and for thy pleasure, they are and were created."
Jeannette is a wife, mother and homeschooling mom. She has been mightily, saved by grace and is grateful for God's sovereignty throughout her life's journey. She has a Bachelor in English Education and her MBA. Jeannette is bi-lingual and currently lives in the Tongan Islands of the South Pacific. She posts daily freebies for homeschoolers!