Moving to an island with a small collection of animals has made me miss the variety of animals in America – particularly the birds. Resources to help your kids learn about birds will assist you with appreciating nature all around. My kids can not wait to go back to America to see and hear the beautiful and colorful birds chirping in the skies.
I am not an outdoorsy person. While living in America, I never was the first to suggest going outside or playing in the dirt. Nope – not me. Well, I will be the first to say that I regret it just the same.
I miss being able to take my kids to a park and see the colorful birds that fly by. I remember the mixture of non-flight and soaring birds. There aren't many birds where I live now. The birds we do have are not very exciting. It makes me wish that I would have gotten my kids outdoors more when they were little.
I was so busy working and being comfortable inside with the air conditioning, that I just didn't think about how healthy it was to just get outside. Children do well to study birds and discover nature firsthand.
Why study birds?
Watching birds is quite therapeutic and peaceful. Birds also have amazing life cycles and are crucial to the world around them. Birds sustain the populations of their prey and predators in their environment. After they die, birds are a source of food for scavengers and decomposers.
Some birds are even called keystone species since their very presence or disappearance in an ecosystem affects other species all around their ecosystem indirectly. It was discovered that an extinct bird called the dodo bird was intertwined with the trees around them.
After the dodo birds went extinct, it was found that a tree the dodo bird would eat from was no longer able to produce fruit after the bird went extinct. It turns out the tree needed a seed that was passed through the dodo birds' digestive tracts. The digestive process opened the seed coat and enabled germination.
Birds have been an integral part of human existence since the beginning of creation. The Lord even saw for a bird to have a massive role in His Word to share with us. The eagle alone is mentioned 30 times in the Bible.
We can learn so much from the Lord's creation. These Bible passages can help us learn from birds and how they live:
Matthew 6:26, 30 – "Look at the birds in the sky; they do not sow and reap and store in barns, yet your heavenly Father feeds them. Are you not worth more than the birds?… How little faith you have!"
Psalm 124:7 – "We have escaped like a bird from the snare of the fowlers; the snare is broken, and we have escaped!"
Job 38:41 – "Who provides for the raven its prey, when its young ones cry to God for help and wander about for lack of food?"
Isaiah 40:31 – "But they who wait for the Lord shall renew their strength; -they shall mount up with wings like eagles; they shall run and not be weary; *they shall walk and not faint."
Psalm 50:11 – "I know all the birds of the hills, and all that moves in the field is mine."
Incorporate God's good word when learning all about these beautiful flying (and some non-flying) creatures.
If you enjoy studying nature in your homeschool, check out the Nature Notebook, a companion to Nature Anatomy.
Check out various resources below to help your kids learn about birds in your homeschool.
NOTE: February is National Bird Feeding Month
FREE PRINTABLES ALL ABOUT BIRDS
Free Printable: Common Birds | TrilliumMontessori.org
FREE BACKYARD BIRDS PACK (Instant Download) | Free Homeschool Deals
Match Male & Female Bird Pairs: Printable Memory Game | Adventure-in-a-Box.com
Types of Birds Mini Puzzle Unit | In All You Do
NATURE STUDY FREE PRINTABLE BIRD BOOK | R.E.A.L – World Learners
FREE Bird Nature Study Packet | Mom Wife Homeschool Life
BIRDS WORKSHEET PACKET | Mama's Learning Corner
Worksheets: Birds Free Printable | The Happy Housewife
Birds and Their Food Printable Pack | Proverbial Homemaker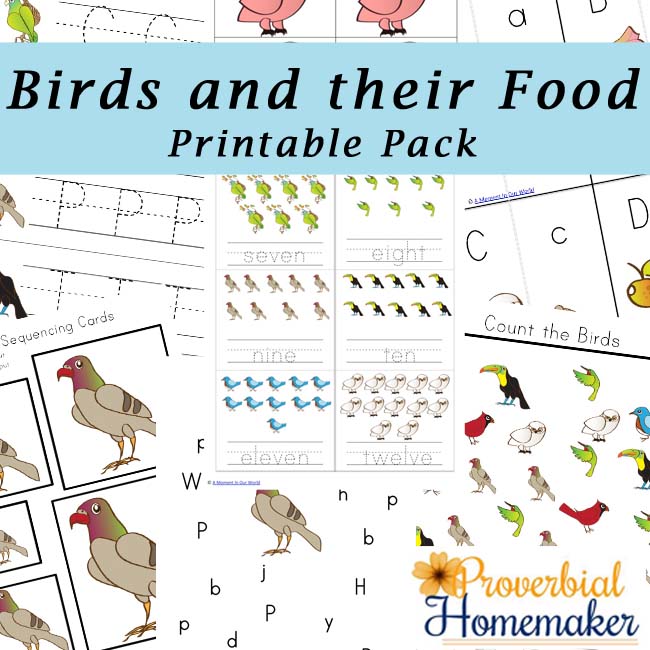 Bird Trace and Color Printables | 1+1+1+=1
Matching bird cards – a free printable | Midwest Montessori
FREE Birds Around the World Guided Drawing
BACKYARD BIRDS RESOURCES (February is the Great Backyard Bird Count)
Backyard Bird Unit Study for Preschoolers |Homeschool Preschool
Get Outside With Backyard Bird Feeders and Notebooking Fun! | Practical by Default
Backyard Birds Unit Study | Embark on the Journey
Wonderful Ways to Learn with The Great Backyard Bird Count | Rock Your Homeschool
GENERAL BIRD RESOURCES
Bird Theme Home Preschool Lesson Plans | Home Preschool 101
FREE Bird Nature Studies and Printables
10 Apps Websites for Bird Identification | iGameMom
FREE Bird Themed Educational Resources | Free Homeschool Deals
Tropical Birds Unit Studies and Printables + FREE Tropical Birds Copywork (INSTANT DOWNLOAD)
Bird Research Passages | The Curriculum Corner
FREE BIRD SOUNDS, SONGS, AND RHYMES FOR CIRCLE TIME | Living Montessori Now
Learning More About Birds, Part 1: Nests | Year Round Homeschooling
FREE NATURE STUDY BIRD BOOKS | Homeschool Printables for FREE
WONDERFUL BOOKS ABOUT BIRDS FOR KIDS (BIRD UNIT STUDY) | Mommy Evolution
Songbirds of the NorthEast U.S.- Poster and Informational Flashcards | Wild and Growing
BIRD UNIT STUDIES
Bird -Unit Study Printables for Kids | The Moments at Home
Unit Study Bird Resources | Premeditated Leftovers
Nature -Bird Study Printables – Learning About Birds | Homeschool Creations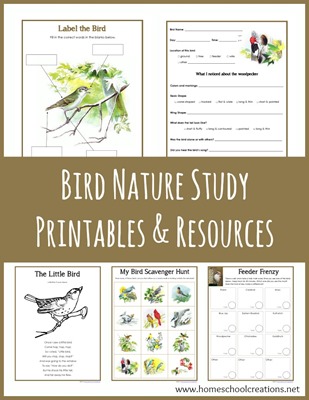 PROJECTS AND ACTIVITIES ALL ABOUT BIRDS
BUILD A NEST STEM CHALLENGE FOR KIDS | Views from a Step Stool
Bird Consonant Blends Activities| No Stress Homeschooling
Birdwatching Tot & PreK-K Pack | In All You Do
10 BIRD LEARNING ACTIVITIES FOR KIDS | Education Possible
FREE! 50 Pages of Nature-Inspired Printables
ANIMAL REPORT: BIRDS: INFORMATIONAL REPORTS: RESEARCH TEMPLATES | Teach to Tell
Printables and Bird Activities for Kids | Natural Beach Living
All About Birds: FREE Printables and Activities
BIRD SOUNDS LISTENING ACTIVITY WITH BIRD PHOTOS PRINTABLE | Things to Share and Remember
Printable Pages for Bird Observation | Walking by the Way
BIRD STUDY UNIT; FREE RESOURCES AND ACTIVITIES| Mosswood Connections
BOOKS ALL ABOUT BIRDS
The Little Book of Backyard Bird SongsNational Geographic Kids Bird Guide of North America, Second EditionBirds: Explore Nature with Fun Facts and Activities (Nature Explorers)Ultimate Explorer Field Guide: Birds (National Geographic Kids Ultimate Explorer Field Guide)Beginning Birdwatcher's Book: With 48 Stickers (Dover Children's Activity Books)National Geographic Little Kids First Big Book of Birds (National Geographic Little Kids First Big Books)
Birds are beautiful. Their colors, chirping, and peacefulness genuinely bring a sense of calm to the world all around us. Could you imagine a world with no birds? What a shame that would be. There are a million species of birds that beautify and occupy our skies. Fill up your child's mind with the wonder of them.
Jeannette is a wife, mother and homeschooling mom. She has been mightily, saved by grace and is grateful for God's sovereignty throughout her life's journey. She has a Bachelor in English Education and her MBA. Jeannette is bi-lingual and currently lives in the Tongan Islands of the South Pacific. She posts daily freebies for homeschoolers!