I have been making my own cleaning products for over 12 years now. I did not begin the journey because I was natural minded or a crunchy granola mom. Though, most people will use those words to describe me nowadays. I began making my own cleaning products because I was sick of buying the commercial stuff. It was expensive and it didn't smell very good.
The chemicals always in store-bought cleaning supplies burned my nose and made my baby sneeze and have watery eyes every time that I used them. It seemed like a simple fix to make my own. As a beginner, I found that there were so many natural cleaning recipes that were easy and inexpensive to make!
When you start creating your own natural cleaners, you will soon realize that there is no other way to go. It is so freeing to your budget, and it's a lot of fun to customize them to your liking. The customization of homemade cleaners is my favorite part. I love finding scents to use that are uplifting and happy, scents that smell clean to me. There are some scents in chemical cleaners that I can not stand like fake pine, so I avoid that in my cleaners. My children love helping me to make our own cleaners as well.
You will save so much money when you make your own natural cleaning recipes, that you can afford to have extra bottles in each bathroom and the kitchen. You will never run out of cleaning supplies, and it makes cleaning day a breeze when everyone has their own cleaner to use. There is no more running all over the house trying to find where someone put the window cleaner!
Natural Cleaning Recipes Round-Up:
3 Ingredient Homemade Toilet Cleaning Bombs with FREE Printable Label
DIY Homemade Granite Spray Cleaner
Spring Cleaning and Natural Cleaner Recipes – 11 Magnolia Lane
Make Your Own DIY Natural Cleaners Party with Recipes and Instructions – 11 Magnolia Lane
All Natural Carpet Cleaners 3 Different Ways – Organizing Made Fun
Homemade Citrus Dusting Spray for DIY Cleaning – Back Road Bloom
Homemade Shower Cleaner with Just 2 Ingredients – Soap Deli News
1-Ingredient All Natural, Non-Toxic Tile & Grout Cleaner + Antibacterial Toilet Brush
How to Naturally Clean Your Fridge and Freezer – A Bowl Full of Lemons
How to Make Homemade Lemon Vinegar for Cleaning – Hearth and Vine
Homemade Fabric Softener with Essential Oils – One Essential Community
Homemade Streak Free DIY Glass Cleaner – Lets Talk Mom Business
Simple Homemade Wood Polish Spray – Happy Mothering
Trash Can Deodorizer Spray – One Essential Community
Printable Natural Recipe Homemade Cleaners Cheat Sheet – Simple Living Mama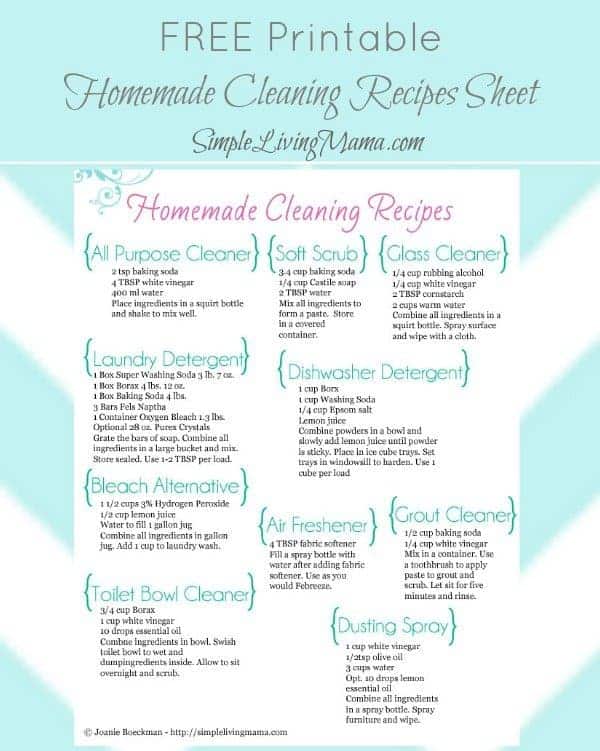 If you are wanting to get started on making your own cleaning supplies you will enjoy this post:
How We Make Months of Cleaning Products in One Afternoon
I like to take a weekend afternoon to make all of our cleaning products in one big batch, similar to freezer cooking! I am able to make a few months at a time this way. It's also a fun project to do with your children. This post shows you exactly what you need and my recipes on how to make some basic , DIY natural household cleaners.
If you struggle with getting to sleep or getting your kids to sleep, you will enjoy this natural DIY:
This DIY Comfort Spray is wonderful for sleep, relaxation or any night time ailments! If you make your own natural cleaners, you will already have most of these ingredients on hand already. This makes for an easy DIY that your whole family will love.
Here are some supplies to help get you started:
3 Pack – Refillable Empty Amber Glass Spray Bottles Plastic Spray Bottle (4 Pack, 24 Oz, All-Purpose) E-Cloth Microfiber Home Cleaning Starter Pack, Chemical-Free Cleaning with Just Water, 5 Cloth SetE-Cloth Washing Up Pad, Non-Scratch Kitchen Scrubber/Wiper
Plant Therapy is my favorite essential oil company to order from online. They are also inexpensive, very high quality and have a Kidsafe line of oils. There are tons of recipes and educational information and DIYs on their blog.
Sign up HERE to receive $10 off your first Plant Therapy purchase of $25.00. Every order over $10 ships for FREE!
Sarah is a wife, daughter of the King and Mama to 4 children (one who is a homeschool graduate)! She is a an eclectic, Charlotte Mason style homeschooler that has been homeschooling for almost 20 years.. She is still trying to find the balance between work and keeping a home and says she can only do it by the Grace of God, and Coffee!