I have always been an avid reader and devoured anything I could at a young age. Now I couldn't imagine my 8 year old reading The Chronicles of Narnia on her own, but that is exactly what I did! I was almost 9 years old and the first big chapter book that I read all by myself was The Lion the, Witch, and the Wardrobe from C.S. Lewis.
I remember reading the story and not being able to put it down. I took it to school with me and read it in class and even got into trouble for pulling it out! Even now in my 40's I can still remember how I felt being completely captivated by the world of Narnia. I re-read the books as a teenager, and then again as an adult before the first movie came out.
The Chronicles of Narnia books hold a special place in my heart since I began reading the books as a young child. I was lonely, and had a pretty rocky home life growing up. Reading was an escape for me and it was wonderful to be drawn into another world with the different creatures and special stories. It was something I could enjoy all by myself with no one else around me. (Yes, I am a bit of an introvert!) These books are such a sweet allegory and classic fantasy story that is loved by so many still today.
Since I loved these books so much when I was younger, I couldn't wait until my oldest was old enough to devour them himself. On his tenth birthday I bought the complete set for him hoping he would love it as much as I did when I was his age. He loved the land of Narnia just as much as I did and we had lots of fun conversations about the books. Shortly thereafter I found out they were turning them into movies. We were so excited to go see the movie together in theaters when it first came out so we could experience the book coming alive on the big screen and discussing the differences.
The Chronicles of Narnia books series is a great option as a read aloud or as a personal reader for your homeschool. The stories make for some thoughtful book discussions as well. Many homeschoolers love finding books that their family will enjoy and turning them into a full learning experience. This is where free printables and study guides come in handy.
You can literally create an entire literature curriculum study around a favorite book series if you find enough material to go with the books that you are reading. We like to do lots of research for freebies around here. We have found lots of teacher guides, unit studies, printables and lapbooks to create your own themed literature unit for your family.
If you are wanting to introduce your children to these books you will enjoy these FREE Chronicles of Narnia Resources and Study Guides for your homeschool:
The order in which the books should be read and best experienced, is the order of publication. Find out the exact order at HERE at Narnia Fans.
The Lion, The Witch and the Wardrobe Spark Notes Literature Guide – Spark Notes
Chronicles of Narnia Unit Studies with Links – Home Scholar
Chronicles of Narnia Literature Based Homeschool Unit Study – Narnia Unit Study
A Visit to Narnia Free Bible Study – Youth Source
The Chronicles of Narnia Classroom Activity Guide – Teacher Vision
The Silver Chair Literature Based Unit Study – Free Unit Studies
Study Guides to the Works of C.S. Lewis including the Chronicles of Narnia teacher study guides and answer keys – C.S. Lewis.org
C.S. Lewis Quotes for Copywork – Walking by the Way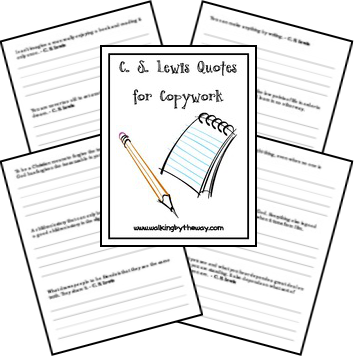 Study Questions for the Chronicles of Narnia by C.S. Lewis – Love to Learn
Printable Narnia Map – Narnia Web
The Chronicles of Narnia Worksheets – ABC Teach
Into the Wardrobe Co-Op Class – Walking by the Way
The Lion, the Witch and the Wardrobe Printable Book Study – Lasting Thumb Prints
A Surprising New Wardrobe: Character Study for Middle and High School Students based on The Lion, the Witch and the Wardrobe – Ben and Me
Free Resources for Studying C.S. Lewis & His Works
FREE Chronicles of Narnia Story Study and Lapbooks from Homeschool Share:
The Lion, the Witch and the Wardrobe
How much do your children know about C.S. Lewis and the world he lived in? These fun puzzles will help to learn more about his life, his work, and what was going on while he was alive:
Favorite Authors Puzzles – C.S. Lewis Instant Download
Chronicles of Narnia Books and Extra Resources:
The Complete Chronicles of Narnia ( Boxed Set 7 Books )The Chronicles of NarniaThe Lion, the Witch and the Wardrobe (picture book edition) (Chronicles of Narnia)The Chronicles of Narnia Collector's Edition (Radio Theatre)Narnia's Lost Poet: The Secret Lives and Loves of CS LewisA Family Guide To Narnia: Biblical Truths in C.S. Lewis's The Chronicles of NarniaC.S. Lewis and The Chronicles Of Narnia
Sarah is a wife, daughter of the King and Mama to 4 children (one who is a homeschool graduate)! She is a an eclectic, Charlotte Mason style homeschooler that has been homeschooling for over 16 years now. She is still trying to find the balance between work and keeping a home and says she can only do it by the Grace of God, and Coffee!