As soon as Thanksgiving is over, our family breaks out the Christmas decorations and turns on the Christmas movies! One of our favorite traditions is to drink hot cocoa, and watch a Christmas movie while sorting through our Christmas tree decorations – Polar Express is a favorite!
My girls enjoy laying them all out and getting ready to decorate the tree. Drinking hot cocoa and watching a Christmas movie really helps to get us in the holiday spirit. This is especially important in Florida where it can still be 80 degrees at the end of November. One of their favorite movies to watch while decorating is The Polar Express!
There are so many Christmas movies to watch and not enough time in the month, so I do admit that we end up watching many of them during the school day! Now, we don't take the entire month of December off from school. We do still try to get some school work done, even though there are tons of distractions. However, we do a lighter type of school and focus more on unit studies and Christmas themes during the weeks before Christmas.
Since we do spend a lot of time watching Christmas movies during the month of December, it is only fitting to find worksheets, unit studies and hands-on activities to go with those movies. You know how us homeschool moms love to spin anything into an educational venture!
My older children have some fond memories of our themed unit studies, especially where movies are involved. My oldest is quite the movie buff and I attribute that to lots of movie watching in our homeschool when he was growing up!
I like to continue that tradition with my youngest kids and really immerse them in holiday movies and Christmas learning fun. It's a great way to learn outside of the box and create lasting memories for your whole family.
The Polar Express is a more modern Christmas movie that is an absolute favorite for children, especially if your kids love trains! It is a computer animated movie and has an interesting, magical feel about it like a real story. It is based off of this original children's story book from 1985.
Polar Express 30th Anniversary Edition
If you plan on watching the movie soon, you will enjoy all these free Polar Express Worksheets and Unit Studies to go with it:
The Polar Express Worksheets and Unit Studies:
Fairy Tales and Fiction by 2 has lots of Polar Express worksheets and writing prompts in English and Spanish.
Polar Express Math Worksheets for 1st Grade – Nasta Rans Resources
Polar Express Coloring Pages – 123 Homeschool 4 Me
The Polar Express Teacher Guide – Houghton Mifflin Books
Polar Express Printables and Party Planning Pack – In All You Do
Polar Express Lapbook and Unit Study – Homeschool Share
Polar Express Writing Worksheets – TPT
Polar Express Worksheets – 123 Homeschool 4 Me
Polar Express Writing Worksheet – TPT
Polar Express Mini Unit Study with Printables – Homeschool.com
Polar Express Printable and Unit Study Resources – Embark on the Journey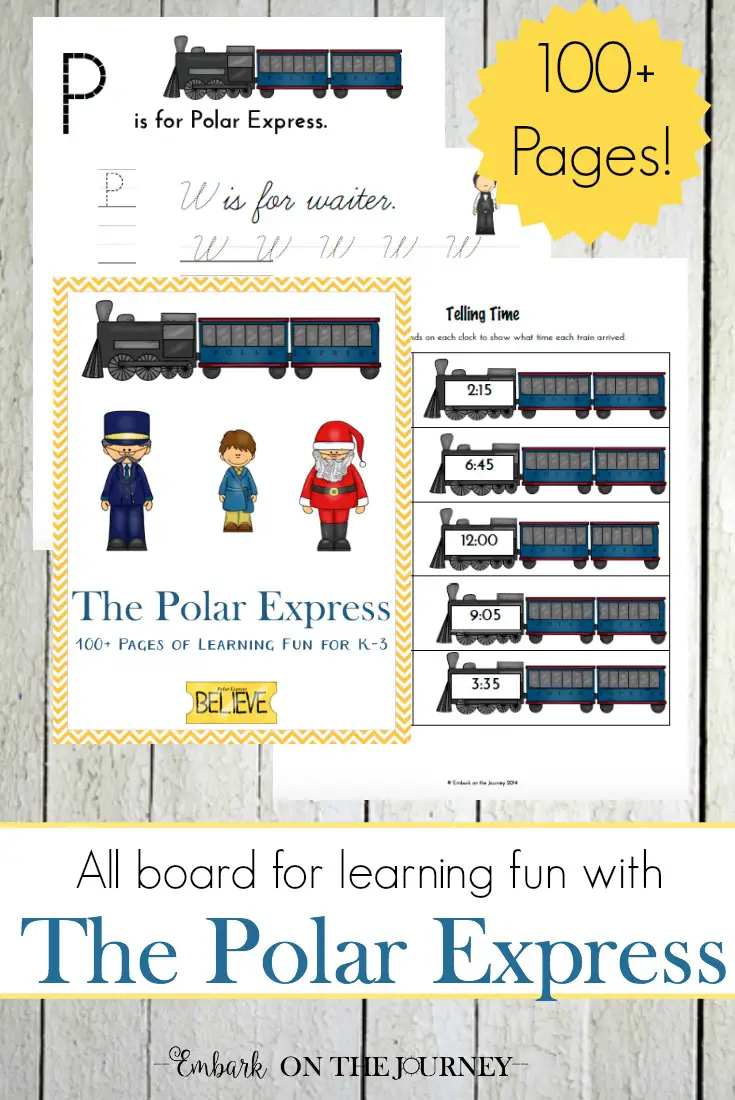 Polar Express Printable Pack – 3 Dinosaurs
Riding the Polar Express Freebie – TPT
Polar Express Movie Study – Life of a Homeschool Mom
Since the Polar Express includes the most amazing train, we thought you would like to include our FREE Famous Trains Notebooking Research Journal into your studies. If your kids love trains they will enjoy learning about the history of trains in this special unit study. They will learn how to research many famous trains and record their findings in their very own notebooking research journal.
Hands-On Activities:
Create a Polar Express Train from Legos – Building Legos with Christ
Snowy Train Sensory Bin Inspired by The Polar Express – Inspiration Laboratories
Polar Express Train Craft – Sight and Sound Reading
Polar Express Discovery Bottle – Sunny Day Family
Polar Express Fine Motor Play – Rainy Day Mum
You can watch The Polar Express for FREE HERE if you have Amazon Prime!
If your kids love this movie, you may want to consider these games and toys for Christmas:
Lionel The Polar Express Battery-powered Model Train Set, Ready to Play with RemoteMasterPieces The Polar Express Train-Opoly Board GameLionel Polar Express Imagineering Non Powered Play SetMasterPieces The Polar Express Matching Game
Sarah is a wife, daughter of the King and Mama to 4 children (one who is a homeschool graduate)! She is a an eclectic, Charlotte Mason style homeschooler that has been homeschooling for over 16 years now. She is still trying to find the balance between work and keeping a home and says she can only do it by the Grace of God, and Coffee!