There has been a lot of talk lately about homeschool organization and planning for the new school year. One of the things that seems to be forgotten during planning mode is preparing for your homeschool portfolios.
If you wait until the end of the school year to put your homeschool portfolio together you will have a big mess of papers and piles of books to sort through. This is not a fun task when you should be spending that time on planning and preparing for a new school year. If you take the time to think ahead while you are doing your planning, you will be ahead of the game when it comes to putting together your portfolio.
I like to have planning pages printed out ahead of time for my kids to keep track of their lessons, attendance, reading resources, field trips etc… I create a binder for them, and at the end of the year I am able to use those pages to include in their portfolio.
Here are some FREE printables to help you get a portfolio ready for your children at the beginning of a new school year:
Homeschool Student Portfolio Binder from Talking Mom 2 Mom – These printable pages will help you keep track of your student's progress throughout the year. It has a cute cover and an About Me page that is perfect to do on the first day of school.
How to Create a Homeschool Portfolio or Notebook from Not Consumed. This tells you how to put together a notebook for your kids, as well as some free printable weekly checklists and reading logs to include.
If you like techy stuff you will enjoy making a digital portfolio. Learn How to Make a Digital Homeschool Portfolio with the Seesaw App from My Little Poppies.
How to Set up a Homeschool Portfolio Binder the cheap and easy way with a free printable from Bless My Budget.
Student Portfolio Pack from The Crafty Classroom – there is a quick start guide that will show you how to build a portfolio for each of your children along with lots of printable tracking sheets and record keeping pages.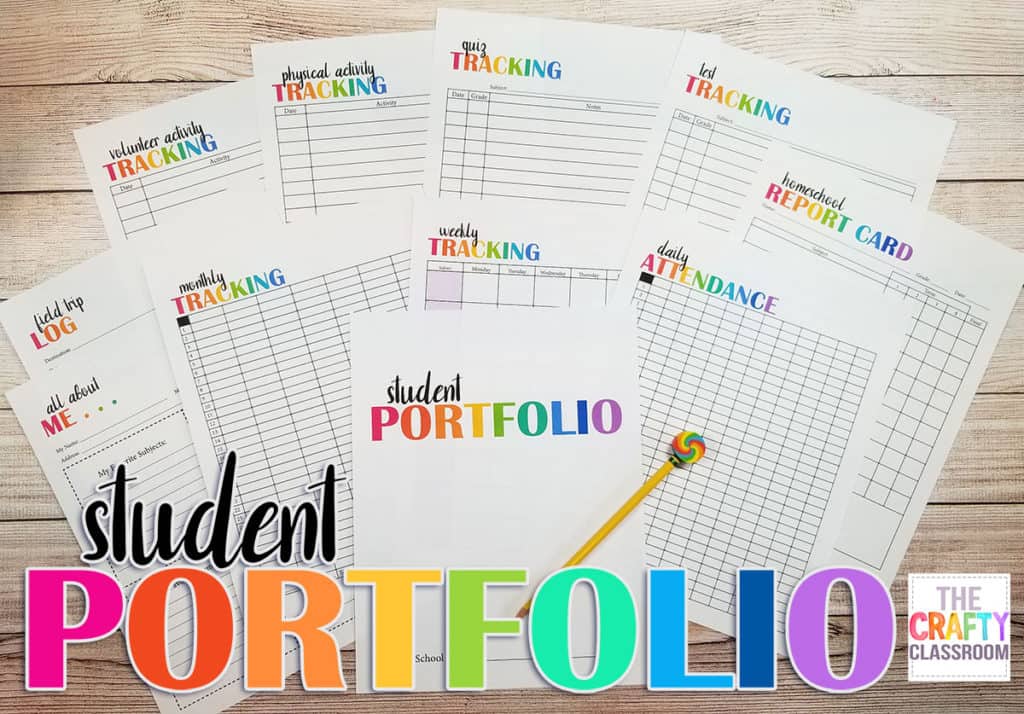 This Printable Homeschool Field Trip Log is perfect to keep in a portfolio to keep track of the field trips you have taken – Saving Toward a Better Life
7 Reasons You Need to Keep a Homeschool Portfolio with a FREE 35 page printable homeschool portfolio pack from Life of a Homeschool Mom.
What a Homeschool Portfolio Is and How it Can Save Your Sanity from the Homeschool Sanity Show Podcast.
Learn how you can use my favorite life planner to create easy homeschool portfolios in just one click with Homeschool Planet.
Once your portfolio is completed you will may want to use it for an end of the year portfolio review. Find out how to Get Ready for a Portfolio Review with a FREE Portfolio Review Checklist that is an instant download!
If you are using The Mystery of History in your homeschool this year, you are going to love these FREE The Mystery of History Planning Portfolio Pages. There are sets for each level and they were designed specifically to keep track of what you studied and did that year in history!
I hope you found some free, useful tools to add to your homeschool organization arsenal that will help you create an amazing homeschool portfolios for your family this year!
Sarah is a wife, daughter of the King and Mama to 4 children (one who is a homeschool graduate)! She is a an eclectic, Charlotte Mason style homeschooler that has been homeschooling for over 16 years now. She is still trying to find the balance between work and keeping a home and says she can only do it by the Grace of God, and Coffee!