I heard the worst dissection story; I try not to think about it. It is enough to scare me away from ever trying dissection with my kids. Thank goodness for alternatives. For the parents who are just not going to do it, explore these alternatives to live dissection in your homeschool that will save you the trouble.
I am sure there have been worse stories. However, I can't get this idea out of my head. My friend was telling me how in the middle of summer one day, her daughters started throwing up in the car while with their dad. He had no idea why this was going on.
Turns out, he couldn't smell the stench the girls were smelling in the back of their minivan. Their teenage son had picked up his Frog Dissection Kit with Specimen and Tools from the post office and forgot to take it out of the car — in the middle of the summer's scorching heat.
She said when she took a whiff of the stench, she started gagging herself. Her husband had a cold at the time and couldn't smell anything due to it.
My friend stated they couldn't get the smell out of the car for the entire summer; even her husband got to share the scent once his cold was gone.
She never brought herself to ordering another "project" after how it looked and smelled – neither have a few of us moms hearing the story.
I am not knocking frog dissection. I did it in my public high school in a forensics class. However, I will avoid doing it in my home all costs and will NOT bring it up to my husband. He would be way too excited to dissect a frog at home.
Here are a few alternatives to live dissection in your homeschool that will save you some time, money, and any possible mishaps:
Virtual dissections as an alternative to traditional dissection
This one is my favorite, and how we are choosing to go at it next year. Virtual dissection resources are available in many software programs, animation, videos, images, powerpoint presentations, and webinars. Sources like The Mining Company hosts Virtual Dissections for your homeschooler:
Cat Dissections Online
Clam Dissection
Cockroach Dissection
Cow's Eye Dissection
And more
Use 3D Anatomy Models as an alternative to dissection
3D anatomy models are highly detailed clay or plastic models that offer true-to-size or magnified replications of animals, from frogs to starfish and more. Companies like TedCo 4D Vision and Altay and Bobbitt Dissection Models hold these types of models.
Videos/DVDs as an alternative to dissection
Your family can grab previously filmed dissections that allow an up-close and narrated view of the procedures. The Science Bank has over 20+ DVDs/Videos for your homeschool students to utilize instead of actual real specimens.
Digital/Web-based Simulated Dissection as an alternative to traditional dissection
If animal cruelty is the main reason you want to stay away from dissection, you don't have to eliminate teaching dissection in your homeschool entirely. Companies like Expandable Mind Software and Digital Frog International provide non-real-animal dissections even in the instruction. They and others like them, are totally animal-harm free.
The Digital Frog is a downloadable program that integrates comparative anatomy, frog dissection, and ecology. Students can review each body system with high-quality animations and digital dissection.
Expandable Mind Software offers a web-based suite of simulated dissections and physiology experiments that are highly interactive.
Animal Dissection Handcrafts
That sounds odd, doesn't it? There are some really amazing handicrafts you can use in place of live dissection, such as knitted animals and even D.I.Y. Embroidery Dissection Kits! Don't believe me? Take a look at OddAnaStitch's creations:
You can also find a Frog Dissection Transparency Science Lab and other cool dissection alternatives on Etsy. This one, by far, is my favorite though. Have a science geek? This would make a great gift!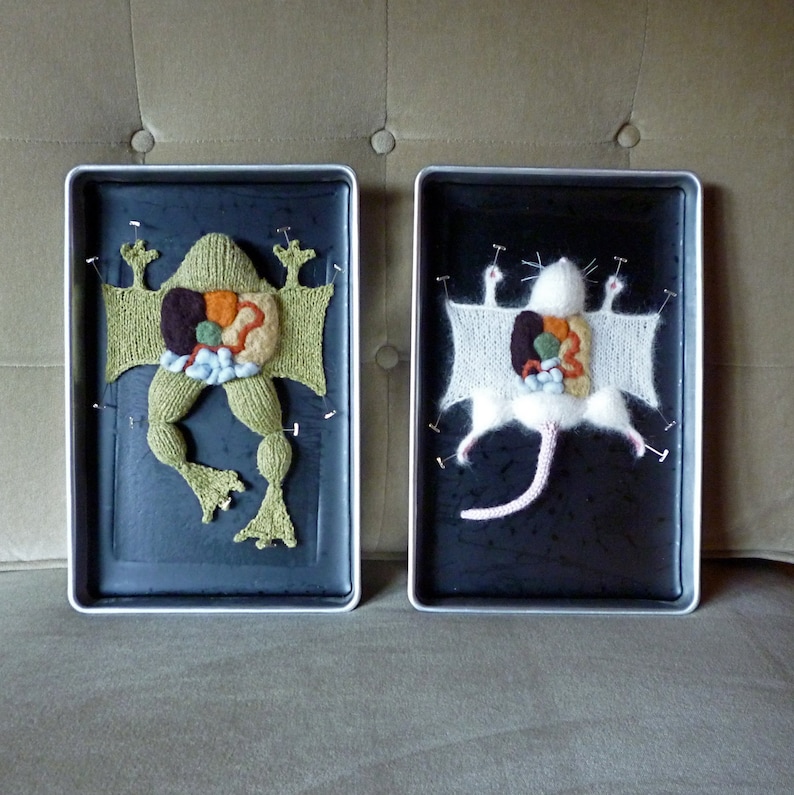 You do NOT have to dissect animals in homeschooling science for your children to learn about dissecting. These alternative options to live dissections in your homeschool are definitely just the tip of the iceberg.
There are well over 100 state-of-the-art alternatives to live dissection that exist today. You can still enhance your child's educational experience without having to cut open an amphibian, insect, or anything else for that matter. Thank goodness!
Jeannette is a wife, mother and homeschooling mom. She has been mightily, saved by grace and is grateful for God's sovereignty throughout her life's journey. She has a Bachelor in English Education and her MBA. Jeannette is bi-lingual and currently lives in the Tongan Islands of the South Pacific. She posts daily freebies for homeschoolers!