If we are being honest with ourselves, we would admit that we could do things a little better to start off our days. Maybe some of you have it down to a science. As for my family and I, it took us a little longer than usual to getting a perfect routine down for us. When things were going crazy in our homeschool days, I knew something had to change.
I started a routine, and it made a huge difference. If you are thinking you also need to transform your homeschool, doing these things first thing in the morning may help.
Of course, every family is different. That is why I wanted to share with you quickly, a few things that have transformed our mornings. They weren't things that would be considered extravagant or arduous.
What transformed my homeschool wasn't precisely what I did, although some things are essential. What transformed my home was a routine.
We rave, well I rave, about the need for routine to help homeschool days. I was an early learning school teacher, where routine helped out my day exceptionally well. I spent the whole first week of each school year, establishing routines and rules for the classroom.
I learned to do the same in our homeschool. When we started homeschooling, I was slightly more laid back. Then after things were going a little too chaotic – lessons not getting done, my son showing signs of frustration, and a few more issues, I decided to implement what I always did in the public school system – and it worked.
Our homeschool flows smoothly because we know exactly was expected during school time Monday through Thursday.
I then realized that although the school day was going well. There was some more tweaking needed to help my mind cope and get ready for the day.
The mom who put her children and a class of 25 kids in daily routines, needed to put herself in a routine.
Here is the routine I have used that keeps my day going well, even before the homeschool day starts. From the moment I open my eyes to a day full of new mercies, this is what happens:
I get up earlier than I would like to. Only about 30 minutes early.
I pray.
I read the next 5 scriptures in my Bible. I am currently in Psalms.
I jump in the shower.
I turn on the coffee.
I wake up the kids.
I make breakfast.
We start homeschool with prayer.
We do our daily devotions before homeschool.
I drink my first cup of coffee then make another cup before starting the school day.
Yes, I needed to put myself on a routine. I work well with organization, so knowing what I need to do moment by moment really help.
In the scheme of life, this works for me. Sometimes I feel as though trusting in the Lord is a constant battle, taking it in and needing Him moment by moment. Transform your homeschool by making yourself a routine and purposefully taking steps for yourself in the morning.
Notice how not one part of my routine included checking social media.
Try a few days waking up and trying not to grab your phone. Being present in the day and putting God first is what will transform your homeschool day. Making a routine will put you in the habit of being intentional about making the most out of your days – a gift from the Lord full of new mercies and blessings.
Here are some suggested posts that may help in other areas of transforming your day:
Why We Homeschool Four Days a Week Instead of Five
Game-Changing Way to Schedule Your Homeschool
FREE Bible Studies Just for Women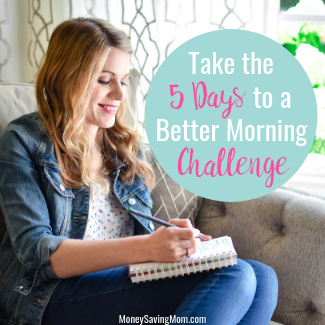 Christian Art Gifts Floral Inspirations Collection Inspirational Mugs – Set / 4His Grace is Sufficient Inspirational Mug – 2 Corinthians 12:9-10Cup of Joy Psalm 4:7 Coffee MugMercies New Every Morning Lamentations 3:22-23 Coffee Mug
Jeannette is a wife, mother and homeschooling mom. She has been mightily, saved by grace and is grateful for God's sovereignty throughout her life's journey. She has a Bachelor in English Education and her MBA. Jeannette is bi-lingual and currently lives in the Tongan Islands of the South Pacific. She posts daily freebies for homeschoolers!