Math, Science, History, Language Arts, and Reading; these subjects are many times a "given" in any educational journey you take to homeschool your kids.
Some of us go through this paranoia (which comes and goes at times) about whether we are teaching enough or whether our kids are learning enough. I go through it almost daily in evaluating my son's education, since he is my free-spirited active child. He gets bored easily and that is one of the biggest challenges we face.
That is why I am exploring how to use unit studies to break up the monotony even more in my homeschool.
For those of you who have been wondering what unit studies are all about, allow me a moment to expound on it. A unit study, sometimes called a thematic study, is when you or your family choose a topic or a theme, then design a learning experience around that topic or theme.
Even exploring unit studies helps you to think outside the box to find ways to tie different subjects together. After all, learning is about making connections.
Most of what our children learn builds upon previously learned subjects or builds upon links between something they already know, to something new. For instance, if a child is learning their numbers through a song or mnemonic you may find it likely they will catch on quickly learning their alphabet through a song or mnemonic as well. We often don't even realize how the brain is making the connections, but it is.
Using a curriculum or a unit study that combines subjects, creates connections that make it easier for children to internalize and remember. Unit study learning exemplifies real life. Your student's career path will allow them to stem their learning from that career. A medical student will learn about biology, patient care, and pharmaceuticals. A rugby player will learn about physical health, mathematical game plans to win a game, and working together as a team. Unit studies work much like real life in this way.
Now that you get the idea of what unit studies are, it's important to know why they are useful.
Studies show that kids who are taught through thematic or unit studies retain 45% more information than by using a traditional learning approach alone. That statistic should encourage us to take the time to at least explore the unit study homeschool style now and again.
Unit studies completely break up the monotony of your homeschool environment. They shake things up a bit! I don't want to downplay the need for a traditional approach to homeschooling. We NEED to teach our kids certain subjects in order for them to gain a strong knowledge base like math, science, history, reading, and language arts.
I, for one, need a core curriculum for my sanity so that I know my kids learn what they need to for the future. It gives me peace to know there is a traditional method to their learning. However, unit studies can extend that learning base and many homeschooling families agree.
I wanted to share a few ways that unit studies can break up the monotony of homeschooling to help your kids learn a little more intrinsically:
Interests
When we first moved to a small island, a unit study about the island we live in really helped my kids adjust and have a vested interest in what they learned. With a map, we were able to do lessons based on where the island was located compared to the rest of the world. Some other things we did include watching videos of the history and culture, learn a bit of the language, visit, learn, and write about the historical sites we visited. We are adding to the unit study this year and my kids are excited about it — because it includes exploring the sea creatures around the island.
An even more integral part of unit studies is when a child shows interest in a topic and you can build on that topic through all types of subjects.
My husband recently started taking my kids to a Muay Thai class. Although my daughter was reluctant at first, they now love it. Right now I am putting together a unit study around Muay Thai. For science, I will be teaching and bringing other examples in about power to weight ratios. We will be learning about Thailand, learning about why discipline is so important to it, and even cooking a Thai meal together to close out the unit study. My kids are so excited and it all started by them being curious about where Muay Thai came from.
Working together
Unit studies provide a means of breaking up the monotony in homeschool by getting the kids to work together. If you have more than one child or if you have many, unit studies lend themselves well to multiple-child, multiple-age learning. It's definitely a perk to teach unit studies in large families as one unit study can get your older kids working with the younger kids and younger kids will learn from what the older ones are sharing.
You can most often find a video or documentary on topics that all kids can watch. Younger ones can draw pictures of what they learned or remember while older ones can write essays or do projects. Bringing your kids together through learning enhances their experience and they can bounce ideas off each other.
Deep knowledge
Many times textbooks and workbooks focus on specific information for your kids to learn and drop after a test. Some kids like my daughter do very well with that type of learning style. However, even a studious child enjoys the engagement and new feel of unit studies. Learning about topics on the surface is way different than learning them deep enough to bring about lasting knowledge.
Unit studies allow kids to explore the ins and outs of a topic and help them apply what they learned or internalize how it relates to their life.
This type of learning sticks with kids fairly easily. Learning about something they are passionate about develops a yearning to know more and to explore other topics they are interested in. In unit studies, we are not teaching to our kids, but are teaching for our kids. They realize that we care about the things they care about — which means more to them than we probably realize.
Christ-centered learning
Many of us teach the Bible as a subject on its own, as if learning about God's Word and applying it is just another subject. I fall into this often and I have to remind myself that learning God's Word is much more than just another subject in our homeschool. It should be weaved and incorporated throughout everything we teach our kids.
Unit studies are perfect for connecting God's Word to every lesson because that is how it should be. You may be wondering how I could tie in Jesus to a unit study around the martial art of Muay Thai. Glad you asked! We will be learning about missionaries in Thailand as well. Doing a unit study on the ocean? Incorporate the days of creation or have your kids memorize bible verses about the ocean like these:
Psalm 36:6 Your righteousness is like the mighty mountains, your justice like the ocean depths.
Psalm 93:4 4 The Lord on high is mightier than the noise of many waters, yea, than the mighty waves of the sea.
Psalm 146:5-6 Blessed is he whose help is the God of Jacob, whose hope is in the LORD his God, who made heaven and earth, the sea, and all that is in them, who keeps faith forever.
The Lord is the creator of all things and our children's education can be centered around that. Unit studies are a great way for us to put that into practice.
Our lives aren't compartmentalized in learning only math, reading, and science. Learning through unit studies can transition our kids to that mindset. Our whole life experience brings about learning and creates connections to build on our knowledge of the world around us and the God who made us.
What unit studies do is create a learning environment that can, in fact, bring various subjects together in a way that is more meaningful to our kids. Children thrive in an environment that is nurturing and loving. Add in a learning that is sometimes focused on their particular interests, really can make a lasting impact.
Unit studies not only break up the monotony in our homeschool, but they can also create lasting memories and connections that last a lifetime.
If you are looking for a unit study type of curriculum, we highly recommend Trail Guide to Learning: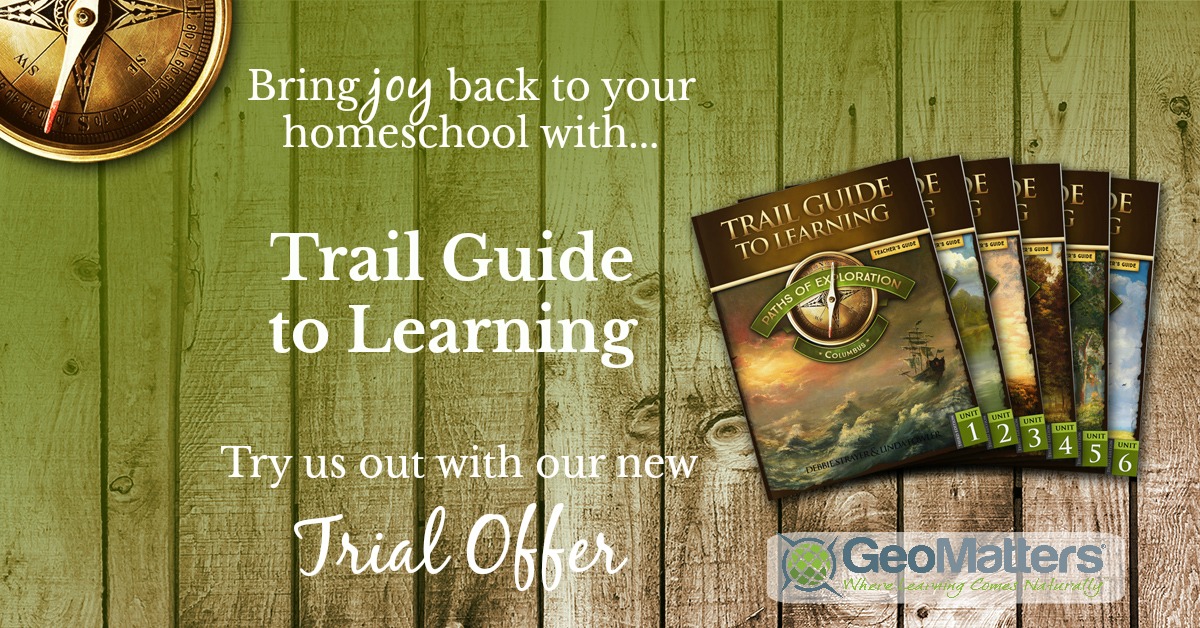 Need some help to get you started with breaking up the monotony in your homeschool with unit study ideas?
Sometimes creating your own unit study can seem very daunting. That's when finding one that is already created for you comes into play. It is such a timesaver to have all the work already done for you. Unit Studies by Amanda Bennett offers dozens of interest-led topical unit studies
Jeannette is a wife, mother and homeschooling mom. She has been mightily, saved by grace and is grateful for God's sovereignty throughout her life's journey. She has a Bachelor in English Education and her MBA. Jeannette is bi-lingual and currently lives in the Tongan Islands of the South Pacific. She posts daily freebies for homeschoolers!