When studying geography, a lot of emphasis is placed on learning about the different continents, countries and people groups that are not near where we live. It is fascinating to learn about far off places and how they relate to us in history and in the world.
Sometimes, it seems like we can spend years learning about these different countries and we may not spend as much time learning about the very country we live in.
The United States of America is a wonderful place to live. It is rich with history, and there is just so much to learn! I like to take two years to learn about our country. We learn about North America as a continent, and then we like to dig deep into state history and learn about each state.
Our team at Homeschool Giveaways has created some amazing resources on the United States of America. There are so many different FREE resources that I thought it would be a good idea to group them all together for easy access. I've also found some newer freebies that are high quality that would be great to use with a study of North America.
FREE North America Country Printables:
North America 3 Part Geography Cards – The Natural Homeschool
Animals of North America Printables – The Natural Homeschool
Printable Biomes of North America – Trillium Montessori
North America Printable Maps and Worksheets – ABC Teach
North America Unit and Printables – Every Star is Different
North America Montessori Study of Maps and Flags – The Pinay Homeschooler
North America Geography Printables from 1+1+1 = 1
Recommended Resource from GeoMatters: Includes Desk Atlas of the United States, State Notebook with Stickers, and USA PlaceMap.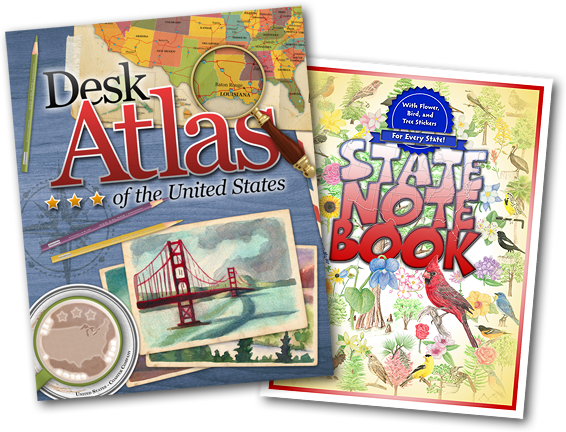 FREE United States Printables:
I just found this printable from Kitchen Table Classroom! Sketch the Fifty States is a 51 page printable notebook that will have your children doodle and sketch your way through learning about the 50 states in America. It is so creative and I absolutely love it!
When we were learning about the 50 states my girls were fascinated with all the different flowers, birds, and trees of each particular state. This post includes all of the amazing coloring pages, printables, and flashcards that I gathered up for our studies:
FREE U.S. State Study Printables: State Flowers, Bird and Trees
When you are digging deep into state history it's important to learn about the history of each state. Some have some very interesting facts that are fun to remember!
You can learn about the history of each state with our FREE Instant Downloads to print off for each state. There are fun historical facts, research prompts, geography and a timeline quiz to go along with each state studied.
If you are looking for fun, hands-on activities and enrichment to go along with your state studies you are really going to enjoy our 50 State Series that Annette put together.
She took every single state and gathered up tons of free printables, hands-on activities and craft ideas to go with each one. She included the nickname for each state, the state's song, important landmarks and travel destinations, famous recipes and restaurants to visit.
If you are wanting to make state history come alive you will enjoy all of the hard work she put into this series. You can view all of the posts with links to each state, in one convenient location in this 50 State Series Round-Up.
FREE United States/USA State Study Notebooking Pages
Access over a dozen free notebooking pages per state. Make the study of U.S. geography fun when notebooking through the states!
Exclusive Freebies with Instant Downloads:
FREE USA Notebooking Pages Instant Download – these will be great to keep track of everything you are learning!
United States Geography 50 States Notebooking Unit – this notebooking journal will help your children learn about the 50 states by labeling the capital on the maps that are included for each state.
They will also record things like what borders each state, the key mountain, rivers and lakes, major cities and state landmarks!
The 50 States Cheat Sheets – This printable pack is a simple pack of geography cheat sheets to help your children learn the states. These can be laminated and used over and over again.
This pack contains a listing of each state in alphabetical order, the capitals, regions, time zones and abbreviations.
I love having books laying around that my children can pick up that will help them learn about what we are studying. Here are some of our favorites:
I Spy the 50 StatesMy First Book of the 50 States of America: With Maps, Dates And Fun Facts!The 50 States: Explore the U.S.A. with 50 fact-filled maps!Nick's Guides – 50 States for Kids: Fun Facts and Learning on Our Great 50 StatesNational Geographic Kids United States AtlasNational Geographic Kids Beginner's United States AtlasNational Geographic Our Fifty States
Sarah is a wife, daughter of the King and Mama to 4 children (one who is a homeschool graduate)! She is a an eclectic, Charlotte Mason style homeschooler that has been homeschooling for over 16 years now. She is still trying to find the balance between work and keeping a home and says she can only do it by the Grace of God, and Coffee!