Do your children struggle learning and understanding new math concepts? This list of teaching helps and ideas for tricky and new math concepts that your students may struggle with can be very helpful to getting past math hurdles.

I have two children that really struggle with math. It seems like every time a new concept is introduced there is so much fear and intimidation! I also find it difficult to have them learn the new concept when they have already geared themselves up to be confused and nervous about it. Thankfully we homeschool and can take a break from the curriculum or textbook when things get tough. There are lots of fun printables and different helps and hands-on ideas that can help our children to learn and understand concepts in a non threatening way!
I have compiled a HUGE list of teaching helps and ideas for tricky and new math concepts that your students may struggle with. There are so many that I have broken them down by concept with free printables and hands-on activities to help reinforce what they are learning.
Rounding Numbers:
FREE Printables on Estimating and Rounding Numbers:

Rounding Whole Numbers Worksheet
Rounding Number Visual Freebie
Rounding on an Open Number Line

Number Line Ninja Rounding Cards

Roller Coaster Rounding Printable
Games and Activities for Rounding Numbers:
Rounding with Sticky Notes – this is a fun, low prep activity.
Roll It! Rounding Game – this place value game focuses on rounding. There are three different versions so that you can choose the level that works best.
Printable Pirate Board Game – this free printable pirate board game for rounding to the nearest ten is a perfect way to practice.
Rounding Numbers to the Nearest Tens with Craft Sticks – this is great for hands on learners.
I love these books to help with the rounding numbers concepts:
Rounding Rescue, a Rounding Numbers StoryLet's Estimate: A Book About Estimating and Rounding NumbersOn my way to Grandma's House: A Math-Infused Story About the Number Line and the Concept of RoundingFuzzballs!: A Rounding Adventure
Greater Than Less Than:
Greater Than, Less Than Printables:

Greater than Less than Kindergarten Worksheets

Comparing Numbers Greater than Less Than Poster

Greater Than Less Than with Alligators

Greater Than, Less Than, Equal to Worksheet

Alligator, Alligator Printable Poster and Chants

Greater Than Less Than Truffala Tree Printable

Greater Than Less Than Alligator Chomping Printables
Greater Than, Less Than Games and Activities:
Rockabye Butterfly has an awesome Greater than Less Than Lesson with an alligator and pom poms on a tray. It is so cute! She even made a video showing it in action.
Greater or Less Than Mat with numbers

Lego Greater Than Less Than Mats
Grab a Handful! Greater than Less than activity

Greater than Less than Bug Game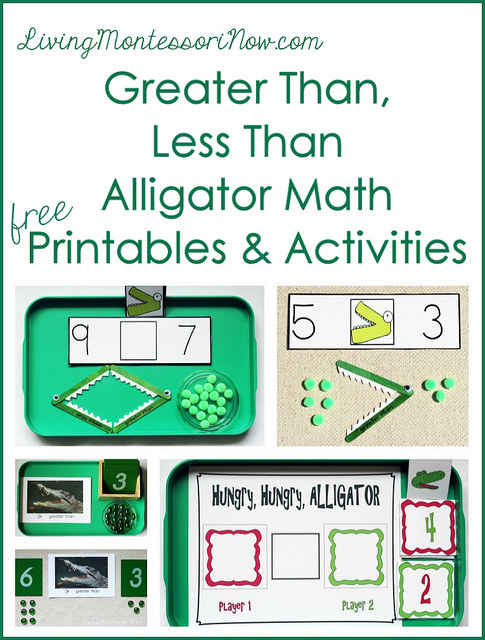 Measurements:
Measurement Printables:
Measurement Practice Booklet – 19 pages!

FREE Measurement and Conversion Printables and Cheatsheets
Conversions in Math: Measuring Volume and Liquid Measure Instant Download
Ultimate Math Freebies Round-Up: Graphing, Measuring, Money and Speed Drills
Measurement Hands-On Activities:
Measuring with The Foot Book by Dr. Seuss
Early Learning Play with Measuring and Counting

Preschool Math Lesson Lego Measurement

Measuring Perimeter with Chocolate Kisses

Teach Measurement to Kids with Yarn

Create a Measurement Exploration Center
Frog Jump : Measurement and Gross Motor Activity
We love these fun books on measuring:
How Long or How Wide?: A Measuring Guide Inch by InchLength (Math Counts)Measuring Penny (Rise and Shine)
Double Digit Addition:
Double Digit Addition Printables:
Double Digit Domino Addition and Subtraction Worksheet

Double Digit without Regrouping Worksheets

Double Digit Math Without Regrouping Posters

Monster Math Double Digit Addition

2 Digit Addition Worksheets without regrouping

Double Digits Vertical Addition with Carrying 50

3 Double Digit Addition Worksheets

Spider Themed Puzzles for Double Digit Addition Practice
Minecraft Addition Worksheets – single, double and triple digit
Double Digit Addition Hands-On Activities:
Double Digit Addition and Subtraction with Lego Bricks

Double Digit Around the Room Activity with free printables
Double Digit Addition with Racoon Regrouping Activity
Double Digit Subtraction:
Double Digit Subtraction Printables:
Subtraction with Borrowing Worksheets

Ninja Subtraction with Borrowing

3 Digit Subtraction with Regrouping

2 Digit Subtraction with Regrouping

Flamingo Fun Two Digit Subtraction
Panda Subtraction with Borrowing

Subtraction Word Problems with Regrouping Worksheet

Subtraction with Regrouping Bingo

Subtraction with Regrouping FREE Anchor Charts

Double Digit Subtraction Poster
FREE Double Digit Subtraction Lessons and Hands On Activities:
Using a Checklist to Teach Subtraction with Regrouping

Simple Trick to End the Frustration with Subtraction Regrouping

Teaching Students how to borrow with zeros
Subtraction with Regrouping: Edible Math
FREE Addition and Subtraction Worksheets & Games
Long Division:
Long Division Printables:
Math Aids division worksheets for practice.
Grade 4 Long Division Worksheet without remainders
Long Division Worksheets and Worksheet Generator
Division Mystery Coloring Worksheet
Printable Division Strategies Posters
FREE Worksheets, Games & Resources to Teach Multiplication and Division
Long Division Practice Activities and Games:
Use a Blank Long Division Template

Division Word Problems FREE Center
FREE Math Cut & Paste – Multiplication and Division
Moving Remainders Division Game

Sarah is a wife, daughter of the King and Mama to 4 children (one who is a homeschool graduate)! She is a an eclectic, Charlotte Mason style homeschooler that has been homeschooling for over 16 years now. She is still trying to find the balance between work and keeping a home and says she can only do it by the Grace of God, and Coffee!