Are you searching for a seamless method of integrating poetry and art study into your homeschool? Check out this complete copywork, poetry, and art study from Half-a-Hundred Acre Wood!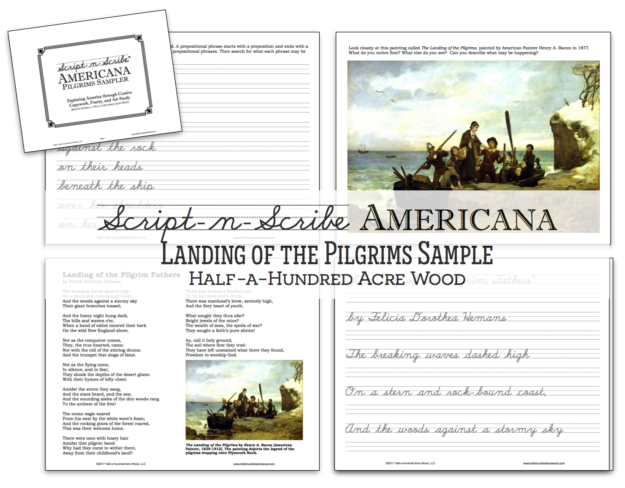 This study includes…
A poem that reinforces U.S. history and the founding principles of America.
A simple introduction to the English grammar concept of prepositions
A corresponding painting by American painter Henry A. Bacon, along with prompts for noticing details within the artwork
Copywork pages for the poem and art study
Download a digital copy of the Landing of the Pilgrims Art and Poetry Study HERE!
The Mayflower Pilgrims
The Thanksgiving Story
This Is America, Charlie Brown: The Mayflower Voyagers
The Story of the Pilgrims (Pictureback(R))
John Bunyan – The People's Pilgrim
The Pilgrims: Thanksgiving and the American Myth of Origins
Pilgrims of Plimoth
California Costumes Pilgrim Girl Child Costume, Small
Sharing the Bread: An Old-Fashioned Thanksgiving Story
The Story of Thanksgiving
Squanto's Journey: The Story of the First Thanksgiving

Sarah is a wife, daughter of the King and Mama to 4 children (one who is a homeschool graduate)! She is a an eclectic, Charlotte Mason style homeschooler that has been homeschooling for over 16 years now. She is still trying to find the balance between work and keeping a home and says she can only do it by the Grace of God, and Coffee!