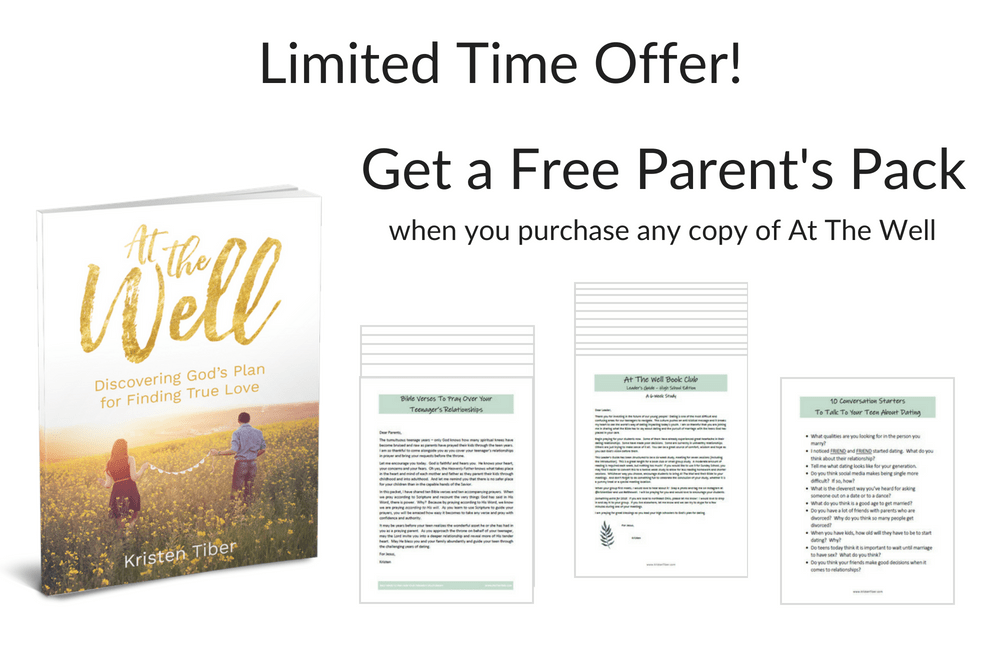 Do you want to help your teenager navigate the confusing world of dating?
For a limited time, you can receive a free Parent's Pack to help you encourage your teen to seek God when it comes to love and dating when you purchase any copy of At The Well:  Discovering God's Plan for Finding True Love.
The Parent's Pack includes:  
Bible Verses to Pray Over Your Teenager's Relationships
10 Conversation Starters to Talk to Your Teen About Dating
An At The Well Book Club Leader's Guide (intended for groups but easily adapted for 1:1 parent and teen).
What will your teenager find in the book, At The Well?
Your teen will discover God's plan for finding love and pursuing marriage. As he or she journeys with Kristen Tiber through Genesis 24, your teen will find that God gives a wonderful blueprint in the love story of Isaac and Rebekah.
And while At The Well was originally written for college age students and young adults, parents of high schoolers everywhere are having their teenagers read the book now so they can get started in the right direction when it comes to figuring out the world of love, dating and marriage.
In At The Well, Your Teenager Will:
learn to seek God first for themselves (at the well)
see the importance of growing in faith
discover ways to use this time to develop character and grow as an individual
learn to trust the Lord to take care of this area of his or her life
assemble an idea of what it is he or she wants in a future spouse
learn the importance of guarding his or her heart in dating relationships
find encouragement for waiting on God when it seems to take forever
see God's plan for equally-yoked marriages and the value of dating believers
be encouraged to prayerfully seek direction in current relationships
learn the value of following God's plan even when it may not line up with his or her own
discover how to properly evaluate a relationship and recognize the response of his or her heart when he or she is in the relationship God designed
Sarah is a wife, daughter of the King and Mama to 4 children (one who is a homeschool graduate)! She is a an eclectic, Charlotte Mason style homeschooler that has been homeschooling for almost 20 years.. She is still trying to find the balance between work and keeping a home and says she can only do it by the Grace of God, and Coffee!