Looking for some educational summer fun? A summer nature study for elementary and middle school ages that includes the study of biology, physical science, and chemistry keeps learning science a "real life" adventure all summer long!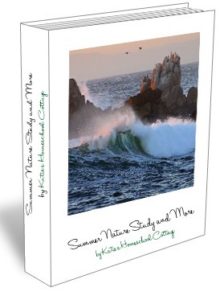 You'll want to grab this free 85 page Summer nature study as you explore the outdoors this summer! Ready to go when you are with book suggestions, online resources, nature walk questions and activities, experiments, nature journal pages, and even poetry. Filled with topics for each month of summer. Learn about the ocean and other bodies of water and the life you will find living within them; explore the summer solstice and astronomy; and investigate weather. While doing that, you will explore topics within biology, chemistry, and physical science as you look at scientific connections – all while having fun doing it!
The ocean and other bodies of water and aquatic life leads to the study of motion and waves, water density and buoyancy. The study of weather leads to hurricanes and other types of storms and the study of thunder (sound waves and vibrations) and electricity and light and color. You will find connections you never noticed before.
And before going off on your nature exploring, download your Nature Hike Supply Checklist!