Bible Road Trip™ Bible Curriculum Annual Giveaway
Teach your kids the Bible with Bible Road Trip™ — a three-year curriculum for preschool to high school! 
Danika Cooley of Thinking Kids Press designed Bible Road Trip™ as a way to take her children through the Bible as a family, with reading, discussion, memorization, notebooking, praying for the nations–even crafts! Over the past seven years she's shared this resource with families just like yours and many have taken the challenge to journey through the Bible together.
It's time for the annual Bible Road Trip™ giveaway, and you aren't going to want to miss out. Danika even has a free Bible Road Trip™ sample pack for you! The giveaways end 5/3/18, so hurry on over!
---
Before you hop on over to Thinking Kids to check out their annual Bible Road Trip™ giveaway, and to grab your FREE sample pack, here's just a little information about the Bible Road Trip™ program:
Bible Road Trip™ is an exciting journey which places you and your children in the driver's seat!
Aimed at youth grades PreK-12, Bible Road Trip™ Bible lessons for kids will allow your family to survey the Bible cover-to-cover in 3 years with breaks for summer.
There are notebooking pages available for the Lower Grammar (Grades 1-3), Upper Grammar (Grades 4-6) and Dialectic (Grades 7-9) levels. Students at the Rhetoric level (Grades 10-12) will keep their own notebooks and be busy sharing their information with others.
You'll also find Bible memory verse card sets available at each level for every year, and new resources are being added to Bible Road Trip™!
---
Giveaway #1: Bible Road Trip™ Bible Memory Verse Cards (10 winners)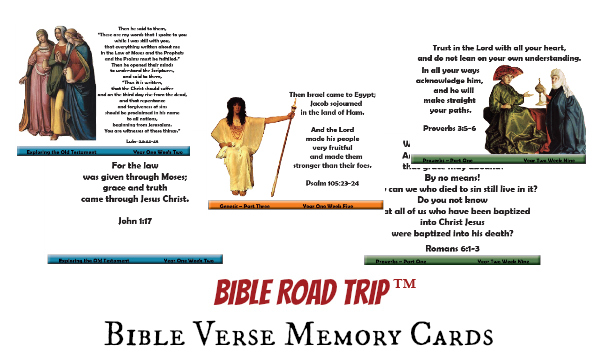 Bible Road Trip™ Bible Memory verse cards are designed to give parents an attractive and organized tool to help students memorize Scripture as they study through the Bible, and are available in five levels for each year–in either ESV or KJV.
---
Giveaway #2: Bible Road Trip™ Giveaway ~ Choose Your Year, Choose Your Level (1 winner)
You could win a full year of Bible Road Trip™ AND the necessary materials, and some of the recommended materials, for one level.
Enter the giveaway, and if you win, you will choose the level and the year you'd like to receive. Bible Road Trip™ is a full-year digital PDF, and the other resources will be in book or DVD format.
Depending on the giveaway package chosen by the winner, the value of this giveaway ranges from $88.97 to $236.88.
Sarah is a wife, daughter of the King and Mama to 4 children (one who is a homeschool graduate)! She is a an eclectic, Charlotte Mason style homeschooler that has been homeschooling for over 16 years now. She is still trying to find the balance between work and keeping a home and says she can only do it by the Grace of God, and Coffee!