Have you read or seen the newly released book by Dr. Seuss, What Pet Should I Get? If you have not read it yet, please get yourself a copy because it is such an adorable book. Not only that, but now is a great time to get a Dr. Seuss book because his birthday is coming up very soon…(March 2).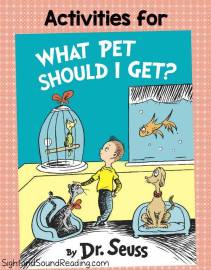 After reading this book, stop on by Mrs. Karle's Sight and Sound Reading and get some fun ideas to go along with the book. Not only that, but you can also pick up some fun, free downloadable writing prompts too. Ready for fun? Get your ideas and downloads now!
Simply click here or the image above to check out this freebie from Sight and Sound Reading now.