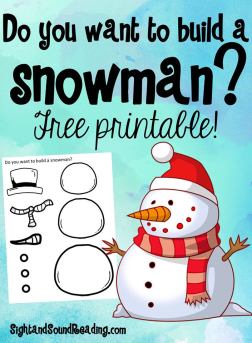 Do you want to build a snowman? Today we have a fun cut and paste activity for you! You can make a printable of complete snowman! When children are first learning the fine motor skills of cutting and pasting, making a snowman is a fun challenge! It is fun to make a snowman indoors…you don't have to get all bundled up to go outside! Even though you are not going outside though, it is a great excuse to serve hot chocolate and marshmallows! Check it out at Mrs. Karle's Sight and Sound Reading and pick up a copy of this fun free activity!
Simply click here or the image above to check out this freebie from Sight and Sound Reading now!
Sarah is a wife, daughter of the King and Mama to 4 children (one who is a homeschool graduate)! She is a an eclectic, Charlotte Mason style homeschooler that has been homeschooling for almost 20 years.. She is still trying to find the balance between work and keeping a home and says she can only do it by the Grace of God, and Coffee!