If you use computers for homeschooling, you need to take care of them. And you need to teach your kids how to take care of one of your greatest homeschool assets.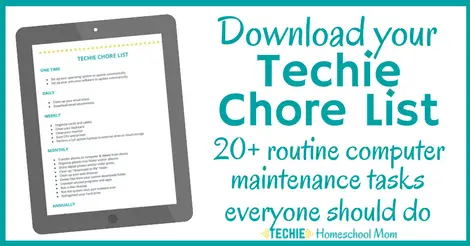 Beth from Techie Homeschool Mom shares some routine computer maintenance tasks that will keep your computers working well (and help you avoid techie homeschool hassles). Add them to your kids' chore lists and teach them some valuable life skills.
Click here to get your printable list of daily, weekly, monthly and annual Techie Chores.
Sarah is a wife, daughter of the King and Mama to 4 children (one who is a homeschool graduate)! She is a an eclectic, Charlotte Mason style homeschooler that has been homeschooling for almost 20 years.. She is still trying to find the balance between work and keeping a home and says she can only do it by the Grace of God, and Coffee!