Shakespeare can be so much fun to teach in your homeschool. I love creating my own Shakespeare unit studies instead of using a set curriculum for it as we like to tie it into our fine arts studies.

Are you wanting to teach your children about Shakespeare? I remember learning about Shakespeare when I was in highschool and assumed it was only for highschoolers because of the adult themed content in some of his plays. I was suprised when I joined a Charlotte Mason style co-op and they were teaching Shakespeare to their elementary aged students! Shakespeare isn't just for highschool. Obviously there are some plays that you won't want to teach your younger students quite yet, but there are others that are well suited and enjoyable for all ages.
I am excited to share with you these free resources and printables to help you to study Shakespeare with your children!
FREE William Shakespeare Printables and Unit Studies:
William Shakespeare Printable List of Plays divided by genre – TPT
Shakespeare Cryptogram Quote – Puzzles to Print
Printable Shakespeare Biography 
Printable Shakespeare Coloring Page
Teaching Shakespeare with Picture Books and free Shakespeare Mini Pack – Embark on the Journey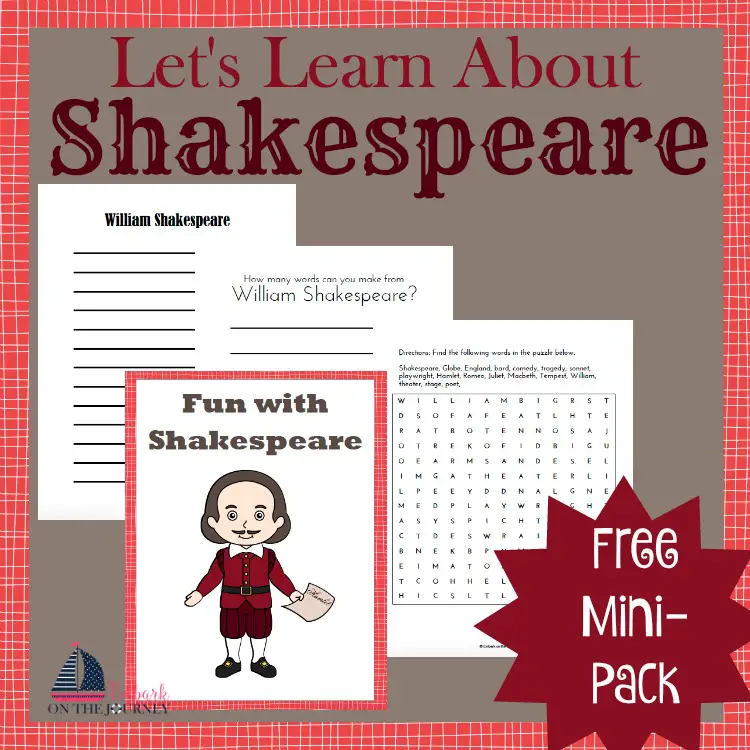 Shakespeare for Kids Unit Study – Kid Minds 


William Shakespeare Biography from Bard Web

Resources on the Globe Theater:
Online Learning Guide on Shakespeare's Globe Theater
The Globe Theater: A Study Guide
Bartleby Article on The Globe Theater
These are great picture and fact books on the Globe Theater:
William Shakespeare and the Globe


A Shakespearean Thater (Spectacular Visual Guides)

Shakespeare Play Study Guides and Printables:
Mac Beth
Mac Beth Quotes Printable Worksheet
Mac Beth FREE 145 Questionss for Inquiry
Mac Beth Study Guide
Romeo and Juliet
Romeo and Juliet Worksheet
Romeo and Juliet Characterization Activity
Rome0 and Juliet Character Study
Romeo and Juliet Study Guide
Hamlet Study Guide
Merchant of Venice Study Guide
The Tempest Study Guide
FREE Much Ado About Nothing Lesson Plans from Simply Convivial


Julius Caesar Study Study Guide
FREE Julius Caeser Lesson Plans from Simply Convivial



Play Shakespeare is the ultimate online Shakespeare resource! There are individual synopsis breakdowns of his plays as well as characters, scenes, reviews for each play and so much more! There are detailed study guides and many more resources!

FREE Shakespeare Stories:
If you are just starting off with Shakespeare (especially with your little ones, I highly recommend these Shakespeare stories. They are written to the child, in easy to understand language.
Tales from Shakespeare by Charles and Mary Lamb – free on The Baldwin Project
You can also get the illustrated version on Kindle for only 99 Cents!


Beautiful Stories from Shakespare by Edith Nesbit – free on The Baldwin Project
You can also get it on Kindle for only $1.99!


We also love these books for learning about Shakespeare:
How to Teach Your Children Shakespeare
This book's simple process allows anyone to impart to children the wisdom of plays like A Midsummer Night's Dream, Twelfth Night, Macbeth, and Romeo and Juliet. And there's fun to be had throughout. Shakespeare novices and experts and readers of all ages will each find something delightfully irresistible in How to Teach Your Children Shakespeare.


Shakespeare for Kids: His Life and Times, 21 Activties
Inspired by scenes from Shakespeare's plays, kids can invent new words, write songs, and devise scathing or comical insults just as he did. Fascinating and accurate historical information and 21 fun activities open a dramatic new world of learning for children ages 8 and up.

Sarah is a wife, daughter of the King and Mama to 4 children (one who is a homeschool graduate)! She is a an eclectic, Charlotte Mason style homeschooler that has been homeschooling for almost 20 years.. She is still trying to find the balance between work and keeping a home and says she can only do it by the Grace of God, and Coffee!