Lesson plans. Extra-curricular activity schedules. Co-op assignments. Homeschool budgets. All those book and computer files. As a homeschool mom, it's hard to keep it all organized.
Enter the Organized Homeschool Giveaway to win four prizes that will help you bring more order to your life. With two eCourses, one ebook and one printable binder pack valued at over $135, you will learn lots of tips and tricks for creating an organized homeschool.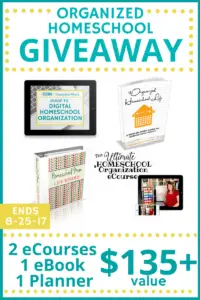 Visit Techie Homeschool Mom for your chance to win…
Techie Homeschool Mom's Guide to Digital Homeschool Organization
Ultimate Homeschool Organization eCourse
Homeschool Mom Life Binder
The Organized Homeschool Life (Digital edition)
CLICK HERE to learn more and enter. Giveaway ends August 25, 2017.
Carrie is the owner & operator of Homeschool Giveaways. She has been homeschooling for over a decade and has successfully graduated her first homeschooler. She has two girls and works side by side at home with her awesome husband. She has been saved by grace, fails daily, but continues to strive toward the prize of the high calling of being a daughter of the Most High God.