Do you have a little one that struggles with understanding what they are feeling?
I have one child that is overly emotional, one that buries their emotions until they explode, one that is the peace maker and another that is a mix of all 4! Emotions and feelings can be quite hard to understand sometimes and some children needs some extra special care in learning how to handle what they are feeling. This is why I like using fun printables and crafts to help them.

FREE Printables on Feelings and Emotions
FREE Montessori Emotion Monster Cards
How Do You Feel? Printable Board Game
Emotion Word Cards
Emotions Go Fish Card Game
30 Activities and FREE Printables that Teach Emotions for Kids
FREE Character Emotions Chart
FREE Printable Clip Cards for Learning Weather and Emotions
5 Steps to Managing Big Emotions FREE Printable Poster from Childhood 101
Exploring Emotions with Lego Faces from Homeschool Encouragement – these are for ages K-2 and are great to use with Lego mini figures with different facial expressions as part of a unit study on feelings.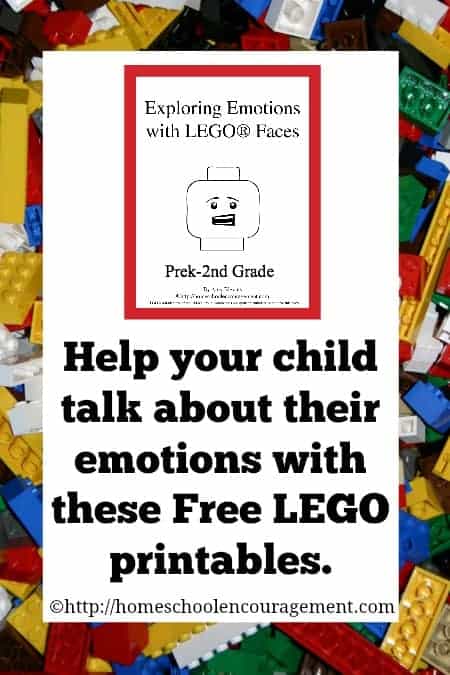 FREE Printable Emotions Board Game
Hands On Activities about Feelings and Emotions
The Emotional Robot – Simple Emotions Coloring and Paper Craft Activity for Kids from Lemon Lime Adventures
Inside Out Teaching Emotions Craft and Activity from Surviving a Teacher Salary
DIY Emotions Stickers from Childhood 101
10 Ways to Use Emotion Cards from Moments a Day
Create a Hug Jar from Homegrown Friends
Emotion Eggs from Laughing Kids Learn

Sarah is a wife, daughter of the King and Mama to 4 children (one who is a homeschool graduate)! She is a an eclectic, Charlotte Mason style homeschooler that has been homeschooling for over 16 years now. She is still trying to find the balance between work and keeping a home and says she can only do it by the Grace of God, and Coffee!