Nature tables are a great way to display all your kid's fun nature hunt finds.
We like to change ours out with each season so we can display what we have been studying and learning about. Fall is a great time to get out and explore nature. Here in Florida, the weather is much, much cooler. In other locations the plant life has changed into magnificent colors. Pinecones and acorns fall out of the tree tops and there are so many wonderful things to explore and collect!
Nature tables are a great way to accent your decor with the seasons. They also provide a hands-on sensory experience for your children and an open invitation for them to play with nature. There are so many nature items that can be used to replace toys as well!
Here are some gorgeous ideas to create your own Fall Nature Table:
This Fall nature play area from Rhythms of Play uses acorns to make little dolls with!

Autumn Nature Table from Appleshoe Blog – I love the deer model toys and the felt pumpkins. This is such a lovely little area.

Fall Nature Table from Buggy and Buddy – I love the tiered stand to hold everything at different levels!

Autumn Nature Shelf from MamaPapaBubba – I really love the way she used the old crates to make a display area. You can do that with those craft crates from the craft stores.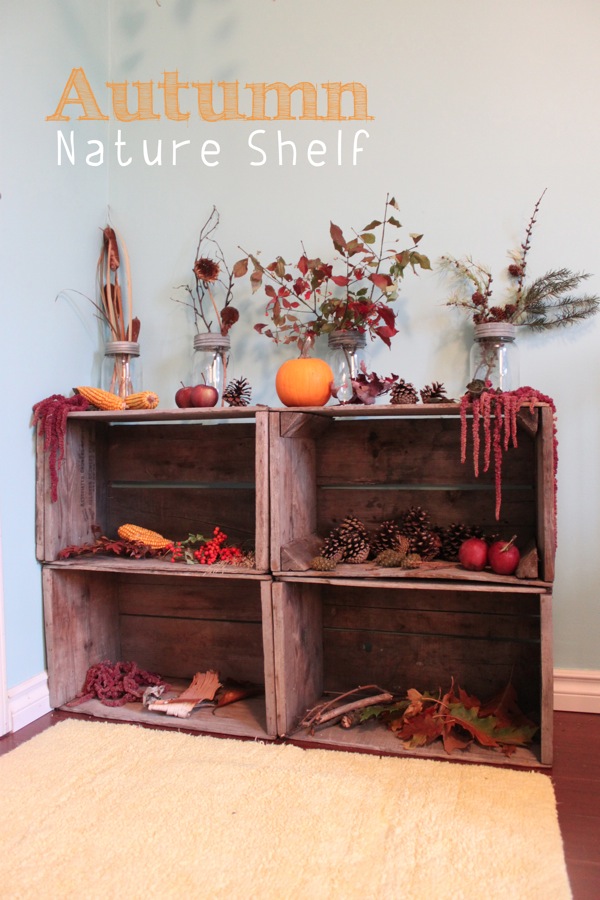 Create your own animals and people from collected pinecones and acorns, to display and play with:
Felt Pinecone Hedgehog from Lia Griffith

DIY Pinecone Animals from Empress of Dirt

Pinecone Elves from Lia Griffith

DIY Acorn Peg Dolls from Rhythms of Play

Here are some great natural items that you can use year round on a nature table. So cute to use as stands for animals and people that your kid create, or to display a favorite found item.

If you don't have the room for a nature table check out my post about our portable nature table:
How to Keep a Nature Table When You Don't Have the Space

Sarah is a wife, daughter of the King and Mama to 4 children (one who is a homeschool graduate)! She is a an eclectic, Charlotte Mason style homeschooler that has been homeschooling for over 16 years now. She is still trying to find the balance between work and keeping a home and says she can only do it by the Grace of God, and Coffee!