Throw pillows can really make your home have a cozy feel, as well as bring in a nice splash of color.
I love throw pillows and how they can brighten up your home. I like to use colors that I may not be so brave to try on the walls, or to use pillows that are themed for seasons and holidays. When all my children were small the pillows would always end up all over the floor, or piled up in stack for a fort or some creation they were making. I got so sick of constantly picking them up and keeping them clean, that for awhile there we didn't even have any decorative pillows.
Now that my youngest is five and everyone helps with chores and keeping the house clean I think I can go back to more pillows! I was just out pricing throw pillows and could not believe how pricey they are! Fortunately, there are many DIY pillow ideas to create your own inexpensive pillows, and to even cover up old, stained ones! You can find tons of throw pillows for cheap at thrift stores. I can't wait to try some of these out. This would be fun to do as a home-ec project with your kids as well.
Simple Pillow Case Tutorials to cover old pillows with:
15 Minute Easy  Envelope Pillow Case Tutorial from Raegun Ramblings
DIY Pillow Case Tutorial from A Curiously Chic Life
How to Make a Basic Pillow and Pillow Sham from DIY Joy
Home Decor Sewing School: How to Make a Pillow Sham from The Homes I Have Made

Cute Pillow Ideas:
Plaid Envelope Pillow Covers from a $3 Target Blanket from Happiness is Homemade – this is such a great idea! I can't believe these pillows turned out to be $1.50 each!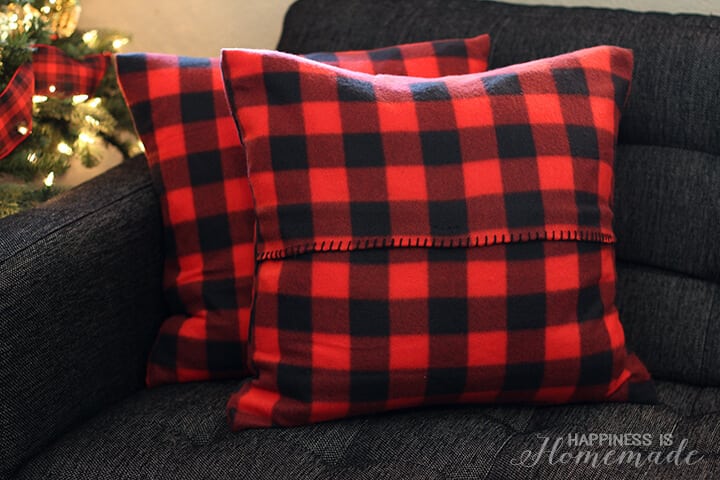 DIY Dollar Store Bandana Covers from Heathered Nest – these are bright and fun!

No Sew Fat Quarter Pillow from The Happy Housie

Mickey and Minnie Inspired Pillows from 5 Little Monsters – any Disney fan will love these!

Anthropologie Tassel Pillow Knock Off from The Inspired Room – super cute and a lot cheaper!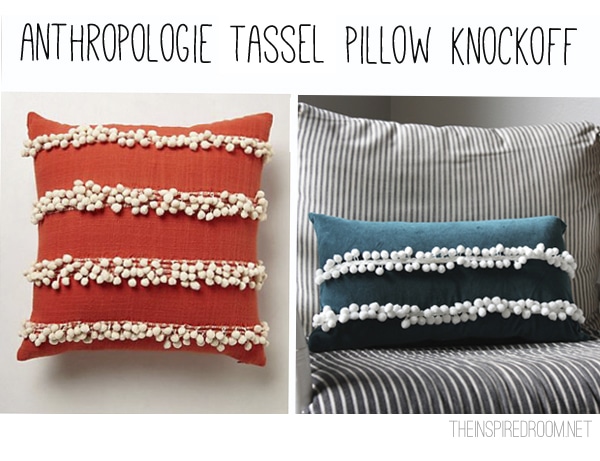 Felt Flower Pillow by Fab You Bliss – this is really the cutest thing ever!

FREE Deer Silhouette Template and Tutorial from Home Sweet Ruby




DIY Stenciling and Custom Pillows:
DIY Quote Pillows from Momtastic – love this DIY idea. These quote pillows can be quite pricey in the stores, and this way you can customize them.
No Sew Pillow out of Painters Tarps from Debbie Doos – these are perfect for painting and stenciling on.
DIY Leaf Printed Pillow Cases from Ukkonooa – this site is in another language, but you can see the great idea that uses leaves as stencils. This would be great for a nature themed room.
DIY Stamped Pillow Covers from Brit.Co

DIY Gold Arrow Pillows from Simply Designing – arrows are all the design rage right now. These are so cute. This particular one uses a vinyl cutting machine, but you could hand paint them or stencil them on as well!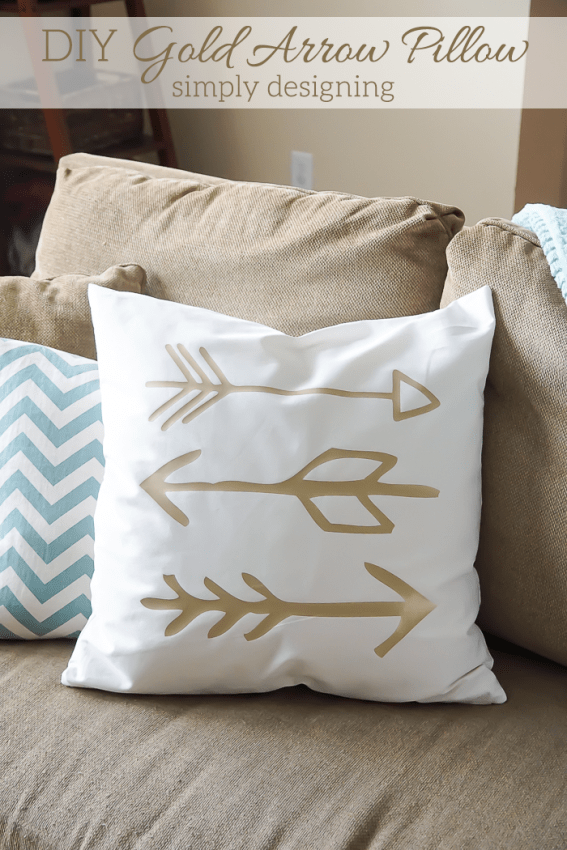 If you are wanting to sew and take on more DIY projects check out this post:
Sewing for Beginner's : Round Up of Ideas and How-To's

Sarah is a wife, daughter of the King and Mama to 4 children (one who is a homeschool graduate)! She is a an eclectic, Charlotte Mason style homeschooler that has been homeschooling for over 16 years now. She is still trying to find the balance between work and keeping a home and says she can only do it by the Grace of God, and Coffee!