The Phases of the Moon are a lot of fun to study and learn about!
We just love looking up at the moon! We spent a lot of time outdoors at night, especially here in the summer. My kids love to look at the moon in all of it's different phases. They love to guess what phase the moon currently is in. There are so many fun activities and printables to help your children learn about the phases of hte moon. This would make a great unit study, or to complement an astronomy study.
Phases of the Moon FREE Printables:
Phases of the Moon Mini Flip Book
Learning the Moon's Phases Worksheet
Phases of the Moon Printable Poem
Connect the Dot Phases of the Moon Activity
Lunar Cycle Fill in the Blank Moon Calendar
Phases of the Moon Cards
Phases of the Moon Study Guide
Free Printable Kids Moon Observation Journal
Phases of the Moon Reading Comprehension Worksheet
The Moon on the Move: Phases of the Moon Science Worksheet
Moon Phases Printable Pack
Printable Phases of the Moon Game


Phases of the Moon Worksheets and 3 Part Montessori Cards


Phases of the Moon Printables from The Crafty Classroom – there are coloring worksheets, cut and paste and labeling worksheets, phases of the moon tracker, clip art and more!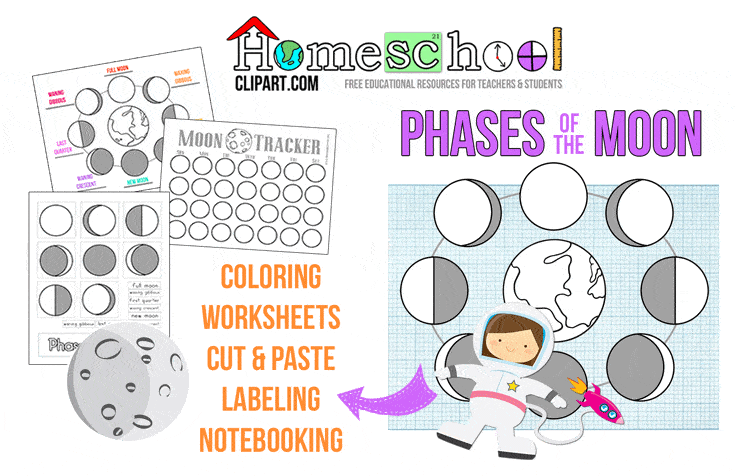 Websites:
Moon Phases Jeopardy Game for older students on Super Teacher Tools
Phases of the Moon Website – you can watch a little cartoon moon explain his different phases, watch cartoon phases of the moon videos and play games all about the phases of the moon!
Lunar Phases Online Lesson Plans – there are activities, online self grading quizzes and more!
Daily Moon Phase Update Website – this site will give you daily details on the moon and what phase it is in.
Star Date – this website explains about the phases of the moon, as well as a monthly calendar that shows what day the moon will be in what phase!

Hands-on Activities:
Oreo Cookie Activity to show the different phases


M is for Moon Montessori Inspired Moon Activities and Printables


Create Your Own 3D Moon Phases

Create Your Own Moon Phase Viewer

Sarah is a wife, daughter of the King and Mama to 4 children (one who is a homeschool graduate)! She is a an eclectic, Charlotte Mason style homeschooler that has been homeschooling for over 16 years now. She is still trying to find the balance between work and keeping a home and says she can only do it by the Grace of God, and Coffee!